The Truth About Vladimir Putin's Ex-Wife
Sasha Mordovets/Getty Images
Although Vladimir Putin is one of the most powerful men in the world and is often in the spotlight, he likes to keep his personal life private. The public knows, however, that Putin was once married.
Vladimir Putin met Lyudmila Shkrebneva in 1980. Lyudmila was working as a flight attendant for Aeroflot at that time, and she had a layover in Leningrad, where she spent a few days. According to ABC News, it was there Vladimir and Lyudmila met when they were both invited by a common friend to watch a comedian perform. Lyudmila and Vladimir started dating soon after. "I was used to life as a bachelor, but Lyudmila changed that," Putin once said, per his Kremlin biography.
Vladimir and Lyudmila wed in 1983 and have two daughters together. Lyudmila graduated from Leningrad State University in 1986 and is reported to be a qualified linguist. For a while, she worked as a German instructor. Later, she stood by her husband's side and fulfilled her duties as first lady when Putin became president (via The Famous People).
Lyudmila's early life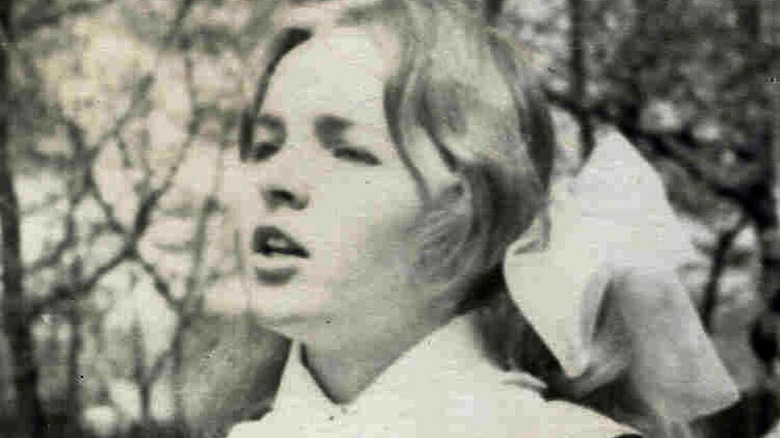 Laski Diffusion/Getty Images
Lyudmila Shkrebneva was born in Kaliningrad in 1958 to a working class family. Her father worked at a mechanical plant and her mother was a cashier. In her younger years, Lyudmila was said to have excelled in literature and the Russian language. She was especially interested in reading poetry and would also write poems herself. Lyudmila was a good student and often participated in school events and contests, as reported by Culturell.
After finishing high school, Lyudmila worked at her local post office for a while before being an apprentice turret turner at the Torgmash plant. The young lady also worked as a nurse before she became a flight attendant. After having different work experiences, Lyudmila eventually decided what she wanted to pursue and enrolled at Leningrad State University to study different languages at the Department of Philology (via 24 Celebs). She was in her third year at the university when she met Putin.
Vladimir and Lyudmila divorce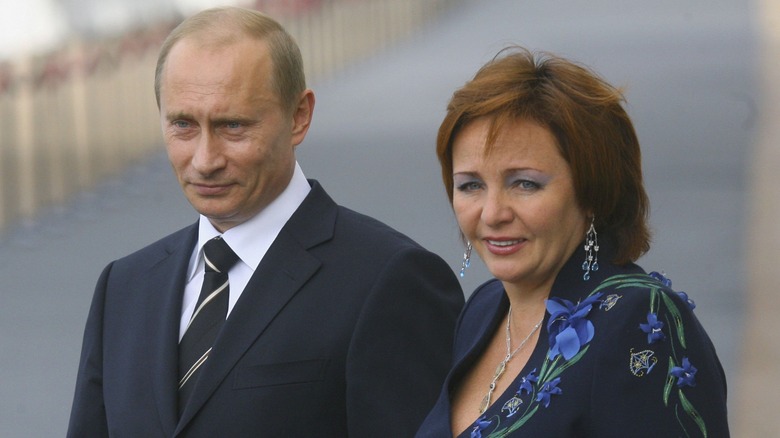 Handout/Getty Images
Through Vladimir Putin's rise to power, Lyudmila stayed away from the spotlight and rarely showed her face to the public. As a report from the Independent noted, a Russian designer who dressed Lyudmila for special occasions revealed that the first lady was not prepared for a life in politics when it was thrust upon her. "She was not ready for this role. Being a president's wife came down on her unexpectedly," the designer reportedly said.
After almost 30 years of marriage, Vladimir and Lyudmila announced their joint decision to dissolve the marriage in 2013. Before their official announcement, there were already rumors of a separation, as Lyudmila was rarely seen in public with Vladimir. Still, the divorce announcement came as a surprise, as it was not common practice for high-ranking politicians to end their marriage while in office. As RT reports, Putin was the first Russian president to divorce while still in position.
During their announcement, the former couple said that it was a "civilized divorce." They also shared that they barely spend time together as husband and wife, and they lived their lives independently. Lyudmila added that she and Putin "will always be friends," with Putin agreeing, "forever, I am sure."
Per the Independent, in 2016, it was reported that Lyudmila married a businessman named Artur Ocheretny, who worked at an events agency. It was reported that the new couple have known each other since the early 2000s.