A Look At The Early Life Of Dr. Joseph Bell
Dr. Joseph Bell was a renowned Scottish surgeon, physician, and a professor at the University of Edinburgh Medical School. What made him different from other physicians was his excellent observational skills, which helped him gain information about patients by merely observing. This skill was what inspired Scottish writer Arthur Conan Doyle to create Sherlock Holmes, one of the most popular fictional characters to this day.
Dr. Bell was born on December 2, 1837, in Edinburgh. He was raised in a religious home, as his father was part of the Free Church, which did not have state nor government ties (via Absolute Crime). Bell's father ensured that his children were educated on the Bible. At 10 years old, he enrolled in the Edinburgh Academy and studied there until the age of 17. Joseph was a good student, particularly excelling in math, geography, Greek, and biblical scholarship, and he also dabbled in sports such as tennis and the Scottish ball game hailes.
Dr. Joseph Bell in medical school
At a young age, Joseph Bell already knew that he wanted to study medicine. According to Sherlockian, Joseph's great-grandfather was Benjamin Bell, a well-known surgeon who was ahead of his time and made significant contributions to the medical field. Joseph Bell attended medical school in Holland before ultimately deciding that he wanted to continue his education at the University of Edinburgh.
The University of Edinburgh was well-suited for Bell, who appreciated its philanthropic programs and the care they provided for the destitute. In addition, it was one of the hospitals that had an asylum, which was rare at that time. According to Absolute Crime, Bell served as a teaching assistant to surgeon Dr. James Syme. Bell would prepare the operating room and assist during surgeries as well. It was Syme's teaching style that honed Bell's skills, as Syme would allow his students to observe operations. Joseph graduated from medical school at 21 years old in 1859.
Joseph Bell started his career in the medical field and became a surgeon at the Edinburgh Royal Infirmary. He then went on to become a professor at the University of Edinburgh, doing lectures on surgery, according to Undiscovered Scotland.
Dr. Joseph Bell's remarkable observation skills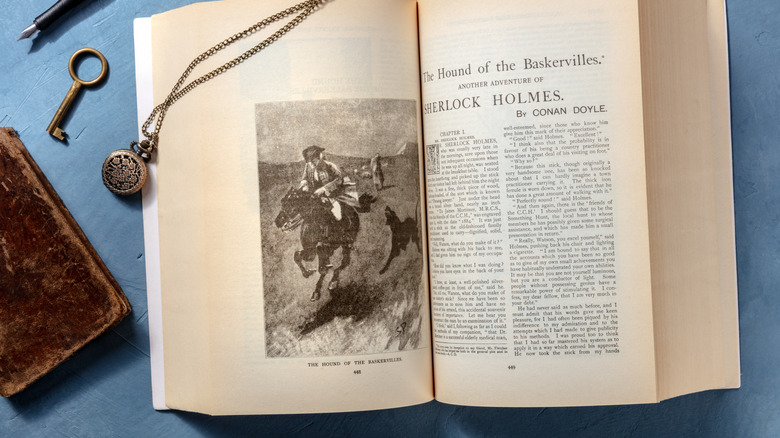 Shutterstock
As a lecturer, Dr. Joseph Bell wanted to instill the skill of deductive reasoning in his medical students. He was exceptional at observing and would be able to figure out patients' medical issues and other basic information just by looking at them or asking superficial questions (via Sage Journals). Bell would look at a patient's gait, their hands, and their mannerisms and immediately know their occupation or why they're seeking medical attention.
Bell is also credited as the man responsible for forensic science, which used observation techniques to solve crimes or gather evidence from crime scenes, according to Crime Traveller. There were even reports that Dr. Bell was allegedly called to aid in the investigation of the Jack the Ripper murders.
Arthur Conan Doyle met Dr. Joseph Bell in 1877 when he enrolled as a medical student and worked as a clerk for Bell. The doctor regarded Doyle as one of his best students, and said he was "exceedingly interested in anything connected with diagnosis." In a letter that Doyle sent to Dr. Bell, the author credited the professor for his most popular fictional character. "It is most certainly to you that I owe Sherlock Holmes... round the centre of deduction and inference and observation which I have heard you inculcate I have tried to build up a man," he wrote (via Past Medical History).