The Tragic True Story Of The Death Of Abraham Lincoln's Dog
Abraham Lincoln, the 16th president of the United States, had a deep love for animals. In fact, when his wife, Mary, was asked what his hobbies were, she simply replied, "cats." In another instance, when the family was scheduled to have turkey for Thanksgiving, his son pleaded with his father to spare the life of the turkey, which he named Tom, and not eat him for dinner. Of course, Abraham obliged (via National Park Service).
Although the household took care of plenty of animals, there was one particular pet that the Lincolns adored: a dog named Fido. Fido, a stray dog, was a mixed-breed pup with yellowish fur. He was adopted by the Lincolns in the 1850s and was loved by the Lincoln children, Willy and Tad. According to America Comes Alive, Fido always spent time with at least one of the Lincolns, and he would often accompany Abraham while doing errands, getting a haircut, or while simply going to his law office in Springfield, Illinois.
By all accounts, Fido was pampered by the Lincolns. He came and went into their home as he pleased, even with muddy paws. Fido was a friendly dog, too, and would often greet people by jumping and licking them.
The Lincolns and Fido separate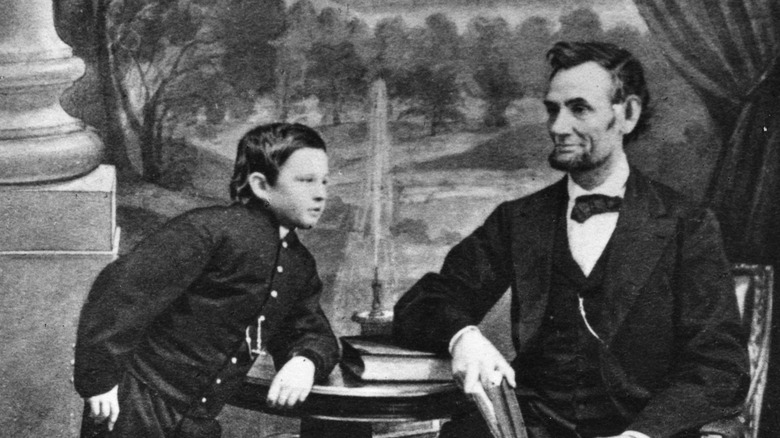 Henry Guttmann Collection/Getty Images
When Abraham Lincoln won the presidency, the event was celebrated with fireworks and congratulatory messages. The family observed that Fido didn't do well with the loud sounds of the fireworks and the numerous people going in and out of the Lincoln home, according to Presidential Pet Museum. Fido would hide under the couch or beneath the children's bed. Abraham and Mary thought that moving to the White House and being a presidential dog won't be suitable for Fido, so they decided to leave him with a trusted family friend before they left for Washington.
The Roll family patriarch, John Eddy Roll, was Lincoln's oldest friend in Illinois, and so the Lincolns decided that they would leave Fido to them. The two Roll boys, John Jr. and Frank, also had a good relationship with Fido. When the Lincolns were about to depart for Washington in 1861, Abraham made sure that Fido would be treated well. As reported by HuffPost, a sofa from the Lincoln home was given to the Rolls so that Fido would feel comfortable and have a piece of home with him. The dog would also be allowed indoors and never tied outside, and he was never to be scolded for having muddy paws. In addition, Fido would be given scraps from the table when the family ate.
Fido's tragic death
Fido seemed to adapt well with the Rolls, and he became a popular dog around town. Lincoln's barber, William Fleurville, updated the president on Fido's condition in a letter that was sent in 1862. In it the barber wrote, "Tell Taddy that his and Willie's dog is alive and kicking, doing well." He added that Fido spent most of his time with John Rolls and his two boys (via The State Journal-Register.)
Fido met an untimely death sometime in 1866. The exact date of the incident wasn't reported, but the Illinois State Journal published an account of the death in 1931, as reported by Sangamon County History. According to a report by J. Emil Smith, the newspaper's editor, Fido was out in town and approached a drunkard, Charlie Planck, who was whittling a stick with a long-bladed knife. Fido acknowledged Planck with his usual way of greeting and jumped on the man. Enraged by the dog's behavior, Planck stabbed Fido and the dog ran away. Fido's lifeless body was then found at a church a month later.
A different account, however, said that it was all an accident. An 1893 story from "Journal" said that while Planck was whittling a stick, Fido jumped on him and he accidentally stabbed Fido with the knife (via The State Journal-Register.) Whether the stabbing was an accident or done intentionally, Fido's death was tragic. According to History Revealed, John Roll gave Fido the honorable burial that he deserved.