The Tragic Death Of The Firstborn Marx Brother
General Photographic Agency/Getty Images
Groucho, Chico, Harpo, Zeppo (and, briefly, Gummo). The names of the Marx Brothers come easily to anyone who knows anything about the history of American comedy. Born between 1887 and 1901 in New York City to German immigrant parents, the brothers started performing as children, per the Marx Brothers website.
According to Britannica, Groucho first appeared on the stage in 1904 and as more brothers followed him into the spotlight, they developed a popular stage show, becoming burlesque and vaudeville stars. By 1924, original member Gummo had been replaced by Zeppo and they had a Broadway hit with the production "I'll Say She Is." "The Cocoanuts" and "Animal Crackers" followed, and in 1929 they started their movie career with an adaptation of "The Cocoanuts." 
The "Animal Crackers" adaptation of 1930 followed, making them some of the first American movie stars. To this day, the films they made for Paramount studios, including "Horse Feathers" and "Duck Soup," remain perennial favorites showcasing the Marx Brothers' winning formula that combined satirical commentary and dizzying wordplay with slapstick antics and jaw-droppingly surreal sight gags. Zeppo left the group to become a talent agent and as a trio, Groucho, Chico, and Harpo moved over to Metro-Goldwyn-Meyer for whom they filmed "A Night at the Opera" and "A Day at the Races," continuing to provide Depression Era audiences with some welcome distraction and laughs. Their 1938 movie "Room Service" had mixed results and their final string of films declined in quality and success. 
The truth about the lost Marx Brother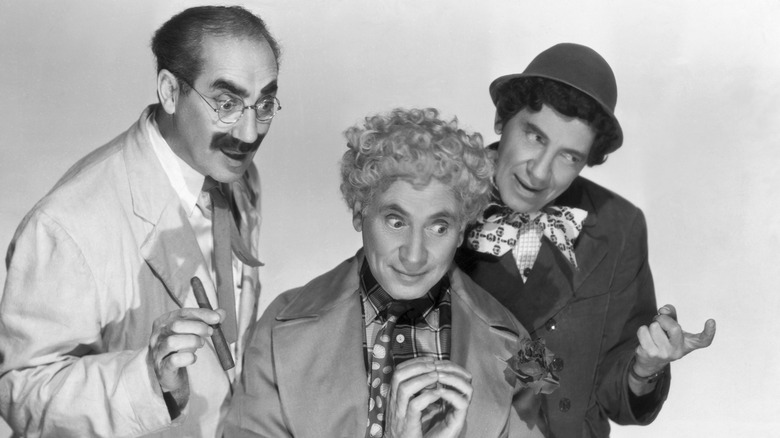 Bettmann/Getty Images
In 1941, the Marx Brothers announced their retirement as a group. As reported by Britannica, they reunited for two movies, "A Night In Casablanca" and "Love Happy," at which point Harpo and Chico semi-retired while Groucho went on to host the comedy quiz show "You Bet Your Life" for over a decade and kept performing into his 80s.
One of the ongoing rumors regarding the Marx Brothers was that there was another brother that had died in his infancy. This was written off as a myth by many people until the 1999 publication of Simon Louvish's book "Monkey Business: The Lives and Legends of the Marx Brothers." Per the first chapter, excerpted in The New York Times, there is a death certificate for Manfred Marx, the firstborn child of Samuel and Minnie Marx, who died on July 17, 1886 at just six seven months old (accounts vary) of "entero-colitis, with asthenia contributing, i.e., probably what we know as the flu.
Chico Marx's daughter Maxine claimed in her own book, "Growing Up With Chico," that as the eldest surviving son, her father was adored and favored over his siblings, particularly Julius "Groucho" Marx. Minnie Marx reportedly referred to Groucho as "der Eifersuchtige," or "the jealous one." Per Find A Grave, Manfred Marx is buried in Washington Cemetery in Brooklyn, New York beside his maternal grandmother Fanny Schoenberg, who died in 1901. There are no known photographs of Manfred Marx.