The Real Reason Maximilian Kolbe Was Declared A Saint After Auschwitz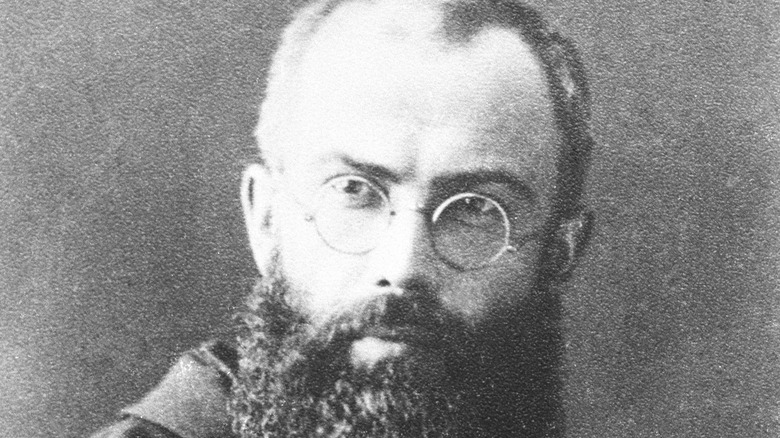 Laski Diffusion/Getty Images
Maximilian Kolbe was born in Poland in 1894. When he was about 10 years old, the young boy reportedly had a dream of the Virgin Mary wherein she asked Maximilian to choose between a red and white crown, with the red representing martyrdom and the white representing purity, as reported by Word on Fire. Kolbe said that he would accept both. Maximilian always wanted to be a soldier to fight for Poland, but his plans didn't push through and he eventually entered a Franciscan order. He became a Franciscan Friar and was ordained a priest in 1918 at 24 years old.
In 1939, World War II broke out and Poland was overrun by the Nazis. Father Kolbe worked as the director of a Catholic publishing center and also started a radio station, where he berated Nazi activities, causing him to be arrested but released later, according to Britannica. The arrest didn't stop the priest from protecting the oppressed. Maximilian and other Friars used the publishing center and his monastery to hide more than 2,000 Polish refugees, most of them Jewish. He also continued preaching against the Nazis.
On February 17, 1941, the Gestapo again arrested Father Kolbe for harboring Jews. He was sent to Pawiak Prison in Warsaw, Poland.
Maximilian Kolbe's time at Auschwitz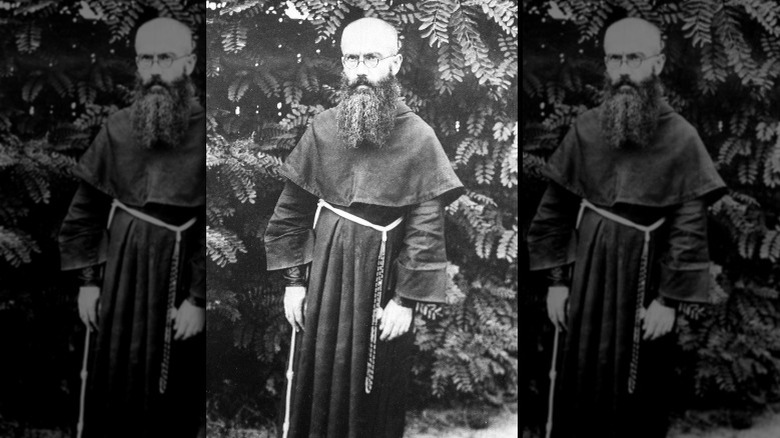 Laski Diffusion/Getty Images
After spending about three months at Pawiak Prison, Kolbe was transported to the Auschwitz concentration camp, where he was identified as #16670. The priest was sent to work together with other prisoners, carrying building materials for the crematorium, according to St. Maximilian Kolbe Church. The conditions were harsh and punishments were common. He was able to write a letter to his mother on June 15: "Everything is well in my regard. Be tranquil about me and about my health, because the good God is everywhere and provides for everything with love."
In July, a man from Kolbe's barracks escaped, and as a result, camp commander Karl Fritzsch picked 10 men from the barracks to be punished and killed. One of those chosen was Franciszek Gajowniczek, who pleaded not to be taken, as he had a wife and children, as reported by Jewish Virtual Library. Kolbe volunteered to take the place of Gajowniczek, and together with nine other men, he was led to Block 13.
The 10 men were subjected to starvation and dehydration, and after three weeks, only four men remained alive, including Kolbe. Reports say that Kolbe led the men in prayer and song while they suffered. He was eventually killed on August 14 with an injection of carbolic acid — a common means of extermination used by the Nazis which results in instantaneous death (via New World Encyclopedia.) He was 47 years old.
Maximilian Kolbe's canonization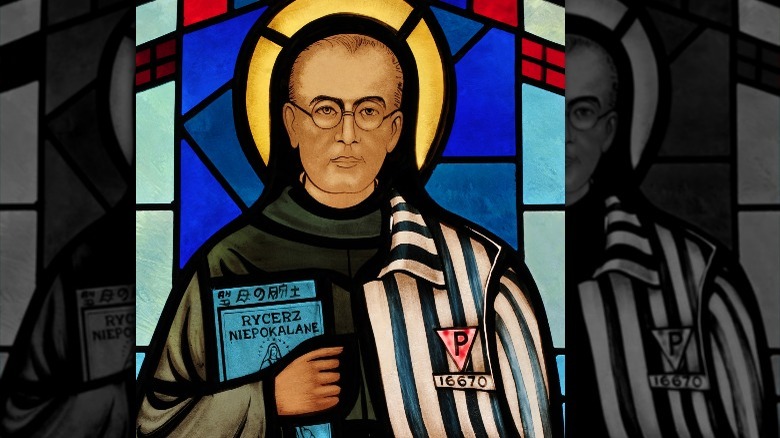 Shutterstock
Throughout Kolbe's stay in Block 13, he was said to have spent his days in prayer, often kneeling in the middle of the floor. He never complained of the punishment he was dealt with and always greeted SS men with a smile, according to Bruno Borgowiec, a Polish prisoner tasked with serving prisoners (via St. Maximilian Kolbe Church.)
Pope John Paul II canonized Maximilian Kolbe as a saint in 1982. During the rite, the pope said that Kolbe "did not die but gave his life for his brother" — a martyr. There were about 150,000 people present at the canonization, and one of them was Franciszek Gajowniczek — the man whom Maximilian Kolbe saved, as reported by The New York Times. In a statement made by Gajowniczek (via St. Maximilian Kolbe Church,) he talked about how surprised he was when the priest volunteered to take his place. He said he never had the chance to say thank you. "I was saved. ... The news quickly spread all round the camp. It was the first and the last time that such an incident happened in the whole history of Auschwitz," he said.
Portraits and paintings of Saint Maximilian Kolbe often depict him in his prison uniform, with a red and white crown on his hand. He remained true to his word and lived a life of purity and martyrdom.