What Happened To The Unabomber After He Was Caught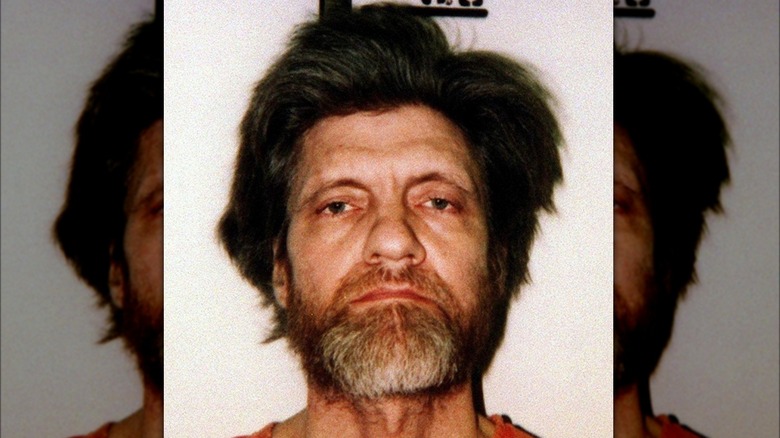 Federal Bureau of Investigation
Per the Federal Bureau of Investigation, Ted Kaczynski was an infamous figure that mailed bombs to universities and airlines over a span of 17 years. Kaczynski is perhaps better known, though, as the Unabomber, a reference to the FBI's code name "UNABOM," which stands for his "UNiversity and Airline BOMbing" targets. The descent of Kaczynski, a brilliant mathematics professor from the University of California at Berkeley, into a reclusive cynic is one of the more fascinating cases of domestic terrorism. For experts, his manifesto, "Industrial Society and Its Future," provided a wealth of material that shed light on his motives and the causes of his dark turn against the foundations of modern society.
According to Crime Museum, Kaczynski began sending out homemade bombs in 1978 after becoming disillusioned by technology and industrialization. A&E reported that he sent a total of 16 bombs, three of which were fatal. Kaczynski's bombs also injured over 20 others. For him, these victims were nothing but collateral damage. In his manifesto, Kaczynski wrote (via The Washington Post), "Well, you can't eat your cake and have it too. To gain one thing you have to sacrifice another."
However, the publication of his manifesto was also Kaczynski's downfall. Upon reading it, David Kaczynski alerted the FBI that the Unabomber sounded a lot like his brother. In April 1996, Ted Kaczynski was arrested at his remote cabin in Lincoln, Montana (via Biography). There, the FBI found a variety of evidence, including written confessions and materials for bomb making that proved that Kaczynski was indeed the Unabomber.
Kaczynski eventually plead guilty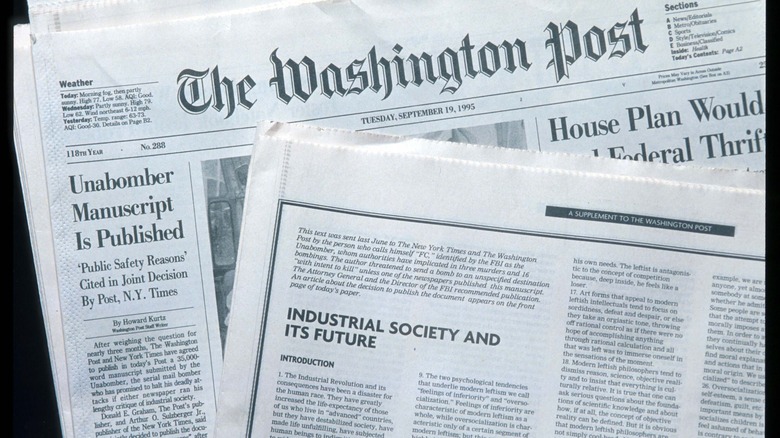 Evan Agostini/Getty Images
Per Biography, Ted Kaczynski was charged with various federal crimes for his bombings. History adds that this included the three fatalities that he caused. Although Kaczynski was initially given an insanity plea deal, he rejected the offer. In 1998, he attempted suicide in his cell, and soon after, he was diagnosed with paranoid schizophrenia. With this revelation, CNN reported that Kaczynski was given another plea deal. If he pled guilty to all of the charges, he could avoid the death penalty. Prosecutors cited his mental health as a "factor" in their decision. In January of that year, Kaczynski pled guilty to all of the charges against him.
According to The New York Times, Kaczynski was sentenced to life in prison without the possibility of parole. This victory led Robert Cleary, the prosecutor in Kaczynski's case, to announce (via CNN), "The Unabomber's career is over." Meanwhile, Kaczynski's family, including his brother David and his mother, lamented the losses his actions caused. Biography noted that Kaczynski was subsequently sent to the United States Penitentiary Administrative Maximum Facility (ADX) in Florence, Colorado. The Independent Record wrote that ADX is also referred to as the "Alcatraz of the Rockies." Here, Kaczynski was locked up in a small isolated cell for at least 22 hours a day.

Ted Kaczynski's life in prison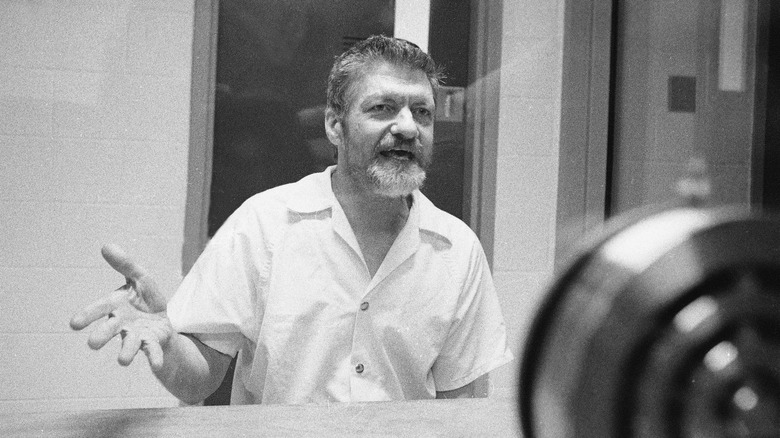 Stephen J. Dubner/Getty Images
Given Ted Kaczynski's 17-year-long plot against modern society, it's no surprise that his days behind bars were at times spent in conflict with his captors. Per Biography, Kaczynski became embroiled in a legal battle to prevent his infamous Montana cabin from being sold off to raise funds for his victims. Kaczynski's efforts failed, and the cabin was auctioned off in 2011 (via NBC News). Although he lost his freedom, Yahoo News! wrote that Kaczynski gained infamous friends at ADX. This included Oklahoma City bomber Timothy McVeigh and terrorist Ramzi Yousef. Kaczynski and the other inmates were allowed to speak to each other through wire-mesh cages.
A 2000 letter written by Kaczynski suggests that he was adapting to prison life and even seemed to enjoy it. "I consider myself to be in a (relatively) fortunate situation here," he wrote (via Yahoo News!). Kaczynski added, "As correctional institutions go, this place is well-administered. It's clean, the food is good, and it's quiet, so that I can sleep, think and write (usually) without being distracted by a lot of banging and shouting." According to AP News, Kaczynski remained at ADX until December 2021. Then 79, he was moved to The Federal Medical Center Butner in North Carolina. CNN reported that the reason for this transfer and the status of Kaczynski's health were not disclosed. However, on June 10, 2023, Kaczynski died by suicide at the facility and was in the late stages of cancer. He was 81 years old. 
If you or anyone you know is having suicidal thoughts, please call the National Suicide Prevention Lifeline​ by dialing 988 or by calling 1-800-273-TALK (8255)​.