The Tragic Death Of Lord Byron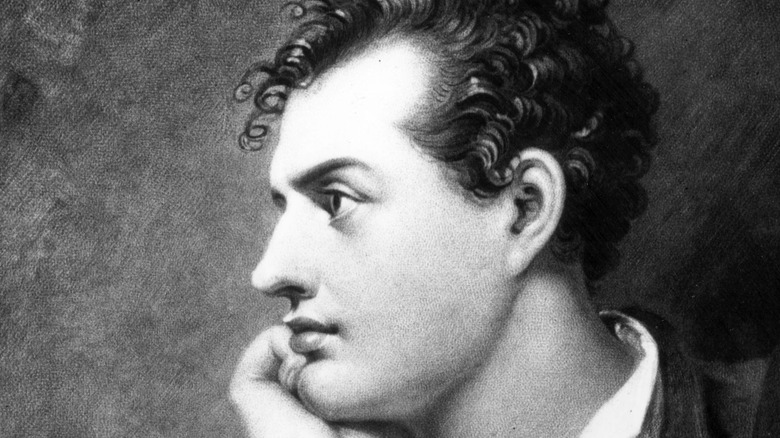 Hulton Archive/Getty Images
George Gordon Byron, better known to poetry fans and literature students as Lord Byron, led what many would consider an eventful life. Not only did he write some of the most famous narrative poems of the Romantic period, but he was also the template for the Byronic hero. He even fathered one of the first computer programmers ever, Ada Lovelace. While Byron represented the dark, brooding, morally questionable figure of that era, what many don't know is that he was a real-life hero, and his tragic death was in the service of freedom.
Byron was born with a clubbed foot in 1788 in London to an aristocratic family. The BBC reported his father died during a trip to the city, making George next in line to the baronetcy of Byron. According to Poets.org, Byron felt unhappy after being abandoned by his father before his death and his mother's resentment of bearing a child with a clubfoot and often isolated himself. Byron inherited the title when he was 10 years old, but he was hardly the lord of a beautiful castle. The Byron estate was rundown and incurred a lot of debts.
Due to his frequent isolation, Byron started writing at a young age. He published a collection of poetry at 14. The book was considered obscene, not just because he ridiculed teachers by name, but also for its erotic tone. Byron released a second collection a few years after. The response to the book caused Byron to run away to the Mediterranean.
Ode to Greece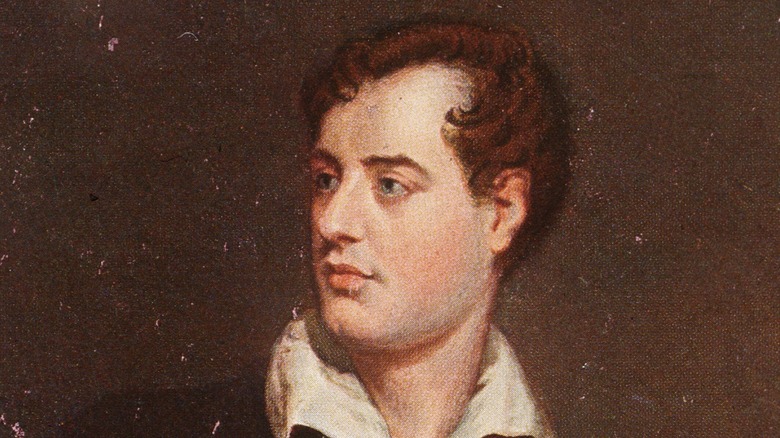 Hulton Archive/Getty Images
Poets.org wrote Byron travelled around Portugal, Spain, Albania, Turkey and Athens. In fact, he fell in love with Greece so much that he declared "if I am a poet ... the air of Greece has made me one." HistoryNet said Byron fit in Greece's less reserved nature. He swam the Helles, went around the sites, and had sex. Lots and lots of sex. It was even suggested that Byron began exploring his bisexuality more during his time touring the Mediterranean. (One of his lovers described him as "Mad, bad, and dangerous to know," according to History Is Now Magazine.)
It was in Greece that Byron wrote one of his most famous poems, "Childe Harold's Pilgrimage." Byron probably was tempted to stay in the Mediterranean forever, but he returned to England by 1811. Almost overnight, he found himself becoming the most famous poet in the country.
Around this time, Byron married Annabella Millbanke. He also met his half-sister and possibly had an incestuous affair with her. The scandal was so bad that Byron once again left England in 1816. He decided to spend some time with his friends Percy Bysshe Shelley and Mary Shelley, and Mary Shelly's sister Claire Clairemont in Lake Geneva, per the BBC. This was the year without a summer, and it was during this vacation, Mary Shelley conceived of Frankenstein.
Byron kept traveling around Europe (even taking up with the 19-year old Countess Teresa Guiccioli). But he grew bored and wanted to do something heroic. He found it in his beloved Greece, which was fighting for its independence from Turkey.
Dying a military hero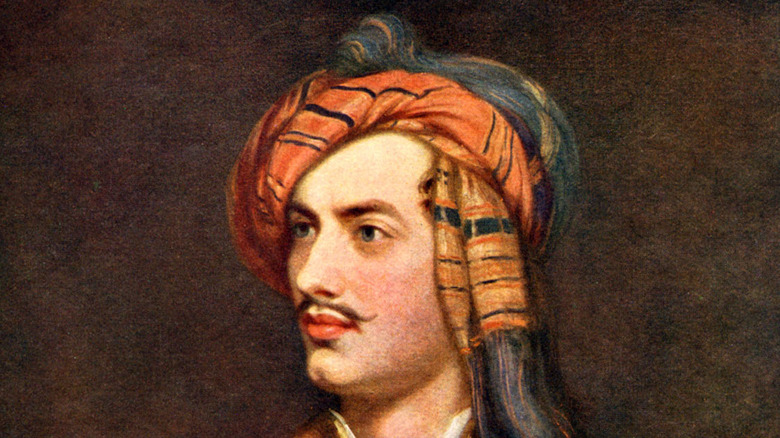 Culture Club/Getty Images
History noted that Byron had always had a soft spot for liberal causes, particularly for fights for independence. And so Byron made his way to Greece from Italy where, as HistoryNet pointed out, he made a rather dramatic but prophetic comment that he had a "presentiment that I shall die in Greece."
Byron spent £4,000 to help refit the Greek fleet and tried to unite the different Greek factions to fight the Turks together. By most accounts, Byron was an excellent military leader. He brokered conversation between the groups, sought good training for the troops, and even roughed it up with his men, camping in the squalid conditions.
In March 1824, Byron was in the camp at Missolonghi, training alongside his soldiers. The rebellion's leaders planned to attack the Turkish-occupied city of Lepanto and Byron wanted to instill more discipline in his men. It was a rainy, chilly March, so it was no surprise that he fell ill the month after. In an attempt to ease his fever, doctors decided to bleed him, using leeches. This turned out to be a deadly choice. Lord Byron died on April 19, 1824, from fever. He had just turned 36.
Despite the many scandals he inspired, Byron was mourned all over, and none more so than Greece. Every town in Greece has a street called Odos Vyronos, or Byron street, and many memorials to the poet exist in the country.