Whatever Happened To The Chocolate Rain Guy?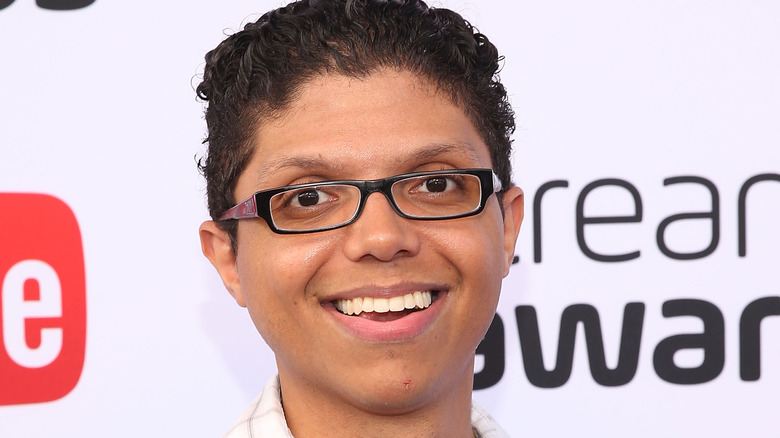 Jesse Grant/Getty Images
The internet and specifically platforms such as YouTube have given everyone in the world a voice and the option to quickly and easily share the things they create with the world. Gone are the days when recording a song required spending huge amounts of money to rent space in a studio and then hoping for a record deal. If you're willing to spend a comparatively small amount of money on some at-home recording equipment, with a few clicks of the mouse your song can be on YouTube and, with any luck, will become a smash hit.
Back in 2007, Adam Nyerere Bahner, better known by the pseudonym Tay Zonday, recorded a song about the Black experience in America and released it on the video-sharing platform. "Chocolate Rain," in spite of or perhaps because of its low production values, its repetitive earworm-inducing melody, and its nonsensical captioning of everything the performer is doing ("I move away from the mic to breathe in"), the song became a viral hit. As of September 2023, the song has attracted more than 137 million views on YouTube. Of course, much of the attention Zonday's "Chocolate Rain" received came, when the song was at the height of its virality. Nevertheless, the Minnesotan musician and songwriter — though he now also self-describes as a "meme" — has remained in the public eye to a lesser degree ever since.
When Chocolate Rain first made a splash
After "Chocolate Rain" first started attracting serious numbers on YouTube, which in 2007 was still in its comparative infancy –  the mainstream media came knocking. In the months that followed, he made numerous high-profile TV, radio, and podcast appearances, including on "Jimmy Kimmel Live!," "Opie & Anthony," and was interviewed by a multitude of news outlets, according to Zonday's website.
In a 2016 Vice interview, Tay Zonday admitted that "Chocolate Rain" wasn't exactly the sudden viral smash that everyone believes it to have been. In fact, it didn't attract much of an audience at all on YouTube when he first uploaded it. Instead, it gained attention after being posted on a number of other sites, including Digg and 4chan, the exposure from which led people to Zonday's original upload and the numbers started to blow up.
In early 2021, Zonday admitted that one of the reasons "Chocolate Rain" blew up was because he had a "voice-body mismatch," referencing his diminutive stature and boyish looks with the baritone, silky-smooth singing voice that comes out of it. "I look like Bruno Mars, I sound like Barry White, I move like Mr. Bean," he joked to Buzzfeed Video on YouTube. In the immediate aftermath of his sudden fame, Zonday said, he was overwhelmed with requests to perform, and he took as many as he could, joking that at the time he didn't know how to say "no."
After the chocolate rain storm
Even when Tay Zonday was enjoying the first wave of celebrity following "Chocolate Rain" going viral, it seemed that commentators from across the internet were keen to point out that novelty songs are typically a flash in the pan for those who create them. "I don't imagine the video has much more of a shelf life at this point," wrote City Pages journalist Sarah Askari back in August 2007.
We know now, of course, that the song has remained a part of internet lore, with Zonday still enjoying a career ever since. As AllMusic reports, Zonday first uploaded "Chocolate Rain" to YouTube under a Creative Commons license, which meant that others could reuse and repurpose his content without having to pay royalties to do so. This initially limited Zonday's ability to monetize his moment of fame, but in the end, the fact his work was able to travel far and wide likely helped, with the YouTube star cashing in with lucrative commercial partnerships with brands such as Dr. Pepper, for which he recorded a new version of the song, retitled "Cherry Chocolate Rain," to promote the cherry chocolate flavor of the drink.
Zonday's still got a following
These days, it appears as if Tay Zonday is in the business of being Tay Zonday. He has an X account (formerly known as Twitter), where most of his posts consist of him either joking about his fame, or random thoughts about racial and social issues. He also has a Cameo account, where he notes that, for a $40 booking fee, he'll perform at a birthday party, perform a musical apology, or whatever else his patron may ask of him.
Zonday also continues to post on his YouTube channel, where he mostly shares his latest music. Though he has yet to replicate the incredible success of "Chocolate Rain," his videos still typically receive hundreds of thousands of views, while he still scores the occasional YouTube hit: his cover version of the intro music to the smash role-playing game "Skyrim," a song called "Dragonborn," was another notable upload, attracting some 12 million views. He has also made a career as a voiceover artist and actor.
More than anything, though, Zonday is sticking by the original anti-racism message that his most famous song was trying to transmit and told Buzzfeed Video that he hopes the message is clearer today than it was when he first uploaded it back in 2007. He released a celebratory acoustic 10th-anniversary edition of "Chocolate Rain" in 2017, which once again gained millions of views.