The Unsolved Murder Of Jane Stanford
California's Leland Stanford Junior University was founded by Leland and Jane Stanford in 1885. As reported by Stanford University, the university was built as a memorial to their son Leland Jr., who was overcome with typhoid and died in 1884. The Stanfords' goal for the university was to provide students with a "nonsectarian, co-educational, and affordable" option for obtaining a higher education.
In its early years, Stanford University suffered a number of setbacks, including the death of Leland Stanford Sr. in 1893. However, his wife Jane assumed her husband's leadership position and kept the university open despite ongoing financial concerns.
Twelve years after her husband's death, Jane Stanford was murdered by poisoning. Although there are many details known about the circumstances of her death, it is unclear who actually killed Jane. 
As reported by Stanford Magazine, some sources, including a number of history books, list Stanford's cause of death as heart failure. However, Stanford physician Robert W.P. Cutler confirmed reports that she was actually killed by strychnine poisoning.
On the evening of January 14, 1905, Jane Stanford was relaxing in her San Francisco home with a glass of Poland Spring mineral water. After a few sips, Stanford realized the water tasted unusual. In an effort to avoid becoming ill, she "induced herself to vomit" and immediately called for help. Stanford's secretary and her servant each drank a sip of the water and confirmed it had an unusually "bitter" flavor.
Jane Stanford's second poisoning and death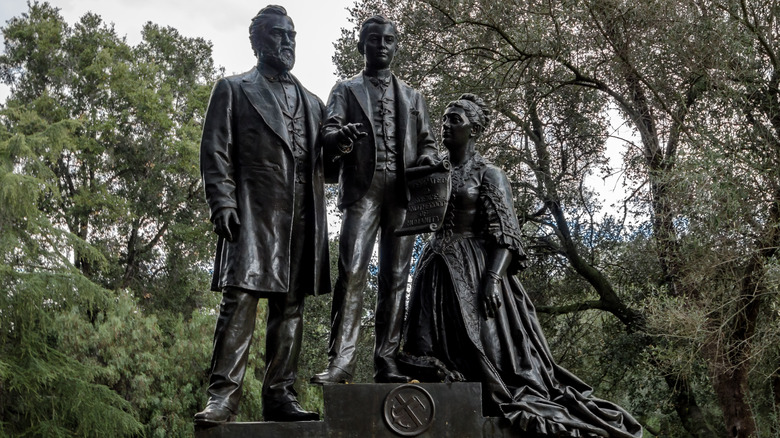 Shutterstock
Jane Stanford sent the remaining water to a chemist, who confirmed it contained strychnine. The chemist further confirmed the amount of strychnine in the water would have killed Stanford immediately if she drank the entire glass.
Although she survived the poisoning, Stanford developed a chest cold in the days and weeks following the incident. As reported by Stanford Magazine, the weather in San Francisco only exacerbated the symptoms.
Stanford was also under a great deal of stress because she has no idea who wanted her dead or why. She was also concerned about changes in leadership and financial challenges at Stanford University.
In an attempt to escape the stress and San Francisco's cold, foggy weather, Stanford arranged a trip to Hawaii — where she hoped to heal from her illness and get some much-needed rest.
Stanford was staying at Honolulu's Moana Hotel when she was poisoned a second time. Stanford Magazine reports Stanford asked her secretary to prepare her some sodium bicarbonate, as she had indigestion. After finishing the drink, she shouted, "Run for the doctor! I have no control of my body! I think I have been poisoned again!" Moments later, Stanford was declared dead. Doctors later confirmed she was again poisoned with strychnine.
The only person who was with Jane Stanford both times she was poisoned was her secretary Bertha Berner. However, she was never charged due to lack of evidence and a clear motive.