The Truth About Merle Haggard's Rough Childhood
Michael Ochs Archives/Getty Images
Sometimes called the poet of the common man, country music legend Merle Haggard faced numerous struggles growing up. This famed singer-songwriter grew up in Oildale, California, as the son of James and Flossie Haggard. The Haggards had moved to California from Oklahoma in 1935 after a fire at their farm (via Oklahoma Historical Society). They moved west in search of a better life, like countless others who had fled the drought-plagued states during the Dust Bowl (via The New York Times). Haggard's father, who worked for the Santa Fe railroad as a carpenter, used his skills to convert an old boxcar into the family home.
Haggard lost his father when he was only 9 years old. After his father's death, Haggard soon started getting into trouble. His mother tried to get him to focus on his love of music, but he kept skipping school and committing other offenses (via PBS). He was only 11 years old when he went to a juvenile detention center (via NPR). He had already developed a taste for hopping on freight cars by this time. In an interview, Haggard said, "I was probably the most incorrigible child you could ever meet." His sister, Lillian Haggard Rea, explained to The New York Times, that "he wasn't a bad kid. The poor child was just in pain."
Teenage Merle Haggard spent time behind bars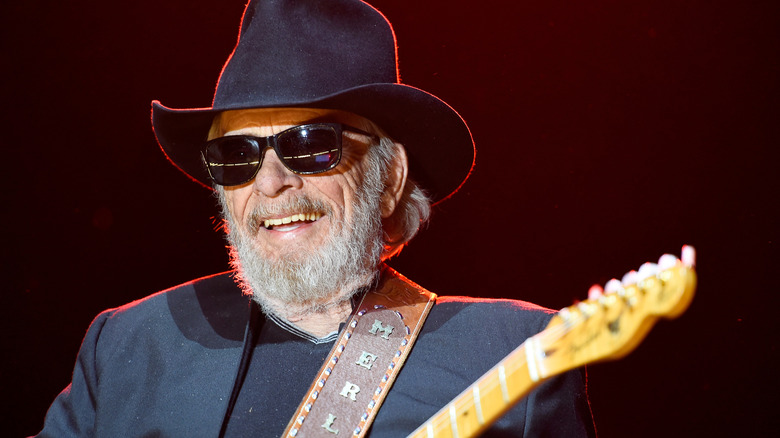 Frazer Harrison/Getty Images
As a teenager, Haggard continued on his wayward path. He landed in jail three times and made at least one attempt to escape (via History). Haggard's string of run-ins with the law hit its peak with him getting arrested at the age of 18 for burglary in 1957 and his conviction for this crime got him a 15-year sentence in San Quentin prison. While in prison, he was in the audience when Johnny Cash played for the inmates on January 1, 1958. Cash impressed and inspired Haggard, and Haggard chose to pursue music after his release. He only ended up serving two years of his sentence.
All of Haggard's hard knocks in his early life found their way into his music. "Hungry Eyes" draws from his experience growing up poor and "Mama Tried" reflects his wild youth. Haggard's time behind bars inspired such songs as "Sing Me Back Home" and "Life in Prison."