Will A Twisted Sister Reunion Ever Happen?
Rob Kim/Getty Images
Popular '80s metal act Twisted Sister said good-bye to fans with their 2016 farewell tour, but (depending on who you listen to) it looks like they might be up for getting the band back together. Guitarist Jay Jay French mentioned that he's more open to a reunion than he's been in years past in a recent interview on the Chuck Schute podcast (posted on YouTube). "We used to say it would never happen. I will no longer say that," French explained (via Loudwire). After the last Twisted Sister tour ended, French "just said 'that's it for me.' But who knows?" His comments at least gives fans some hope for the future.
French is willing to get more specific about his life in rock, however. He is publishing his memoirs, "Twisted Business: Lessons From My Life in Rock 'N' Roll," in the fall of 2021.
While French seems vaguely open to the idea of a reunion, his former bandmate, singer Dee Snider, has shared some details in recent years. Snider only wants to bring the group together under certain circumstances, as he explained during an April 20, 2021 appearance on Lipps Service, a podcast hosted by Scott Lipps (also via YouTube). "We've been on the same page with this. I would absolutely reunite with the guys for a song or two for a charity or for a moment."
Possible reunion for a song or two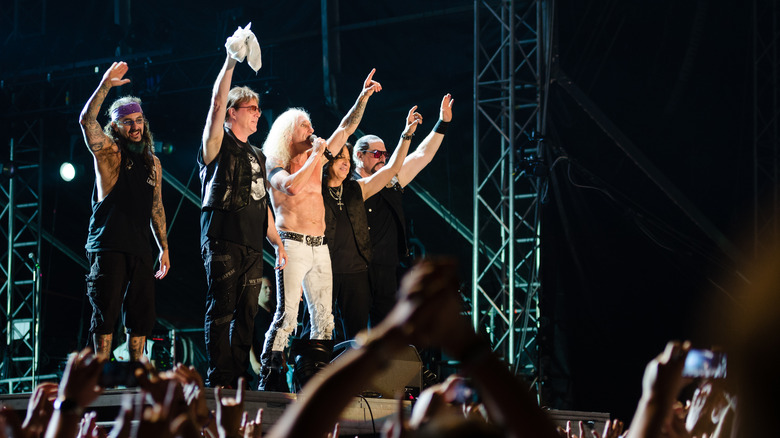 Shutterstock
Snider, however, rejected the notion of doing a full reunion concert, saying to Scott Lipps that "to go out and do a 90-minute or two-hour set as Twisted Sister again? I don't see that happening." For right now, Snider seems to be focused on his own solo career. "I broke into the Top 20 with my last album, 'For the Love of Metal,'" he explained. Snider is hoping to duplicate that success with his next effort, "Leave a Scar," set to be released on July 30, 2021 (via AllMusic).
Any reunion, of course, would be missing a key figure in the band's success. Drummer A.J. Pero died on March 20, 2015 (via Billboard). The longtime rocker had been battling advanced heart disease, and he died of a heart attack. Snider called him "the final piece in a band that would become an international sensation. ... His sledgehammer assault on the drums helped drive Twisted Sister and I to greatness and inspired me to rock every single show."