Ruth Ellis: The Tragic True Story Of The Last Woman Executed In The UK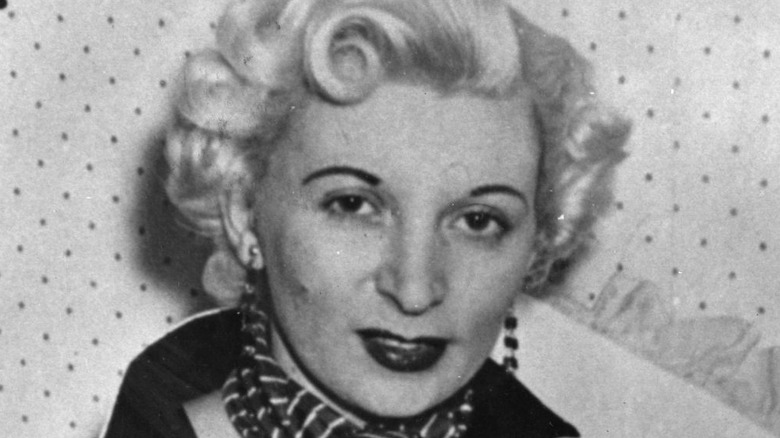 Evening Standard/Getty Images
In 1955, Ruth Ellis was working as a nightclub hostess in the Hampstead section of London, England. To supplement her income, she also worked as a model and a fledgling actress. As reported by Crime & Investigation, Ruth was the single mother of a three-year-old daughter and a 10-year old son. She was also involved in a turbulent relationship with a man named David Blakely, who was reportedly engaged to another woman.
As reported by History, Ruth Ellis became pregnant with Blakely's child in early 1955. However, she miscarried after an altercation with lover, during which he reportedly struck her in the abdomen. The Irish Times reports Ruth and David had an unhealthy relationship that was described as "alcohol-fuelled, passionate, and violent." However, when Blakely attempted to end the relationship, things turned deadly.
On April 10, 1955, Blakely was hanging out with some friends at the Magdala pub. Although he had been avoiding Ellis, she found him at the pub and waited outside for him to leave. When David walked out the door, Ruth shot him in the back twice. The Irish Times reports he immediately fell to the ground, but she shot him two more times before "calmly" handing her gun to an off-duty police officer. She then asked the man, "Will you please arrest me?"
As reported by History Extra, Desmond Cussen, with whom she'd had a brief relationship, accompanied Ruth Ellis to the pub, and provided her with the gun, but she was held solely responsible for Blakely's death.
Ruth Ellis' trial, conviction, and execution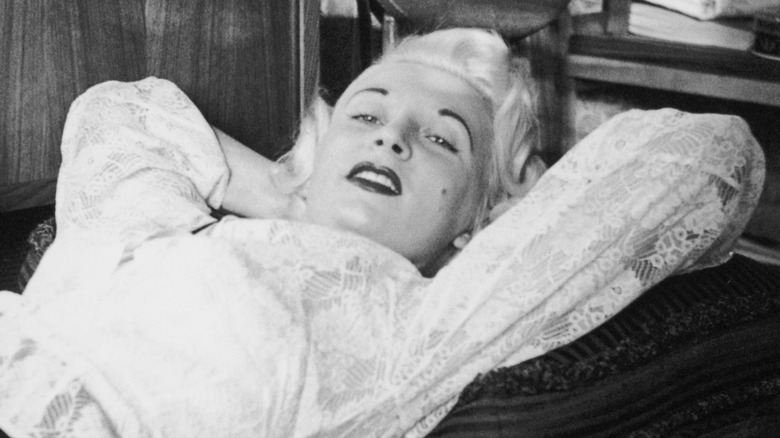 Hulton Archive/Getty Images
Ellis was promptly arrested and charged with the murder of Blakely. Her trial began in June 1955. Ellis' defense team highlighted the abuse she suffered at David Blakely's hands. As reported by The Guardian, their goal was to have the charge reduced to manslaughter, which would reduce the severity of the sentence and ultimately spare Ruth Ellis' life. While addressing the jury, Ruth Ellis said David Blakely routinely struck her "with his fist or hands" during arguments. She also suggested David's abuse may have caused her to lose their child, as he "got very violent" and "thumped [her] in the tummy" prior to her miscarriage. Desmond Cussen's involvement in the crime was neither presented nor discussed during the trial.
During cross examination, Prosecutor Christmas Humphreys asked Ruth Ellis what she expected to happen when she shot David Blakey. She responded that it was "obvious" she "intended to kill him." As reported by History, that statement ultimately negated any question of self defense and sealed Ruth Ellis' fate. After deliberating for 30 minutes, the jury returned a guilty verdict and Ruth was sentenced to death by hanging.
Prior to Ruth Ellis' execution, thousands of people signed petitions and staged protests against the imposed punishment. However, the 28-year-old woman was hanged at Holloway Prison on July 13, 1955. Ruth Ellis was the last woman executed in the United Kingdom, and one of the last people executed for murder in Great Britain.