The Stunning Details Discovered In Carrie Fisher's Autopsy Report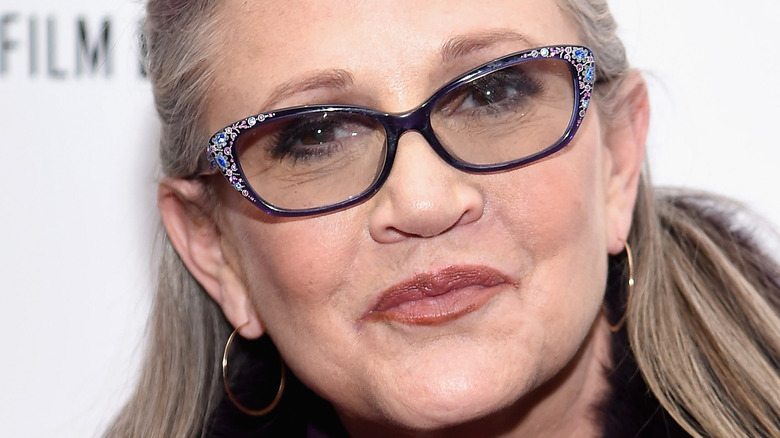 Dimitrios Kambouris/Getty Images
The world reacted with sadness when the news broke that iconic and beloved actress and writer Carrie Fisher died on December 27, 2016, four days after she went into cardiac arrest on a flight to Los Angeles, California. As reported by the Los Angeles Times, Fisher, who became famous for her role as Princess Leia in the original "Star Wars" trilogy and went on to write several best-selling novels and memoirs, experienced sleep apnea. Per her assistant, the actress slept for most of the plane ride, having a few apneic episodes along the way. Toward the end of the flight, Fisher couldn't be woken up, and she eventually began vomiting before slumping over. Nurses aboard the plane attempted to assist her, and when the plane landed, she was rushed to Ronald Reagan UCLA Hospital. 
Per CNN, Fisher's mother, actress Debbie Reynolds, tweeted shortly after Fisher was admitted to the hospital that her daughter was "in stable condition." Reynolds went on to write, "If there is a change, we will share it. For all her fans & friends. I thank you for your prayers & good wishes." Four days later, Fisher again went into cardiac arrest, and doctors attempted to revive her for 90 minutes but to no avail. The 60-year-old actress was ultimately declared dead just before 9 a.m. on December 27, 2016. Even more tragically, Reynolds died the following day after having a stroke. Family members held a joint private memorial and funeral in January 2017. Two months later, in March 2017, the family held a public memorial that drew over 1,000 attendees, per CNN.
She experienced mental health and addiction issues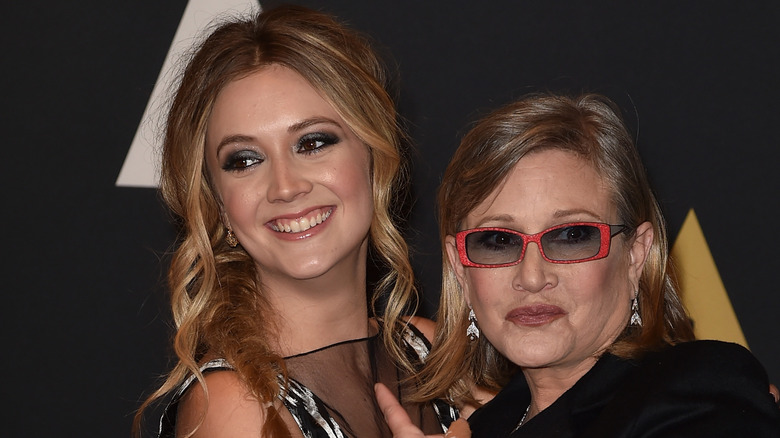 Kevin Winter/Getty Images
Per the Los Angeles Times, officials released details from Fisher's autopsy in June 2017. The coroner discovered that a mixture of drugs was present in Carrie Fisher's system at the time of her death: cocaine, methadone, MDMA, alcohol, and opiates. Although the results suggested heroin exposure, tests couldn't determine the amount Fisher might have taken nor when she had taken it. Elsewhere, the report determined that the cocaine would have been consumed within the 72 hours before her hospitalization on December 23. According to the Los Angeles Times, Fisher's cause of death was listed as "sleep apnea with other factors," with "other conditions" stated as "atherosclerotic heart disease" and "drug use." The report also included the note, "How Injury Occurred: Multiple drug intake, significance not ascertained." Medical examiners refrained from dissecting Fisher's body per her family's request and instead used CT scans.
Fisher had been very open about her experiences with bipolar disorder and co-occurring drug and alcohol abuse and often used her experiences as material for her books and performances. Her daughter, actress Billie Lourd (shown above with Fisher), released a statement to People magazine stating, "My mom battled drug addiction and mental illness her entire life. She ultimately died of it. She was purposefully open in all of her work about the social stigmas surrounding these diseases." Fisher's brother Todd Fisher, who later wrote a memoir about his sister and mother titled "My Girls: A Lifetime With Carrie and Debbie," told the Los Angeles Times: "I honestly hoped we would grow old together, but after her death, nobody was shocked."
If you or anyone you know is struggling with addiction issues, help is available. Visit the Substance Abuse and Mental Health Services Administration website or contact SAMHSA's National Helpline at 1-800-662-HELP (4357).
Her substance abuse issues started young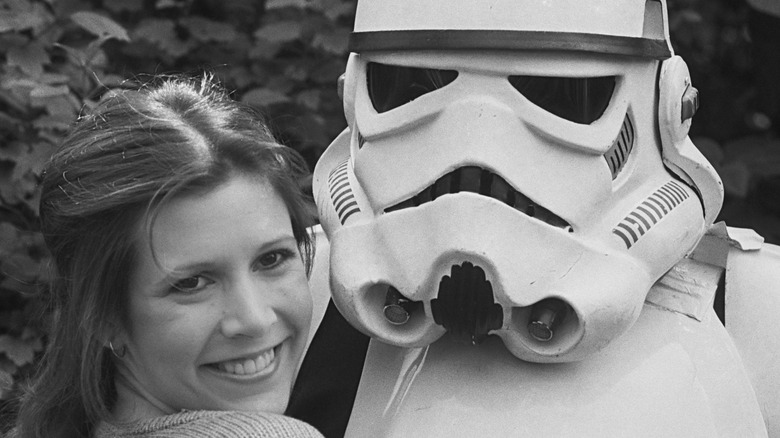 Chris Ball/Getty Images
According to The New Zealand Herald, Carrie Fisher said that her substance abuse started when she started smoking marijuana when was 13 years old. Although she never liked alcohol — once saying she was "allergic" — and avoided cocaine, she said she started using LSD (like thousands of other young people in the 1970s) in her 20s. In a 2013 interview with the Sarasota Herald-Tribune, Fisher said she "wanted to feel any way other than the way I did, so I'd do anything."
Fittingly, Fisher said her drug habits were "in full swing" by the time she was acting as Princess Leia fighting Darth Vader's evil forces in "The Empire Strikes Back," according to The New Zealand Herald. "Slowly I realized I was doing a bit more drugs than other people and losing my choice in the matter," she said while on tour in Sydney promoting her autobiography "Wishful Drinking." Later on, she became an outspoken advocate for mental illness, candidly discussing electro-conversion therapy and treatment at a time when it wasn't so easily discussed as it is today. As Karen Karbo wrote in National Geographic, the actress "could be warm, tough, funny, and fierce, all at the same time," and "it was her huge heart, her humor, and her complex personality that made Princess Leia difficult, and thus immortal."
If you or anyone you know is struggling with addiction issues, help is available. Visit the Substance Abuse and Mental Health Services Administration website or contact SAMHSA's National Helpline at 1-800-662-HELP (4357).