Out Of Every Led Zeppelin Song, One Stands Above The Rest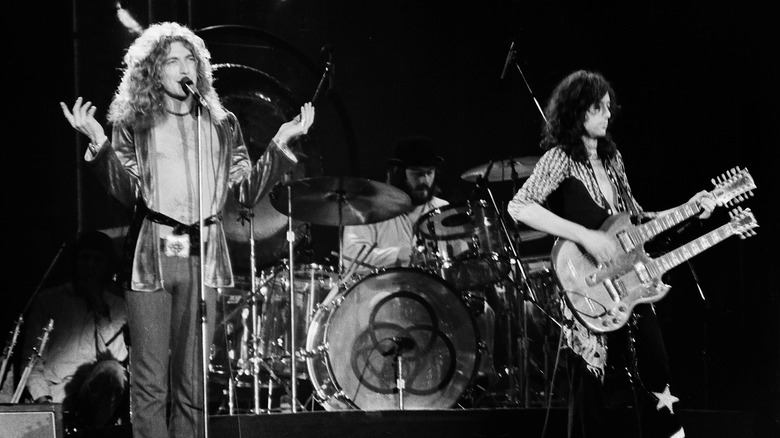 Shutterstock
Led Zeppelin is, beyond question, one of the greatest and most influential bands in the history of rock 'n' roll. Guitarist Jimmy Page said so himself, and while it's not unexpected that a musician would claim his band is the best, the legendary guitarist said so without a hint of conceit. As Loudwire reported, Page explained why he came to this conclusion: "Over the years, a lot of other musicians have told me they thought we were the best ... when you talk about a band as a collaborative musical unit, we were the best ... a collection of musicians who are each at the top of their craft in their own right."
The band is also associated with a number of groundbreaking songs that still get heavy rotation on classic rock radio today. "Black Dog," "Kashmir," "Immigrant Song" — all remain testaments to the massive mark the band left on the history of the genre.
However, one Led Zeppelin song will be associated with the band for as long as humans talk about the history of music. And while statements like this are usually subjective and based on opinion, in this case, radio airplay numbers and streaming figures — as well as the opinions of music critics and the band itself — clearly point to this one song standing out above the rest.
Stairway to Heaven will always be Led Zeppelin's signature song
Ask any classic rock DJ to play a Led Zeppelin song, and chances are they're going to put the needle on "Stairway to Heaven." The eight-minute homage to all things mystical may not scream "radio-friendly," but as Billboard reports, radio listeners don't seem to mind. The song is, by far, the band's biggest revenue-earner on FM radio, earning twice as much as the second-place song ("Kashmir"). Similarly, it's the band's most popular tune when it comes to the more modern way of listening to the "radio," which is to say, streaming, per Online Radio Box.
From a critical standpoint, "Stairway" is also a winner. Though not every critic puts the song at the top of their list of Led Zeppelin tracks, it's always close by. For example, Rolling Stone put the tune in second place behind "Whole Lotta Love."
Finally, there's the attitude about the band itself toward its signature song. As Showbiz Cheat Sheet reports, singer and songwriter Robert Plant lost interest in the song over the years — likely from boredom at performing it night after night, decade after decade. But for flutist and bassist John Paul Jones, "Stairway" is everything Led Zeppelin is about in one eight-minute track. "It's just kind of a Led Zeppelin sampler, isn't it? It has everything we do in it somewhere," he said.