The Truth About Ezekiel Elliott And Dak Prescott's Relationship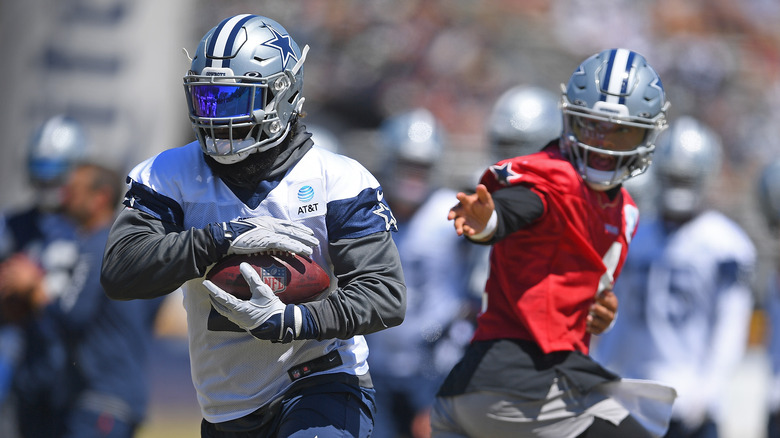 Jayne Kamin-oncea/Getty Images
Now in its 16th season, HBO's "Hard Knocks" premieres August 10, 2021, and the trailer for the new installment makes a bold claim. The NFL training camp documentary series will focus on the Dallas Cowboys this year, following the team as it prepares to take on the reigning Super Bowl champs, the Tampa Bay Buccaneers. "America's team is back," the trailer boldly claims. The Dallas Cowboys earned the nickname in the late 1970s, after the team won two of the decade's Super Bowls.
HBO's prediction that 2021 will be the Cowboys' "Comeback Season" is largely based on the chemistry between quarterback Dak Prescott and running back Ezekiel Elliott. The pair put up what the NFL called "mind-blowing stats" in their shared rookie season in 2016, and the team has been able to count on them being a force to reckon with ever since. Their relationship on the gridiron is obviously going pretty well, but are they friends off the field, as well?
Elliott and Prescott have been buddies 'from the beginning'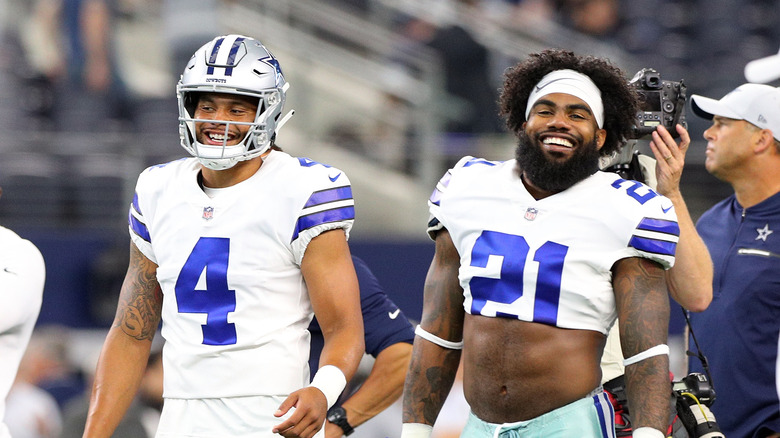 Richard Rodriguez/Getty Images
The 2016 season was the start of Ezekiel Elliot and Dak Prescott's relationship on the field, but the two actually met before the draft, at the NFL scouting combine, according to Sportscasting. "We kicked it from the beginning," Prescott said, adding that the two keep each other positive and motivated on the field. "We have that mutual respect for each other, no matter what we say to each other, good or bad." Sounds like the basis for a good friendship. But do they hang out off the field, as well?
Prescott told The Dallas Morning News that yes, they do. "Zeke's a great friend," he said. The quarterback has grown accustomed to having his "best friend" in the backfield at training camp, something he missed in the 2019 pre-season, when Elliott was holding out during contract negotiations. This year both are ready to train firing on all cylinders, and the fans will have an inside look via HBO's "Hard Knocks."
Like any young, successful pals, Dak and Zeke like to go out and let loose. TMZ spied them playing with some interesting party props in Key West, Florida, in 2018, and the two also received a bit of flak for throwing a party during the coronavirus pandemic. But hey, that's what friends are for, right?