The Truth About Ric Flair's Luxury Car Collection
Shutterstock
Ric "The Nature Boy" Flair is one of the most flamboyant professional wrestlers of all time, which is truly saying something in a field full of over-the-top personalities with extravagant lifestyles and bigger-than-life images. One would assume that someone with Flair's outrageous tastes for the opulent and lavish would have an impressively luxurious car collection, and Flair's collection certainly delivers. 
Born Fred Phillips in Memphis, Tennessee on February 25, 1949, per The Famous People, he was adopted by Richard Reid Fliehr and Kathleen Virginia Kinsmiller and renamed Richard Morgan Fliehr. He became an amateur wrestler as a teenager and dropped out of the University of Minnesota after his first year. While working as a bouncer, he met American Wrestling Association promoter Verne Gagne. 
The rest is history; he took the ring name Ric Flair in 1972 and started his professional wrestling career. He joined the National Wrestling Alliance in 1974 where he became the United States and World Heavyweight Champion and became the face of the NWA with his blond mane, jeweled costumes, and designer suits. He left the NWA for the World Wrestling Federation in 1991 and there won countless championships, becoming the first active wrestler to be inducted into the WWE Hall of Fame on March 29, 2008. He retired a day later but stayed on as a coach, including for his daughter, wrestler Charlotte Flair. He severed ties with the organization on August 3, 2021, per People; Flair stated, "There has been no animosity and everything has been on friendly terms."
Ric Flair once reportedly refused to ride in a Kia and demanded a fancier car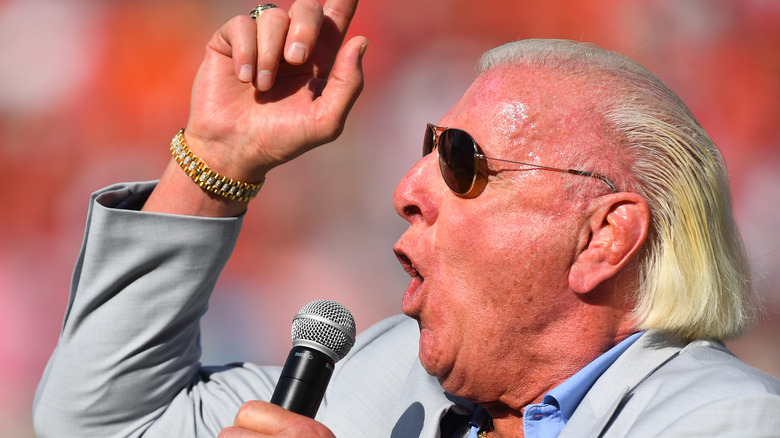 Scott Cunningham/Getty Images
Per Sportskeeda, part of Ric Flair's $3 million net worth consists of a fleet of luxury cars, including a classic Chevrolet Camaro, 1999 Bentley Arnage T (valued over $70,000), and a Mercedes Benz valued at a cool $30k. These are apparently just his backup cars, as he's often seen driving "a black Chevrolet SS worth more than $70,000. In December 2020, HotCars reported that Flair had been seen driving a grey Porsche Cayenne Turbo.
In fact, Flair is so devoted to the luxury car lifestyle that he once reportedly refused to ride in a Kia. WrestleTalk reported that Conrad Thompson told a story on his podcast "What Happened When With Conrad Thompson" in which Flair thought the Uber driver that had been sent for him was a fan and was joking about giving him a ride in his Kia. When it became clear that the driver was serious, Flair allegedly told him "The World Champion doesn't ride in KIAs so get a f*****n' town car, get a Cadillac and come back." Flair has also furthered his association with cars by appearing in commercials for U.S. Auto Sales, available on YouTube, in which he played Papa Flair, the loud, violent proprietor of a sketchy used car lot, and a series of ads for CarShield, also available on YouTube, in which he appeared as a CarShield employee still wearing his spangled, feathered costumes, and hitting fellow employees with chairs as the mood strikes.