A Slice Of Princess Diana's Wedding Cake Was Just Auctioned Off For A Stunning Amount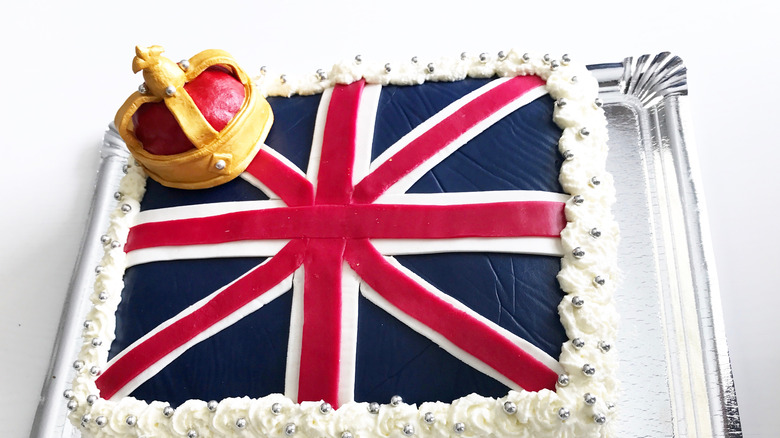 Shutterstock
Straight out of the vault from the 1981 royal wedding of Princess Diana and Prince Charles, a historical slice of cake has just sold at an auction, per CNN. The slice was one of many from the close to two dozen desserts made for the royal occasion. Interestingly, the variety of cakes is a customary tradition that has been the norm since Queen Victoria's reign. Before her leadership, most of the royal cakes were simply tall and white. But when she wed, elaborate designs and decorations started to take center stage (via the Royal Family).
While the slice of cake recently sold at auction was not a piece from the official wedding cake (pictured above) — which was 5 feet high and 255 pounds — one can only guess how tall it was given the size of the preserved piece.
It's also not the first slice of cake from that wedding day to sell at auction. In 2014, a slice from another cake baked for the 1981 royal wedding sold for $1,375, CBS News reported. And cakes from royal weddings have been going up for sale for some time now, dating back to the 1960s, per Eater. Clearly, people have been saving royal cakes for a long time in hopes of selling them later on. In another decade or so, it will be interesting to see what other pieces of dessert turn up at auction in the near future, and what price they'll bid for.
The royal wedding slice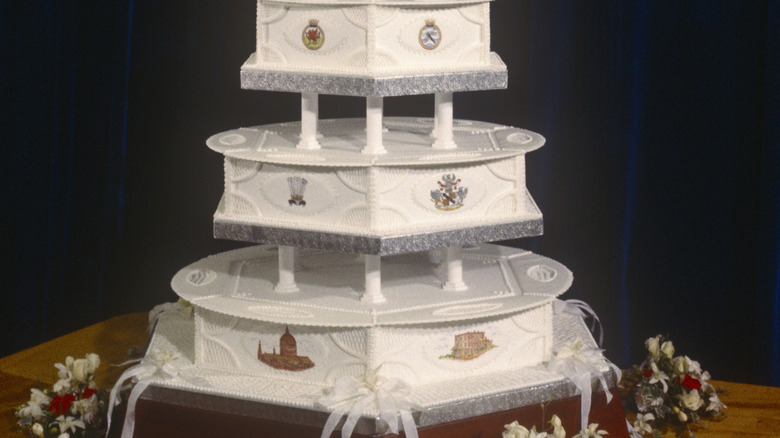 David Levenson/Getty Images
Someone paid a lot of money for the chunk of (old) sweetness — the four-decades-old piece of cake was sold by a British auction house to a buyer for $2,565, or £1,850. 
Dominic Winter Auctioneers got their hands on the slice in 2008. It came into their possession from the relatives of Moyra Smith, a former staff member of the royal family. A spokesman for the auction house says there was a lot of interest in the cake slice and the sale went above their initial expectations. "It really seemed to capture a lot of people's imaginations, and wallets ... £1,850 was very unexpected," said auctioneer Chris Albury.
The piece of cake is very large, features the United Kingdom's coat of arms, and weighs close to two pounds. For 40 years, it was kept in tightly wrapped plastic inside an old tin box in Smith's possession. It's possible that when she was given the slice, she either didn't get a chance to eat it or decided to keep it as a souvenir. But it's likely the latter — according to the BBC, the box it was kept in was dated and had very specific instructions to handle with care. It's quite obvious there was no intention of eating it.