Here's Where George Washington Lived Instead Of The White House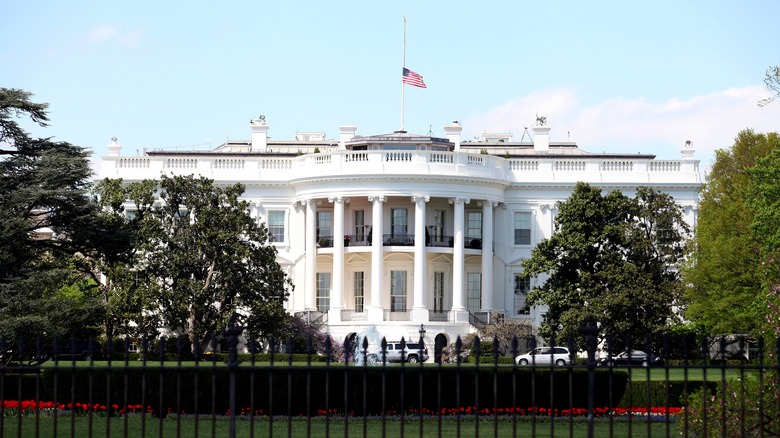 Raymond Boyd/Getty Images
The White House is one of the most important political landmarks in the United States. The official residence and workplace of the president and the first family is also a popular tourist attraction in Washington, D.C., receiving nearly 6,000 visitors per day, Clinton White House reports. Many people might be surprised that the place was not always known as the White House, which became the official name during President Theodore Roosevelt's term in 1901. Before that, the residence was often called the "President's Palace," "President's House," and "Executive Mansion."
The White House and U.S. history have been intertwined for over two centuries. Since its beginning, the presidential residence has suffered attacks, was set on fire by British troops (via History), and has received prestigious national and international guests, to name a few events.
The White House has been the official residence for almost every U.S. president, except for George Washington.
George Washington lived in Philadelphia
Donaldson Collection/Getty Images
When George Washington became president in 1789, he moved to New York, then the capital of the United States. According to Mount Vernon, the first presidential house was too small, and they had to move to a second one. In 1790, Philadelphia became the capital, and the presidential residence was an elegant three-story brick house at Sixth and Market Streets. Washington described it as "the best single house in the city" (via National Park Service). President John Adams would also live there for part of his time in office.
President George Washington chose the White House's location and decided it should be built near the Capitol building, History reports. The construction started in October 1792, but Washington died in 1799 and would never see it finished. John Adams was the first president to live in the White House, moving in 1800, when it was nearly finished, according to Clinton White House. Washington was the only American president who never lived in the White House.