Disturbing Details Found In Janis Joplin's Autopsy Report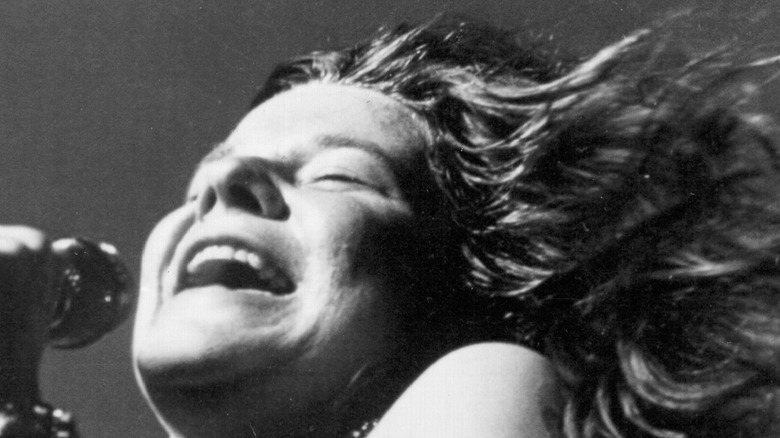 Michael Ochs Archives/Getty Images
Powerhouse rock and blues singer, Janis Joplin, is infamously a member of the "27 Club," the unofficial term for long list of stars that died tragically young at just 27. In Joplin's case, she turned that age in January of 1970 and would not see another birthday. Her body was discovered in her Los Angeles apartment on the morning of October 4 later that year.
Because we have the advantage of hindsight, today Joplin could be seen somewhat as a predecessor to Amy Winehouse — both were gifted singers whose vocal prowess riveted audiences, but whose personal lives were a blur of partying, drugs, and alcohol. According to The New York Times, a 2019 biography on Joplin's life said by the age of 22 she was addicted to meth, and her basic attitude was regarding drugs was open-minded and game for anything.
To be fair, the sixties were a time when drug use was pretty normalized among a certain set of the youth, so maybe her behavior wasn't really that radical for the time. Still, Joplin's autopsy report would reveal that it didn't take long for her enthusiasm for drugs to be just the thing to cut the party short. 
Janis Joplin had 'numerous' needle marks in her arms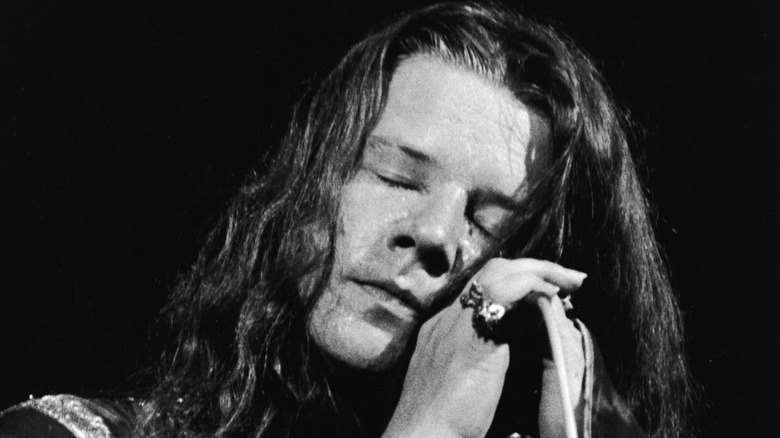 Hulton Archive/Getty Images
According to a hand-written narrative in her autopsy report posted on Autopsy Files, in Janis Joplin's last hours, she recorded some music on October 3 at a recording studio, then had a couple of drinks with a friend at a bar before going home around 1 a.m. On the morning of October 4, a friend noticed her car parked outside of her garage and became "concerned." The friend couldn't reach her by phone after several tries, so he got the manager of her building to give him a key. That's when he found Joplin lying on the floor on her left side between a chair and the bed. The "Piece of My Heart" singer was already dead. 
Joplin's autopsy report said investigators found paraphernalia in her apartment like gauze with dried blood in the garbage, a "hype kit" — a set-up for shooting up drugs that included a syringe and needle — and a teaspoon with the tell-tale black smudge on the bottom where a lighter is held to cook drugs before pulling them into the syringe and injecting them. They also found powdered drugs, pills, and suspected marijuana. 
The autopsy report would confirm that Joplin died of acute heroin-morphine intoxication due to an "injection of overdose." The medical examiner noted there were "numerous" needle marks on her arms, described as "old needle marks and some are of relatively recent origin."