Disturbing Details Found In John Belushi's Autopsy Report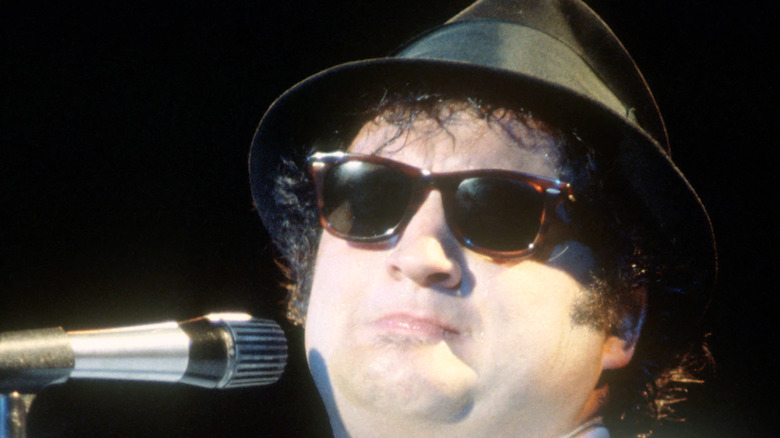 Michael Ochs Archives/Getty Images
On March 5, 1982, actor and comedian John Belushi was found dead in his rented bungalow at the Chateau Marmont in Los Angeles. He was just 33 years old.
Belushi was known as a stellar actor who started out in the comedy scene as part of an improvisational group. In 1975, he was cast as part of the pioneers of the comedy sketch show "Saturday Night Live" along with acting greats such as Chevy Chase and Dan Aykroyd. It was there where John Belushi thrived as a star and soon, he was getting roles on the silver screen (via Biography). During his time with "SNL," there were rumors about the cast dabbling in drugs. Cocaine was the drug of choice for Belushi, and his problem only intensified after being prescribed pain medication following knee surgery, according to USA Today. It was soon apparent that Belushi was struggling with drugs and alcohol.
By 1980, John Belushi was living a sober life, and he did so for a year. However, he relapsed and went back to using drugs while filming the 1981 movie "Neighbors." His drug use was so bad that Richard Zanuck, the movie's producer, said: "One time, we had two guys standing behind him holding him up off-camera. That was the kind of shape he was in."
The night before John Belushi's death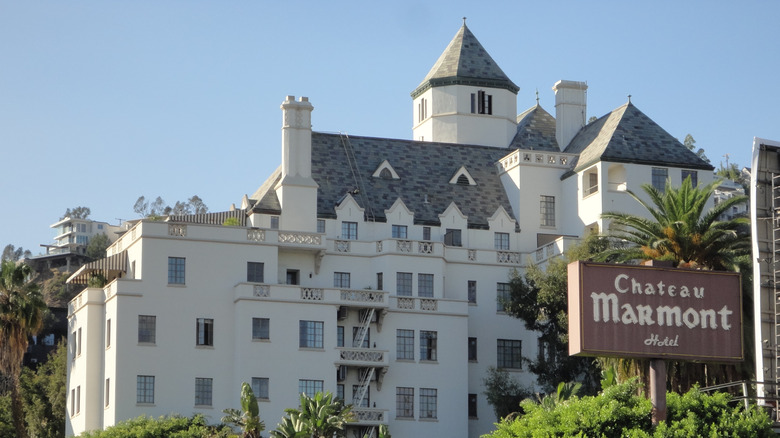 Alex Millauer/Shutterstock
John Belushi checked in at the No. 3 bungalow of Chateau Marmont on February 28, 1982. According to The Hollywood Reporter, John was there to work on a movie that he had written. He spent days meeting with movie executives and writers to polish his script. However, the meetings weren't going so well and the higher-ups in Paramount Pictures weren't impressed with what Belushi presented. Those who met with him during that time described the actor as living in squalid conditions, having a short attention span, and missing meetings without notice. It was evident to those who saw Belushi that he was using drugs.
On the night of March 4, several personalities visited Belushi in his bungalow. Robert De Niro invited Belushi to go out with him, but the comedian was with Cathy Smith — a woman who allegedly supplied and used drugs with Belushi. De Niro said he would come back later in the night. Robin Williams also stopped by the bungalow but quickly left after seeing Belushi's trashed bungalow and the comedian and Smith doing drugs. Per Heavy, De Niro stopped by again briefly and left a little after 3 a.m. It was at noon on March 5 when Belushi's personal trainer found him unresponsive. Attempts to resuscitate the actor were futile.
If you or anyone you know is struggling with addiction issues, help is available. Visit the Substance Abuse and Mental Health Services Administration website or contact SAMHSA's National Helpline at 1-800-662-HELP (4357).
John Belushi's autopsy report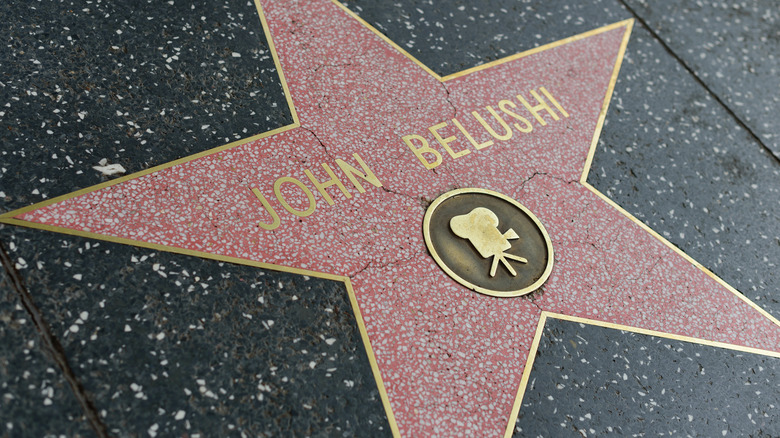 Hayk_Shalunts/Shutterstock
After John Belushi's death, Cathy Smith said that she was the one responsible for injecting John Belushi with a lethal combination of cocaine and heroin. She was charged with murder but was eventually sentenced to 15 months in prison after her guilty plea to manslaughter and other drug charges, per Heavy.
John Belushi's autopsy report painted a picture of the actor's health before his death. Fresh puncture wounds were found on his body, and the presence of a lethal dose of cocaine and morphine was found as well. The actor's liver and spleen were also found congested, and his brain was swollen. The cocaine level in his system was reported to be 0.407 mg. — an extremely dangerous and deadly dose for a healthy individual, more so for Belushi who had health issues. John Belushi's official cause of death is listed as acute toxicity from cocaine and heroin.