This Was Abraham Lincoln's Favorite Meal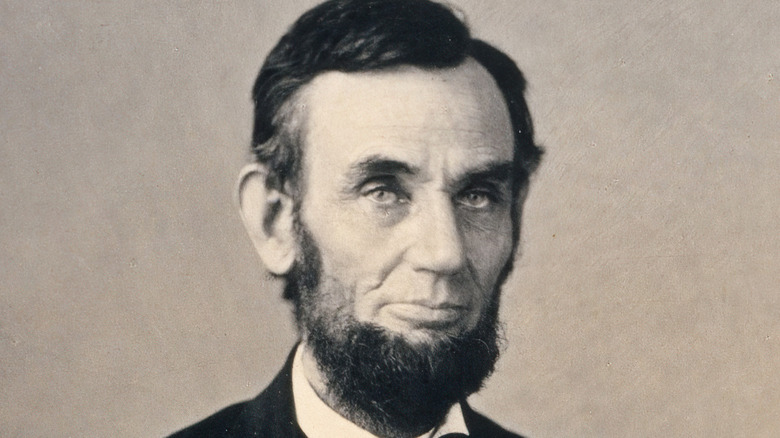 Heritage Images/Getty Images
Most people know that Abraham Lincoln grew up with modest means, moving around with his family from his birthplace of Kentucky to the wilderness of Indiana, and on to Illinois (per Biography). Even after bucking all the odds to go on to be America's 16th President with a fully staffed kitchen, his taste in food was simple and humble. In her 2014 book, "Abraham Lincoln in the Kitchen: A Culinary View of Lincoln's Life and Times," Rae Katherine Eighmey explains that Lincoln learned to cook for himself and his family at a young age because his mother died when he was just 9 years old, and someone had to do it (per NPR). Eighmey said he continued being helpful in the kitchen after he was grown and married, tying on a blue apron after a day of working in the law office and helping his wife cook dinner.
President Lincoln's Cottage tells us that he also loved foods such as oysters, baked beans, and gingerbread cookies. But as time went on, and Lincoln's responsibilities grew to include being the head of a country split by the Civil War, his appetite lessened, his weight dropped, and very few victuals could tempt him away from his work. Breakfast was just an egg, toast, and milk or coffee, and lunch was even more austere, often just an apple or biscuit with milk.
Practicality meets hospitality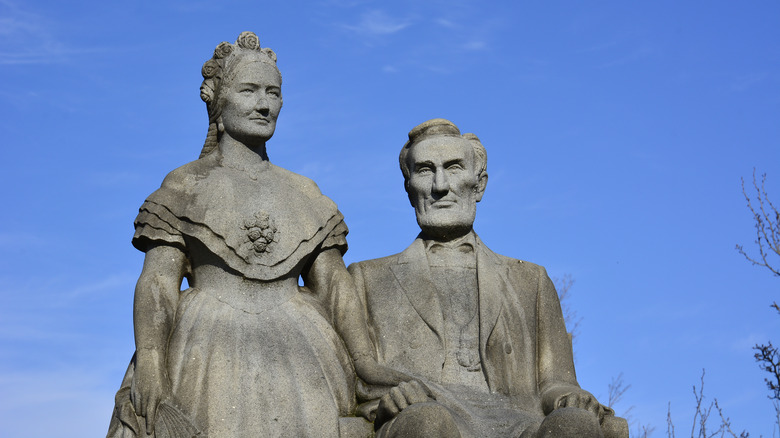 Tony Savino/Shutterstock
It's interesting to view Lincoln's presidency through the lens of food. After all, food is a tether to both our humanity and our culture. According to Lincoln Cottage, the pair's practicality shown through despite the pomp of the office, with Mary Todd Lincoln reportedly sending frequent gifts of food to local hospitals, including highly desirable items the couple would have had access to — like citrus fruits — that may not have been available to everyone.
While many of us react to life's stresses by eating too much, Lincoln seemed to be a person more inclined to eschew meals, particularly as the war raged on. His wife Mary, becoming concerned about his lack of appetite, often asked anyone in close proximity in the White House to join the family for a meal, banking on Lincoln's amenable nature to compel him to leave his work and join the assembled guests. On the occasions where Lincoln could be tempted to the table, he hoped to see the simple, country foods he liked.
Chicken, Flour, Spices, Gravy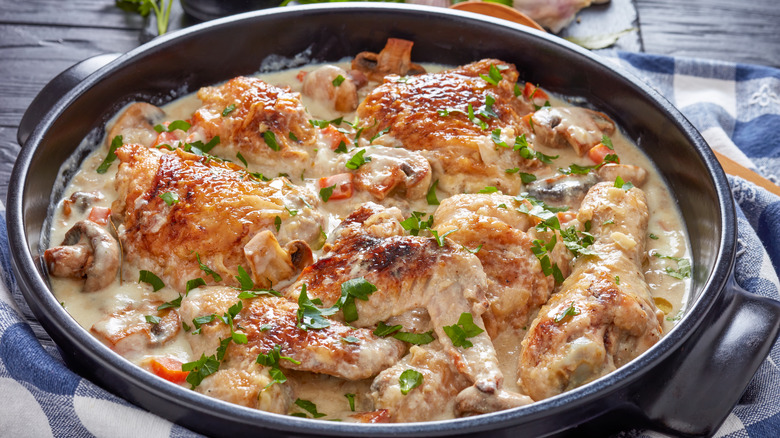 from my point of view/Shutterstock
But when it came time for dinner, and his wife Mary could lure him out of the office for a real meal, Abraham Lincoln liked his comfort food. In the book "A Treasury of White House Cooking," Francois Rysavy said (per Food Timeline), "Abraham Lincoln dined in a spartan fashion ... One of the few entrees that would tempt Lincoln was Chicken Fricassee. He liked the chicken cut up in small pieces, fried with seasonings of nutmeg and mace and served with a gravy made of the chicken drippings."
Homemade Italian Cooking says that in Abe's time, it would have been made by dredging the chicken in flour and frying them in lard. For the gravy, they added cream in addition to the aforementioned nutmeg and mace (not the self-defense mace, by the way — mace is derived from the dried coating of the nutmeg seed, according to The Spruce Eats), and to really thicken it, a ball of butter coated in flour was added at the end and served over biscuits. Geez Louise, that all sounds delicious! 
If you want to try your hand at the food of one of America's most beloved presidents, you can try Cara's updated version at the Homemade Italian Cooking website, or any number of others, including Wildflour's Cottage Kitchen. Happy eating!