The Truth About The Deadly Dreamworld River Rapids Disaster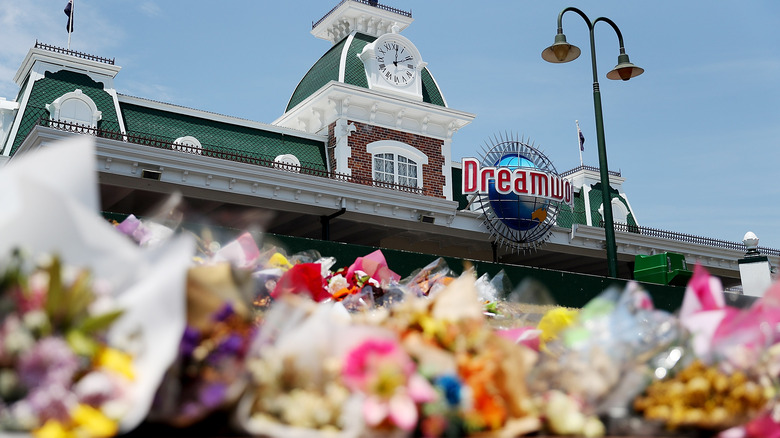 Chris Hyde/Getty Images
What was supposed to be a fun day at a theme park on Australia's Gold Coast, turned out to be a day marred by tragedy. On October 25, 2016, four people, Kate Goodchild, Luke Dorsett, Roozbeh Araghi, and Cindy Low died while on the Thunder River Rapids Ride (via BBC).
A popular ride at Dreamworld for 34 years, it was advertised as family-friendly. Passengers would travel 30 mph on a 6-person raft before moving onto a conveyor belt that would bring them back up to the station they first entered from (via The Sun). On that fateful day, however, that is not what happened.
As the raft went up the conveyor belt, it collided three times with another raft that was stuck in low water (via The Guardian). This continued movement pulled the raft that had the four adults (names mentioned above) and two kids toward the mechanism.
The raft flipped over and the four adults were more than likely killed instantly as they were crushed by the machinery. The bodies were so disfigured, that there was nothing first responders could have done to save them (via The New Zealand Herald). Miraculously, the two children on the raft survived without physical injuries.
The disaster could have been prevented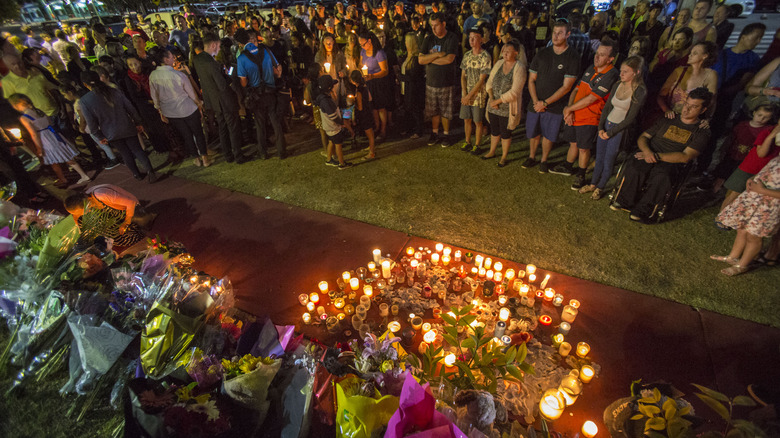 Glenn Hunt/Getty Images
The direct cause of the disaster was a water pump malfunction that caused low water levels (via The Guardian). This ended up stranding the empty raft that the doomed raft eventually collided with. According to the New Zealand Herald, operators failed to shut down the conveyor belt, which ultimately led to the collision and flip of the rafts. Likewise, the emergency stop button was never checked by a maintenance supervisor.
Dreamworld's own safety guidelines warned that the rafts could, one way or another, potentially tip over (via ABC News). Even the maintenance planner concluded that the ride was unsafe. On management orders, rides would be shut down only if they broke down three times in one day. Thunder River Rapids had already broken down twice.
To put it simply, Dreamworld's inadequacy and poor maintenance, likely resulted in the deaths of four people. It was later found that a water level sensor that could have prevented the accident would have cost less than $3,000. In the more than 30 years of its existence, the ride had not been properly assessed (via BBC).
In 2020, Ardent Leisure, Dreamworld's parent company, was fined $2.5 million for the deaths of the four adults on the raft. In their own words, they accepted full responsibility and the consequences of their decisions. Following the disaster, Dreamworld shut down for six weeks and demolished the ride.