The Truth About KISS' Attempt At Starting A Wrestling Faction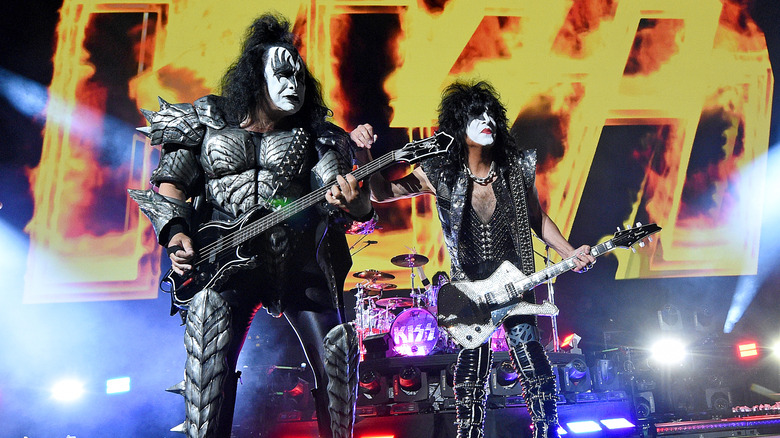 Kevin Mazur/Getty Images
After nearly five decades extolling the virtues of rock-and-rolling all night and partying every day, KISS will finally be heading off into the sunset and retiring — they may have had their share of farewell tours, but the current "End of the Road" tour will supposedly be their last. In a recent interview with The Independent, bassist-vocalist Gene Simmons explained that the decision boiled down to the band wanting to quit while still ahead, effectively allowing them to preserve their "dignity and self-respect." He also opened up about how hard it is for KISS' members in their older age to engage in the usual physicality of their stage show.
Aside from their many classic songs, one may also remember KISS for the myriad products they lent their name to. And while it may not be common knowledge to most fans, it shouldn't come as a surprise that the band came very close to having a professional wrestling faction inspired by the founding members' on-stage alter-egos. Here's the true story behind the KISS stable that never was, and why things didn't work out as expected.
WCW hoped the KISS-inspired stable would right its sinking ship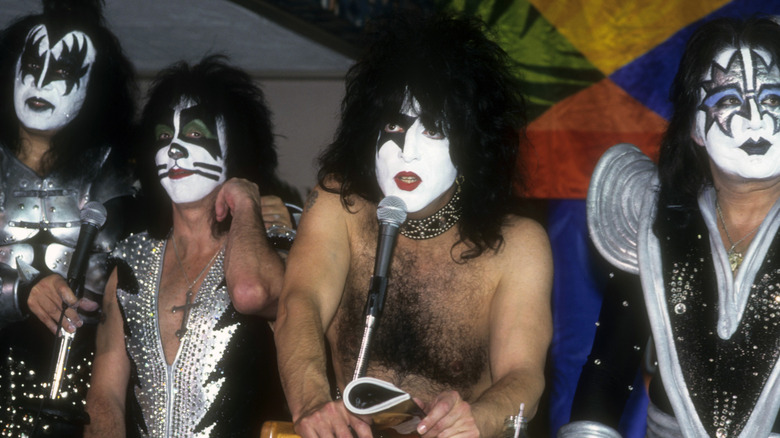 Al Pereira/Getty Images
The year was 1999. It had only been a few years since World Championship Wrestling was a thorn in the then-WWF's side, regularly winning the so-called "Monday Night Wars" thanks to the emergence of the New World Order. Unfortunately, things had drastically changed for the worse for WCW over that short period of time. The nWo had become such a convoluted mess with all its iterations. The company was losing fans — and millions of dollars — at a rapid rate, much of this due to ill-conceived storylines and booking decisions. And in a desperate attempt to curry favor with music fans who also happened to like wrestling, WCW was turning to acts such as Megadeth and Master P, the latter of whom led his own stable, the No Limit Soldiers, on the promotion's programming.
Enter KISS and Gene Simmons, who worked out a deal with WCW to launch a faction of wrestlers inspired by the band members' iconic on-stage personas. According to Sporting News, the plan was to have the stable debut on "Monday Nitro," with the band playing a live mini-concert to herald the arrival of their in-ring counterparts. While the idea may almost seem ridiculous, especially to present-day wrestling fans, it wasn't the worst thing WCW cooked up during its final years, and KISS had always marketed themselves as comic book characters come to life as rock stars. 
What followed was arguably an even bigger debacle than "Music from 'The Elder'" — or that time when all four KISS members simultaneously released their debut solo albums.
Only one KISS-themed wrestler ended up debuting
It didn't take long for WCW's plans for the KISS-themed faction to go off the rails. For one, it was going to cost WCW a fortune in licensing fees to debut a wrestler inspired by Gene Simmons' Demon persona, let alone three other guys cosplaying as Paul Stanley, Ace Frehley, and Peter Criss. Secondly, the deal required the KISS Demon, as he was eventually known, to compete in the main event of a WCW pay-per-view. Thirdly, the original choice to play the Demon, career mid-carder Brian Adams (formerly Crush in WWE), bailed out when he realized the company wasn't going to fulfill its end of the deal by giving him a main-event push. At least Adams was a recognizable name among wrestling fans — WCW's eventual choice, Dale Torborg, was an ex-minor league baseball player whose dad, Jeff Torborg, played and managed in the majors.
With KISS' mini-concert on "Monday Nitro" producing some of the lowest ratings the weekly show had ever seen (via Sporting News), the plans for a full stable of KISS-cosplaying wrestlers were out the window. Not helping matters was the fact that (real-life and on-air) authority figure Eric Bischoff — the man responsible for the KISS deal — was sacked from his role as head booker and replaced by Vince Russo.
In the end, the KISS Demon did get to main-event a WCW PPV, as he lost to another large mid-carder, The Wall, in a forgettable match at SuperBrawl 2000. Although his WCW run was, by and large, a flop, Torborg was able to return to baseball as the Chicago White Sox's strength and conditioning coordinator (via the Chicago Tribune). And he did, in all fairness, have fun playing the KISS Demon, having been a fan of both pro wrestling and KISS since childhood.