The Truth About Aaron Burr's Tragic Childhood
Forever remembered as the man who killed Alexander Hamilton, U.S. Senator and Vice President Aaron Burr had a promising start in life, but things turned tragic for him quite quickly. He was born into a prominent, religious New Jersey family. Per American Battlefield Trust, his namesake, Aaron Burr Sr., was a well-known minister who served as the second president of what is now known as Princeton University (originally called the College of New Jersey). His mother, Esther Edwards Burr, had a famous religious figure on her side of the family as well. Her father, Jonathan Edwards, was a leading theologian and a key figure in the revival of the Puritan religious movement (via Britannica). But this solid domestic foundation started to crumble not long after Aaron's birth in 1756.
Aaron Burr Sr. died from a fever when his son was only 18 months old (via the U.S. Senate). And the losses quickly continued for the toddler. His maternal grandfather died of smallpox after trying to be inoculated for the disease in March 1758 (via the Beinecke Library) and the same disease took his mother as well. His maternal grandmother also passed away in 1758. By the time Burr was 2 years old, he was an orphan. He and his older sister Sarah (also known as Sally) eventually ended up in the care of their maternal uncle, Timothy Edwards.
Aaron Burr was raised by his stern, strict uncle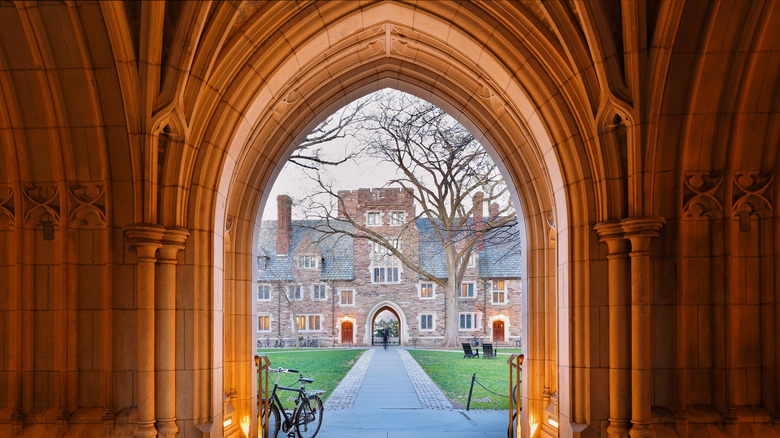 Jay Yuan/Shutterstock
According to the book, "A Fatal Friendship: Alexander Hamilton and Aaron Burr," by Arnold Rogow, Burr found life with his uncle unbearable. His uncle was only 21 years old when he took in Burr and his sister. He also looked after some of his own siblings and, with his wife Rhoda, had 15 children together. Twice, Burr tried to run away from this difficult situation — the first time at only 4 years old. The second time, Burr sought to join a ship's crew as a cabin boy when he was 10. This didn't go over well with his stern, strict uncle.
On another occasion, Burr was physically punished by his uncle after throwing cherries at a woman. His uncle lectured him and made him pray before he beat him "like a sack," according to "A Fatal Friendship." Burr sought refuge in his studies. He applied to study at Princeton when he was only 11. He was rejected at the time, but he was accepted two years later (via American Battlefield Trust). At first, Burr followed in his father and grandfather's footsteps, studying theology.
At the age of 19, Burr charted a new course for himself. He moved to Connecticut in 1774 to study law with his brother-in-law Tapping Reeve (via the U.S. Senate). But the American Revolution drew him away from his studies. Burr joined the fight as a volunteer in 1775, and later rose to the rank of colonel.