A Day In The Life Of A Prisoner At Guantanamo Bay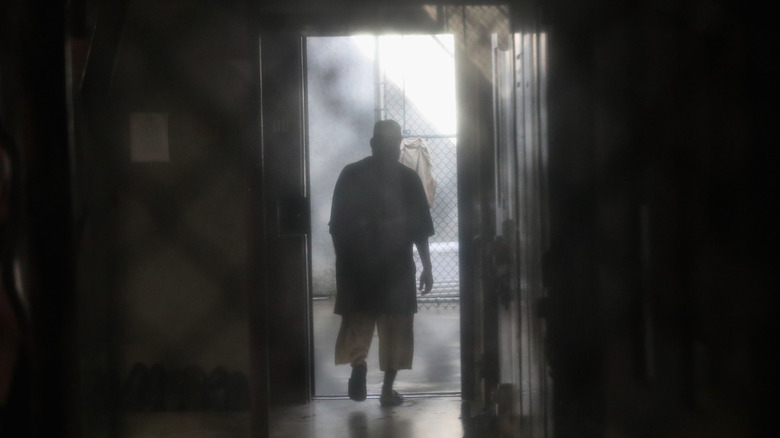 John Moore/Getty Images
Guantanamo Bay U.S. Naval Base, which is located in Cuba, came under the control of the United States in 1903, as part of the Platt Amendment. Bridge reports the United States rents the land from the Cuban government, and does not actually own it. Therefore, it has been suggested that Guantanamo Bay is not subject to American law or Constitutional rights.
The Guantanamo Bay Detention Center was opened on January 11, 2002, and was originally meant to house suspected terrorists. As reported by Bridge, the detention center includes 12 known detention facilities, or camps, including Camp 7, Camp Echo, Camp Iguana, and Camp X-Ray. Each camp has different security protocols and different levels of transparency about their operations and the identities of the prisoners.
The Guantanamo prison has been a point of heated controversy since its inception. As reported by the American Civil Liberties Union (ACLU), rumors of unlawful detention, inhumane living conditions, and brutal torture have sparked campaigns to transfer prisoners to other, more transparent, facilities and to permanently close the Guantanamo Bay Detention Camp. As reported by Bridge, President Barack Obama signed an executive order in 2008, which ordered the closure of the detention camp. However, the ACLU reports an estimated 41 prisoners are still being housed at the Guantanamo prison.
Although access to the Guantanamo Bay Detention Camp is highly regulated, and some of the facilities are strictly off-limits, human rights organizations and former detainees have provided a look inside some of the facilities and information about the prisoners' daily lives.
The early days of Guantanamo prison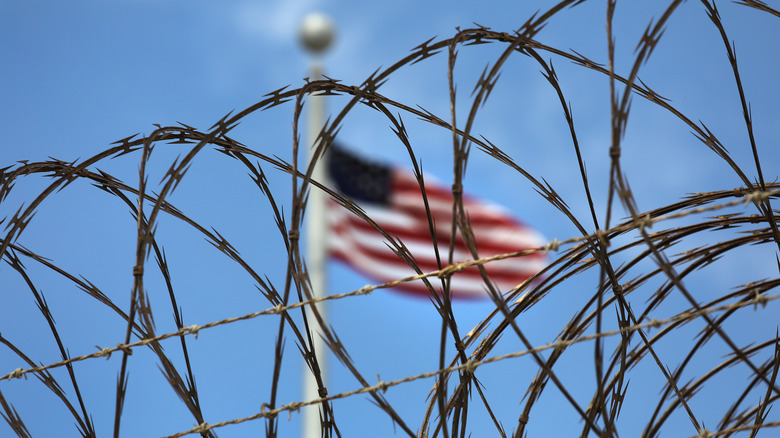 John Moore/Getty Images
Although the specific numbers are not known, the ACLU estimates nearly 800 prisoners have spent time in the Guantanamo Bay Detention Center over the last 19 years.
The first camp opened at the detention center was Camp X-Ray. As reported by Human Rights Watch, the camp's first cells were adequate, but meager, with a concrete slab floor, chain-link walls, and a simple metal roof. British detainee Asif Iqba, who was one of the first men detained at Camp X-Ray, said he was provided with one blanket, a pair of flip flops, shampoo, soap, two towels, and a toothbrush. His cell contained a sleeping mat and two buckets of water, one of which was meant to be used as a toilet.
In his interview with Human Rights Watch, Asif said he spent the first two weeks inside his cell, without any opportunity to exercise. Although he was allowed out of the cell for a weekly shower, he was only allowed two minutes to clean himself before he was returned to the cell. Asif said he was eventually allowed to speak with the guards, and was allowed time outside his cell for exercise. However, he was not allowed to speak with anyone else.
Pakistani detainee Abdul Razak said some of the guards at Camp X-Ray were reasonably friendly. However, others would withhold necessities, including toilet paper, for no discernable reason. In their interviews with Human Rights Watch, several detainees also said they were forbidden to pray. 
Daily life in Camp 7 today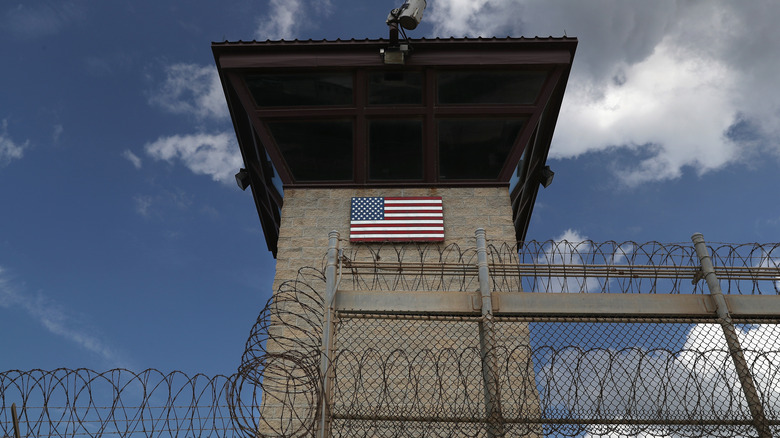 John Moore/Getty Images
As of March 2020, 14 of the Guantanamo Bay Naval Base's remaining 41 prisoners were being housed in Camp 7. When it initially opened, life in Camp 7 was similar to Camp X-Ray. However, as reported by The New York Times, the environment has become more relaxed and the detainees have been given more freedom and therefore have a better quality of life. The prisoners in Camp 7 spend four hours each day in lockdown. However, they spend the rest of their time in what Warden Yamashita calls "a communal living arrangement."
The Times reports that the prisoners are still monitored with surveillance cameras whenever they leave their cells. However, they have access to a food pantry, an open-air recreation yard, and a communal area with books, videos, and games, where they can interact with their fellow inmates. Although the environment has improved, the facility is still a prison, and conditions are far from ideal.
Some of the prisoners in Camp 7 have complained of ongoing physical ailments related to brain injuries and severe back and joint pain, which they claim are the result of physical abuse suffered during C.I.A. interrogations. As reported by The Times, they have not been offered access to ongoing treatment for their physical or mental concerns. However, Stephen N. Xenakis, a psychiatrist and retired Army brigadier general, said Camp 7's communal environment allows the detainees to care for each other when needed and gives them a sense of community.