The Truth About Hugh O'Flaherty: The Irish Schindler
Hugh O'Flaherty was an Irish priest who, just like Oskar Schindler, saved Jewish lives during World War II. O'Flaherty was born in Ireland in 1898 and grew up on a golf course where his father worked. He spent his childhood years learning and playing the sport as well as studying hard in school. At 20 years old, Hugh decided to pursue priesthood and studied at Mungret College. He sought further studies in Rome and by the late 1920s, he had earned his doctorate in divinity, philosophy, and canon law from the Vatican, per Jewish Virtual Library. Soon after, Monsignor O'Flaherty traveled to various locations as a Vatican diplomat.
During World War II, O'Flaherty was in Italy and the Germans were cracking down on Italian Jews. He knew many of the people who were in danger of being captured by the Nazis, so he did what he could to keep them safe. Using his network of priests, he organized shelters and homes where Jews could stay in hiding, as reported by Ireland Calling. Private homes, churches, farms, and convents were all used to safely house Jewish people. It didn't stop there, however, as Monsignor O'Flaherty also helped American and British prisoners of war and Allied pilots who were shot down by Germans.
Hugh O'Flaherty saved thousands of lives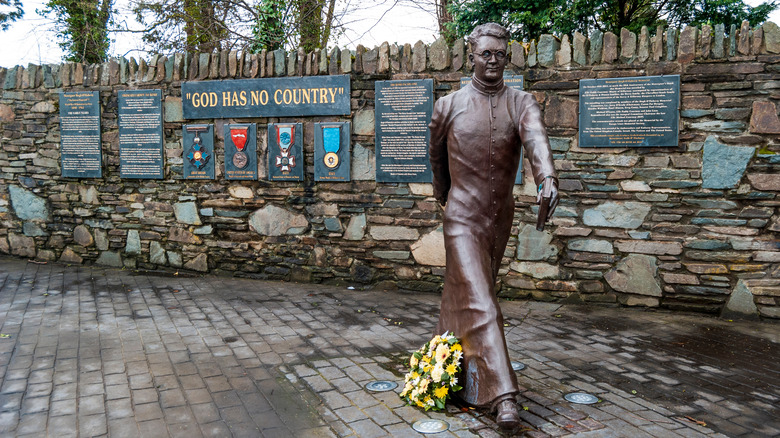 Alex Mastro/Shutterstock
The Nazis were aware of a priest who was helping Jews and the wide network he had. It was later discovered that it was Monsignor Hugh O'Flaherty who was organizing the operations and the Nazis wanted him captured. However, they couldn't cross the border to Vatican City as Pope Pius XII declared a neutral stance in the war and the city remained unoccupied. According to Ireland Calling, Nazi officers were ordered to kill O'Flaherty if they saw him cross outside the Vatican border. The Irish priest was aware of the threat on his life, but he continued his work within the Vatican's walls. There were instances when he needed to go out, and during those times, he wore a disguise to keep himself safe. His ability to evade being captured by the Nazis earned him the nickname "The Scarlet Pimpernel of Vatican."
Monsignor Hugh O'Flaherty continued to help Jews and others who sought his help until the Allied forces finally took over Italy in 1944. In total, he was able to save the lives of more than 6,400 people via his secret operations, as reported by the Jewish Virtual Library. O'Flaherty's heroism was recognized and he was awarded the U.S. Medal of Freedom as well as the Commander of the British Empire award. After suffering a stroke in 1960, he went back to Ireland and lived with his sister. He died in 1963 at 65 years old.