Why The FBI Kept Files On Woody Guthrie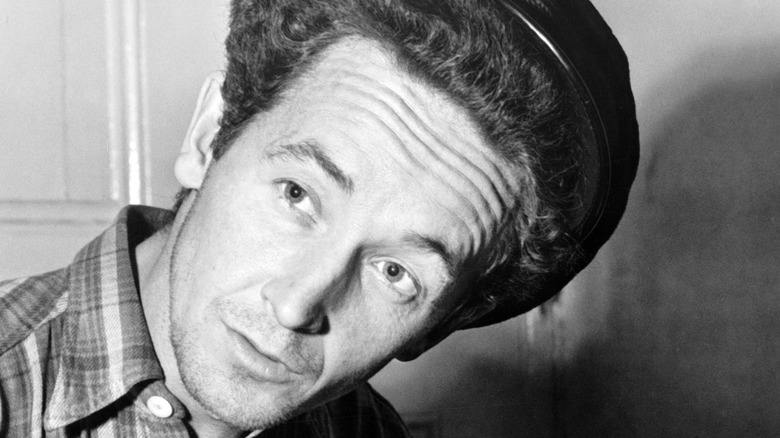 Donaldson Collection/Getty Images
Woody Guthrie is one of the most influential and legendary figures in American folk music. Born Woodrow Wilson Guthrie in 1912 in Okemah, Oklahoma, he started playing guitar, writing songs, and performing with a group called The Corncob Trio in high school. Per KCRW, Guthrie left home at 16 after his mother died of Huntington's disease. He hopped a train to Pampa, Texas, and worked there for a time before making his way to Los Angeles, California along with many others fleeing the Dust Bowl and the storms that had decimated the region's farms. Upon his arrival in California, Guthrie became interested in politics for the first time. According to historian Darryl Holter, "He came from places that were basically steeped in segregation. So it was a very different atmosphere and he came to L.A. and a lot of his political views really changed. I describe him as a kind of a dustbowl populist." 
Guthrie became a popular radio host on Los Angeles station KFVD in 1937. In 1939, fellow host Ed Robbin got Guthrie a gig singing at a Communist Party rally, which led to his association with the radical left. He was soon performing at political and union events around Los Angeles and writing a column, "Woody Sez," for the Communist paper the People's Daily World. After years of traveling around California supporting migrant workers, workers on strike, and continuing to write songs focused on the inequalities affecting working people during the Great Depression, Guthrie and his family moved to New York in 1939.  
The FBI had multiple files on Woody Guthrie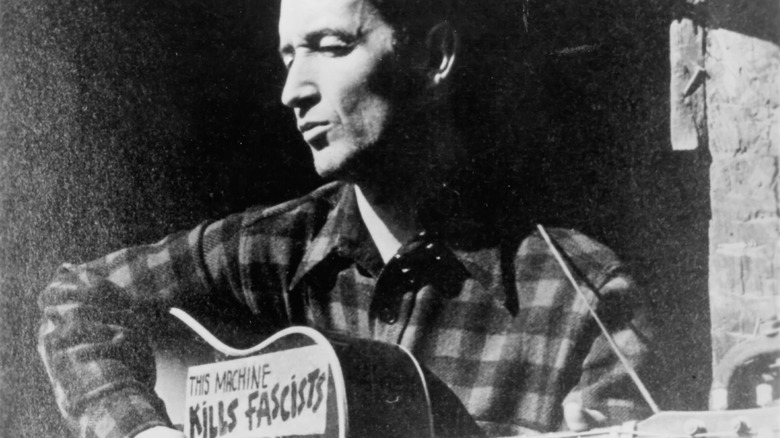 Michael Ochs Archives/Getty Images
Per Truthout, beginning in 1941, the FBI headquarters began keeping a file on Woody Guthrie — this was one of three files the agency would compile on Guthrie. In addition to the headquarters file, there was one kept by the New York field office and another by the Los Angeles field office. The FBI reportedly couldn't determine whether Guthrie was actually a communist or a communist sympathizer, but decided to treat him as a communist. While the FBI headquarters' file contained information regarding his songs and his work for the Department of the Interior, for which he narrated a film about the government's Oregon hydroelectric project, and suggested that he was a member of the Communist Party, it also shows that the agency launched no investigation while Guthrie was still on the West Coast. 
The New York field office's file, unavailable to the public for decades, gives a clearer picture as to why Guthrie eventually ended up on the FBI's Security Index. Along with a photograph of Guthrie with his famous "This Machine Kills Fascists" guitar as well as a photo with William Cumming, identified as former chairman of the Spokane Section of the Communist Party, the file notes Guthrie's association with George Haggerty and Ramón Durem, two veterans of the Abraham Lincoln Brigade, Americans who fought during the Spanish Civil War against fascist Francisco Franco. 
From Security Index to Communist Index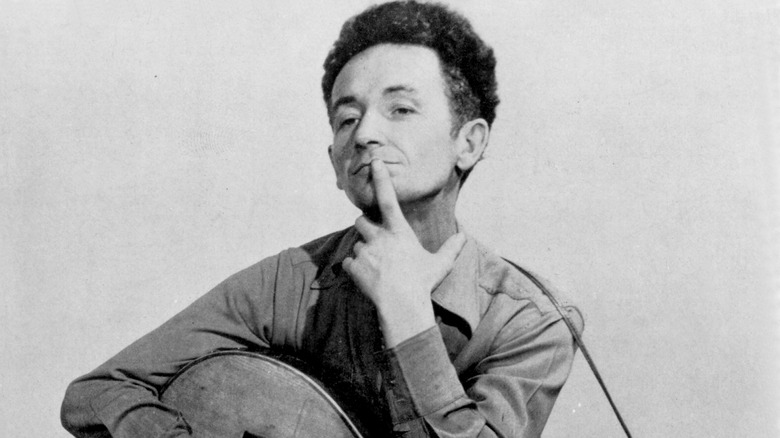 Michael Ochs Archives/Getty Images
As reported by Truthout, the FBI claimed George Haggerty and Ramón Durem were part of a group planning to support the Soviet Union in the event of war between the USSR and the United States. Nevertheless, they seemingly knew early on that Woody Guthrie was not any sort of threat to national security, noting in his file "Two informants who were closely associated with GUTHRIE during April and May 1950, advised that he personally has never, in their presence, made any statement relative to sabotage." By the time Guthrie was 44, he was suffering from the degenerative disease Huntington's Chorea.
At this point, the FBI noted in his file that as he had a fatal disease and there was no reliable information regarding his membership in the Communist Party, they recommended removing him from the Security Index and placing him on a secret Communist Index as a "potential threat." He remained on this list until 1959 with his residence listed as "Brooklyn State Hospital" and his employment as "Hospital Patient." Per the official Woody Guthrie website, a new generation of folk singers inspired by Guthrie's life and work, including Joan Baez, Bob Dylan, The Greenbriar Boys, and Phil Ochs, came and visited him and played music for him during his years in the hospital. Guthrie died October 3, 1967, at Creedmoor State Hospital, Queens, New York.