The Truth About The First Burials On New York's Hart Island
David Dee Delgado/Getty Images
Half a mile from the Bronx is a floating graveyard, known as Hart Island (via Time). Largely forgotten by history and New York City's own citizens, Hart Island made its way into the headlines during the COVID-19 pandemic. As morgues and mortuaries became overwhelmed by the high death toll (New York City became the epicenter of the virus in the spring of 2020), Hart Island became the answer.
To put it simply, Hart Island is a potter's field and also one of the country's largest cemeteries (via NPR). In Addition, the land has hosted a boy's reform school, a prison, an asylum, and more (via The Washington Post).
Images of men in protective suits as they dug a mass grave for COVID victims echoed the past, as Hart Island is no stranger to disease. According to CNN, Hart Island has been a public cemetery since 1868. Since its inception, it has been the burial site for those who died of various inflictions, those who have been rejected by society, and those who for one reason or another, have been unclaimed.
Hart Island has served New York City through various pandemics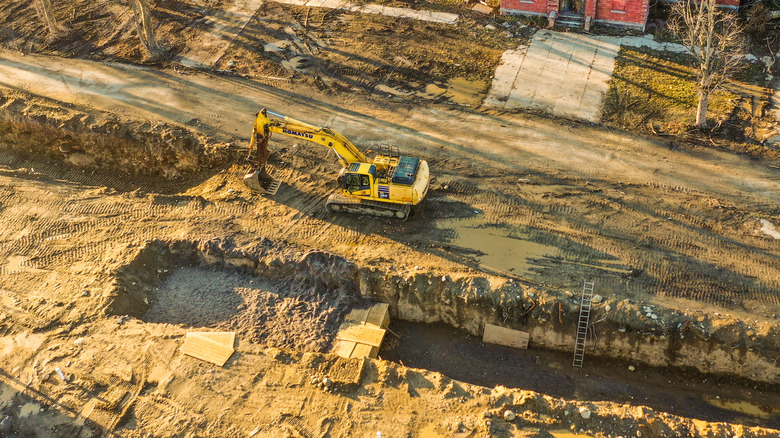 Andrew Theodorakis/Getty Images
According to National Geographic, an estimated one million people are buried throughout the island. The first burial was that of 24-year-old Louisa Van Slyke in 1869. She died of tuberculosis and had no known family.
In addition to tuberculosis, the city also had an outbreak of yellow fever in the 19th century (per The Washington Post). Thus, the island was used for quarantining those inflicted with the disease. In 1918, the island served as a burial ground for victims of the Spanish Flu (via CNN). In the 1980s, AIDS victims were buried there as there was little known about the disease, and funeral homes refused to serve them. Per The New York Times, Hart Island might actually be the largest burial ground for AIDS victims.
How does the city not run out of burial space? Simple; the graves are reused. Beginning in the 1930s, the graves were recycled. This is completely legal as long as the body is decomposed to skeletal remains. In other words, those early 19th century burials caused by diseases that have been mostly eradicated, perhaps share a grave with the victims of COVID-19.                               
Up until 2020, incarcerated people were the ones who buried the dead (via NPR). Moreover, the cemetery was closed to the public until 2015, when NYC'S Department of Correction began providing regular monthly visits. As of now, no one knows exactly how many people that have died due to the COVID-19 pandemic are buried there.