Crime Stoppers: The Untold Truth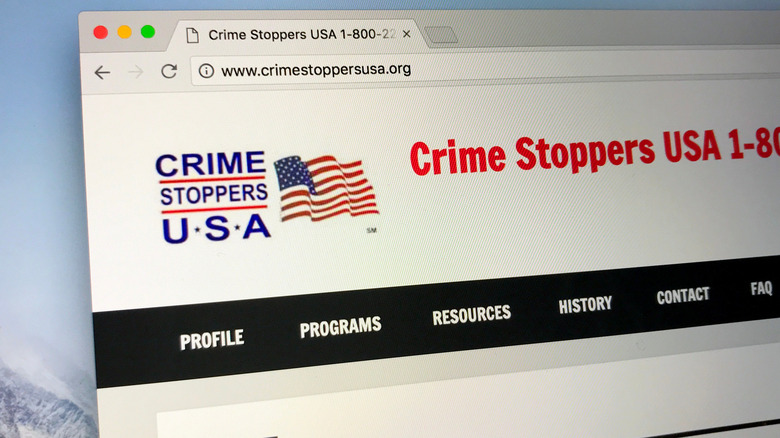 Jarretera/Shutterstock
The United States has high crime rates, and although the number has declined in the past two decades, crime is still rampant. According to 2021 World Population Review statistics, the state of Louisiana has the highest homicide rate at 12.4%, while New Hampshire reported the lowest number of homicides at 1%. Authorities come across open-and-shut cases all the time, which are easier to solve. However, there are some instances when crimes are harder to figure out, either because of the lack of evidence or witnesses. In those unsolved cases, investigators have no choice but to turn to the public in hopes that someone who knows something will provide crucial information.
Crime Stoppers is a non profit organization that allows individuals to anonymously provide information or evidence that may help solve different types of crimes. It offers cash rewards to those who can provide tips that lead to an arrest. Throughout the years, per Crime Stoppers USA, the organization has solved an average of 95% of cases with the help of tips from anonymous callers.
The history of Crime Stoppers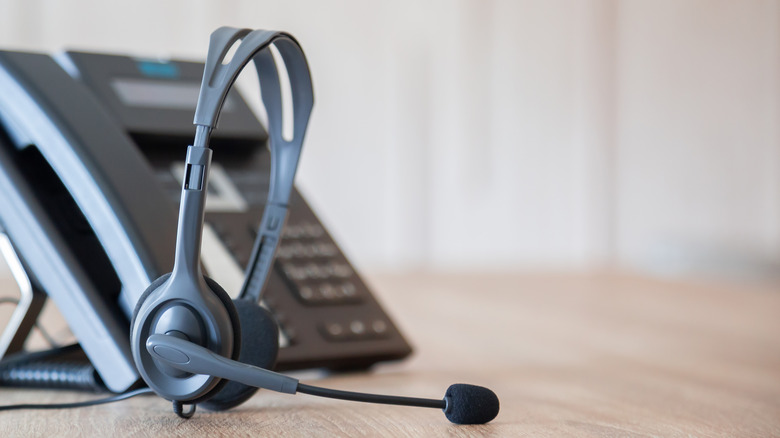 ACTS_DATA STOCK/Shutterstock
On July 25, 1976, Michael Carmen, a 20-year-old college student, was working a morning shift at a gas station in Albuquerque, New Mexico. Armed robbers went into the gas station and shot Carmen at close range (via Albuquerque Journal). Detective Greg MacAleese was assigned to the case and after thorough investigation, authorities ended up with no leads. MacAleese, with permission from the police department's captain, sought the public's help to solve the case.
A reenactment of the crime was prepared and it was broadcast on the TV station KOAT on September 8. The video clip also provided a hotline where tipsters could call and remain anonymous. MacAleese said that calls poured in right after the broadcast. "The phone started ringing immediately. The second call was about a gang rape that happened a month before that we hadn't been able to solve," he said. It was the sixth call that finally gave a crucial tip regarding Michael Carmen's case. A man said that he was familiar with the car used in the robbery and after following the lead, detectives arrested Lawrence Edward Tate and Thomas Charles Boone.
The first Crime Stoppers group was established soon after the success of the anonymous tip hotline.
Crime Stoppers is now an international organization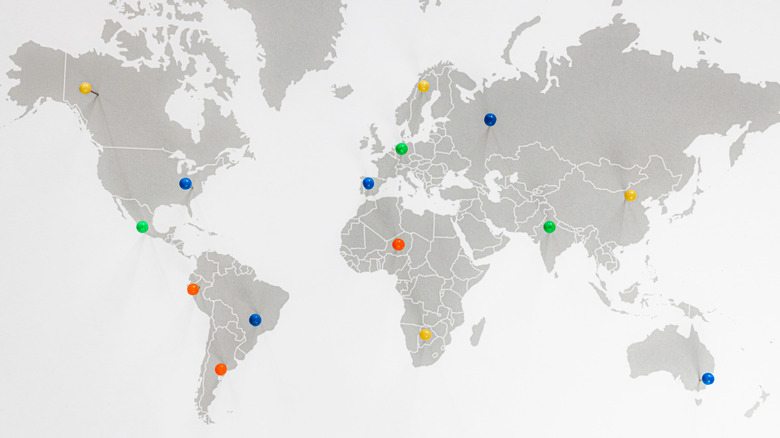 VCoscaron/Shutterstock
After the establishment of Crime Stoppers in Albuquerque and its subsequent achievements, the organization spread to other jurisdictions in the United States. Today, the non profit tip line operates in different countries and regions, including Europe and Africa, among others, under the name Crime Stoppers International (CSI). In addition to providing tip lines, the organization also works on stopping the activities of organized crime networks, pushing anti-crime campaigns on a global scale, and encouraging citizens to provide any information they have on unsolved crimes (via Crime Stoppers International).
The international organization is partnered with governments, law enforcement, corporations, and the media in its mission to fight crime. Some of its affiliations include the CNN Freedom Project, International Cyber Academy, World Wildlife Fund, Organized Crime and Corruption Reporting Project, and several others. Crime Stoppers is also the only civil society organization that has a standing cooperation agreement with the International Criminal Police Organization (INTERPOL).
The process for tipsters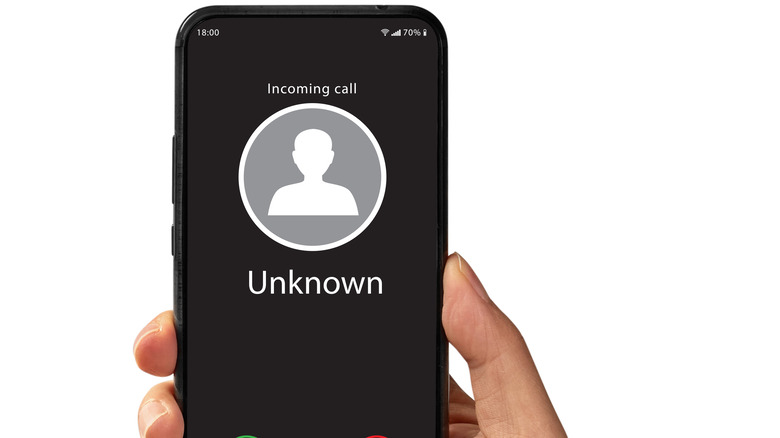 Runrun2/Shutterstock
Individuals who have tips to report to Crime Stoppers can call a hotline number or submit information by filling out a form on the official website. The organization asks those who provide information to give as many details as they know, such as the type of crime and when it happened, or details about the perpetrator. Other important information includes vehicle descriptions, people associated with the suspect, and basic data such as the address, name or nickname, and identifying marks, per Crime Stoppers USA.
Crime Stoppers promise anonymity to all tipsters and they do not make use of caller ID, nor do they record phone calls. After giving a tip, callers are given a secret number that they must keep in order to track the progress of the case. Crime Stoppers provides monetary rewards for tips that lead to an arrest, and the amount differs depending on the case and jurisdiction. Homicide cases and those involving children typically offer more rewards that can reach up to $5,000. According to Crime Stoppers GNO, tipsters can follow up on the progress of their report by using the secret number provided. Law enforcement must then confirm, in writing, that a tip led to an arrest in order for a tipster to get the reward.
Crime Stoppers statistics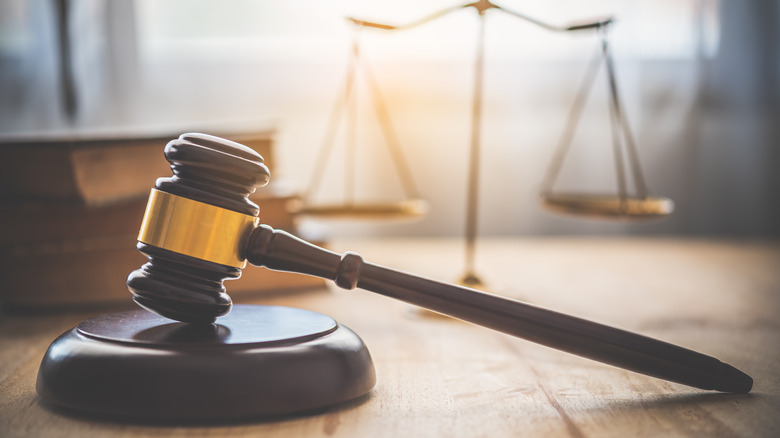 photobyphotoboy/Shutterstock
Greg MacAleese and his police department faced plenty of unsolved crimes before Crime Stoppers was established. The detective came to the realization that citizens were a big part of crime solving. "It's citizens who control the crime rate in any city. We don't. We just react to it and most crime is solved with their help," he said, per Albuquerque Journal. MacAleese understood that people who knew information about crimes or criminals were afraid to come forward as they were concerned for their own safety scared of retaliation. With Crime Stoppers, they were more open to sharing important information without having to worry about their identities being revealed.
Crime Stoppers programs throughout the United States have solved many crimes since the first one was established in New Mexico in 1976. To date, as reported by Crime Stoppers USA, more than 800,000 arrests have been made with the help of tips from anonymous callers. The organization has also solved 14,500 homicides, and almost 1.2 million cases have been closed. Many callers also provide information on drug trafficking, and to date, almost $3 billion worth of drugs have been seized. In total, Crime Stoppers all over the United States have paid $117 million in rewards.
Crime Stoppers tip led to false arrest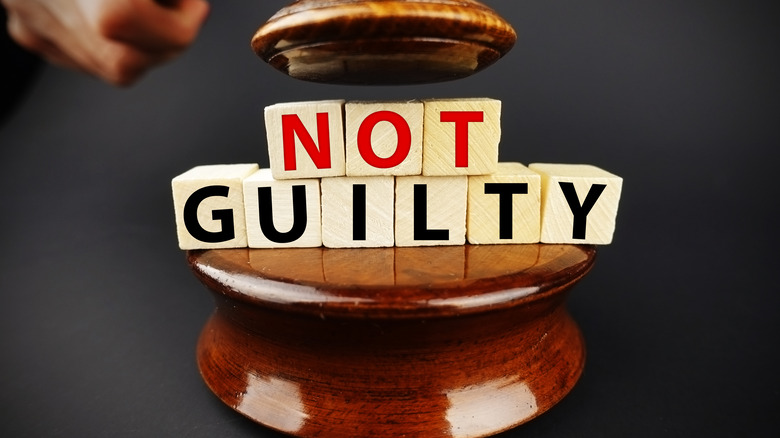 Eviart/Shutterstock
Despite helping solve plenty of cases, there are instances when ill-intentioned tipsters call in solely for money. Such was the case in 2014 when a man was arrested for a crime he didn't commit. An unknown individual was seen in a surveillance video sneaking into the men's locker room of a resort and spa facility in California, and stole a watch worth $60,000. Aaron Calcagno was at home with his family when he was arrested in front of his children, as reported by the San Diego Reader. He had some similarities with the perpetrator, such as his sideburns and age range, but apart from that, there were no other details tying him to the theft.
Detectives looked into Calcagno — but only after he was arrested — and they did not find evidence that he was the perpetrator. Calcagno said that he was shorter and weighed less than the individual they were looking for. Furthermore, the vehicles he and his wife owned did not match the one used by the robber. It turned out that a tipster called the San Diego Crime Stoppers hotline and named Calcagno as the man in the surveillance video. Calcagno said that Kurt Cartie, who was the detective in charge of the case, honed in on him based on the tip and didn't do further investigation to see whether the information was credible. Aaron Calcagno then filed a lawsuit against the county and the detective for his false arrest.