How Many People Have Died In Custody At Guantanamo Bay?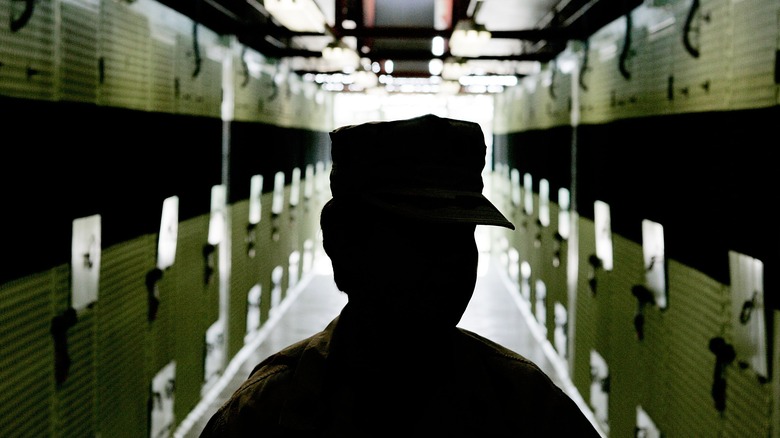 Mark Wilson/Getty Images
Since Guantánamo Bay detention camp, also known as Gitmo, opened in 2002, hundreds of people have been detained there — and not all of them have made it out alive. Numerous people are known to have died at Guantánamo Bay during their detention. While some have reportedly passed away due to cancer, several others have reportedly died by suicide, although the circumstances of their deaths are suspicious and cover-ups have repeatedly been alleged, per Harper's Magazine. And although more than one president has claimed that they would close the detention camp, as of 2021, Guantánamo Bay remains in use.
Under President Joe Biden, VICE News reports that conditions in the detention camp have further deteriorated, with some people who are detained describing "deteriorating facilities with broken toilets" and a lack of basic medical supplies such as aspirin and adhesive bandages.
Not everyone who's being detained at Guantánamo Bay has been charged with a crime, but whether or someone has been charged with a crime doesn't make their unnatural death in a detention facility any less excusable. So exactly how many people have died in custody at Guantánamo Bay?
Nine deaths at Guantánamo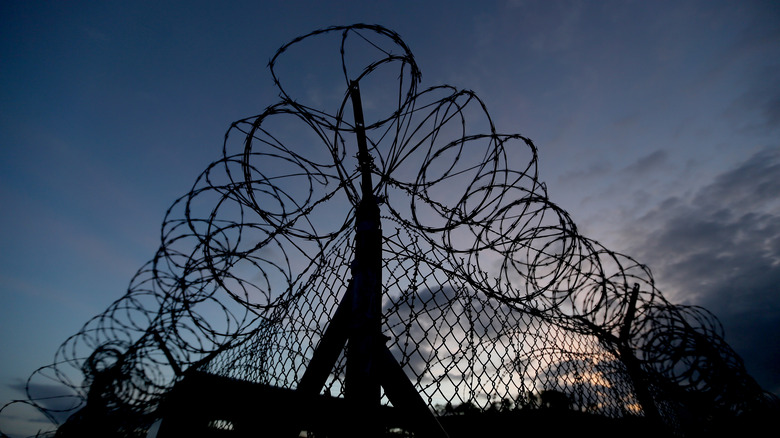 Joe Raedle/Getty Images
Between 2002 and 2021, nine people have died while being detained at Guantánamo Bay detention camp. Out of those nine, Abdul Razzaq Hekmati and Awal Gul reportedly died of natural causes, per Afghanistan Analysts Network. Seven others, Yasser Talal Al Zahrani, Mani Shaman Al-Utaybi, Salah Ahmed Al-Salami (also known as Ali Abdullah Ahmed), Abdul Rahman Ma'ath Thafir Al Amri, Mohammad Ahmed Abdullah Saleh Al Hanashi, Adnan Farhan Abdul Latif (also known as Allal Ab Aljallil Abd al Rahman), and Hajji Nassim (also known as Inayatullah), all reportedly died by suicide.
What all of the people who died at Guantánamo Bay have in common is the fact that they were all being held at the detention camp with neither charge nor conviction, and many of them were being held indefinitely.
Although the United States government justifies holding people indefinitely, asserting its right under international law, many of those held at Guantánamo Bay haven't been charged with a crime because there's no evidence against them, or if there was, "it was tainted beyond use when the detainees were subjected to what the CIA euphemistically called 'enhanced interrogation,'" Associated Press reports. Holding people without a charge is also a method of keeping people from testifying at trial about the torture they've experienced at the hands of the United States government, per NPR.
How many people are still detained?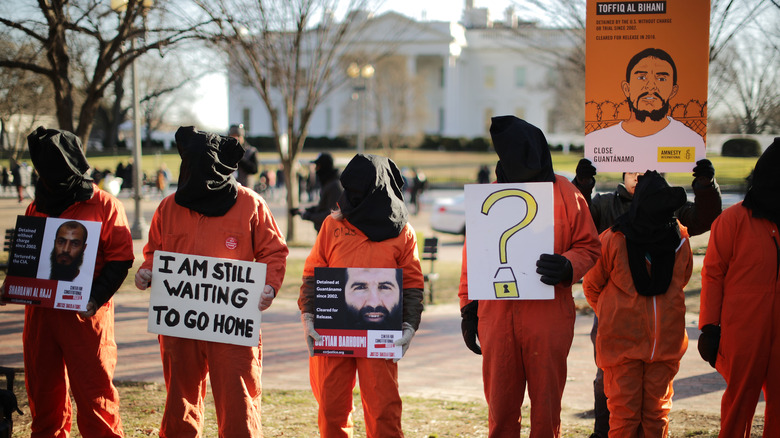 Chip Somodevilla/Getty Images
Overall, 779 people have been detained at Guantánamo Bay between 2002 and 2021. Associated Press reports that President George W. Bush released 532 detained people while President Barack Obama released 197 detained people. During his single term, President Donald Trump released only a single person, Ahmed al-Darbi, who was released as part of a plea deal and sent back to Saudi Arabia to serve the remainder of his sentence, according to The Guardian.
As of September 2021, 39 people remained imprisoned at Guantánamo Bay. According to The New York Times, out of the 39 imprisoned people, 12 have been charged with war crimes, 10 are being held without charge and recommended for transfer to another country, and 17 are being held indefinitely with no charges. Those who are detained indefinitely without criminal charges are known as "forever prisoners," according to NPR.
Of those who are still detained, Khalid Sheikh Mohammed, Walid bin Attash, Ramzi bin al-Shibh, Ammar al-Baluchi, and Mustafa Ahmad al Hawsawi are being charged with terrorism, conspiracy, and murder with regard to the September 11, 2001 attacks in United States v. Khalid Sheikh Mohammed. The case is still in the pre-trial hearing phase and the military jury will not be selected until 2022 at the earliest, DW reports. However, according to Al Jazeera, the trial is expected to be further delayed as the defense prepares to "attack the legal foundation of the military commission."