The Truth About Erik Menendez's Wife, Tammi
YouTube/Court TV
In 1996, brothers Erik and Lyle Menendez were found guilty of the murder of their parents, Kitty and Jose (via ABC News). Per Biography, it was a case that captivated the nation and had the makings of a Hollywood film. There was wealth, high-profile connections, and of course, murder. On August 20, 1989, Erik and Lyle brutally shot their parents in their Beverly Hills Mansion with two 12-gauge shotguns. They were only 21 and 18 (via Town & Country Magazine).
According to History, no one suspected the brothers at first. They then proceeded to blow through their father's money and live big, raising suspicions. Eventually, a taped confession from Erik's therapist led to their arrest. When the case went to trial, the brothers alleged severe sexual abuse from their parents. Nonetheless, they were both convicted and sentenced to life without the possibility of parole. Despite his life-long prison sentence, Erik still found love behind bars and married his wife, Tammi, in 1999 (per The Sun).
Tammi was a widow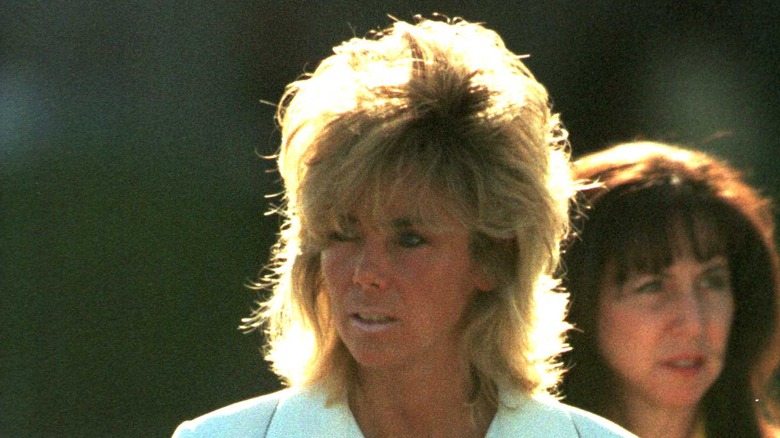 Chris Morton/Getty Images
According to The Sun, Tammi watched the Menendez brothers' trial on TV and was drawn to Erik. She proceeded to write to him and eventually, those letters turned into phone calls. Tammi moved from Minnesota to California after they confessed their love to each other. They got married in Folsom State Prison in June 1999. However, this was Tammy's second marriage as her first husband committed suicide.
Tammi has been candid about her marriage and has described it as incredibly difficult (more than she expected) due to the circumstances (via In Touch Weekly). She also wrote a memoir, "They Said We'd Never Make It: My Life With Erik Menendez" in 2005 about her marriage. Tammi and Eric have no children together and have never been intimate. Although Tammi's daughter from her previous marriage was only a baby when she married Erik, she refers to him as her "Earth dad."
As for Lyle, he's been married twice since his imprisonment (per All That's Interesting). In 1996, he married a Playboy model who divorced him in 2001 after she discovered he was writing letters to other women. In 2003, he married Rebecca Sneed. As of 2021, the brothers are still married and according to a different article of The Sun, they are both imprisoned at the Richard J. Donovan Correctional Facility in San Diego.