The Truth About Madonna's Controversial Late Show Appearance
Theo Wargo/Getty Images
Late-night TV shows have been providing entertainment for viewers for decades, but there have been a few instances where a lighthearted chat with the host turned awkward. Such was the case when Madonna was a guest on "Late Night with David Letterman" in 1994, which, according to Insider, is one of the most uncomfortable interviews the host has conducted.
From the late 1980s to the early 1990s, Madonna was at the peak of her career and even her personal life was scrutinized by the media. Her guest appearance started out innocent enough, with Letterman welcoming Madonna on stage, but it soon turned awkward — even for the viewers in the studio. As Far Out Magazine recounted, Letterman goaded the singer to kiss a guy in the audience, which Madonna refused, saying that she didn't succumb to pressure and calling the host a "sick f**k." Later in the interview, it was revealed that Madonna gave Letterman her used underwear, and she outright asked why he hadn't sniffed it.
Throughout the segment, Madonna kept on dropping sexual innuendos, and Letterman tried his best to steer the conversation into more appropriate subjects. The show even cut to several commercial breaks during the 20-minute interview to ease the tension. Madonna, however, was having none of it and even dropped several f-bombs left and right.
The real story behind the interview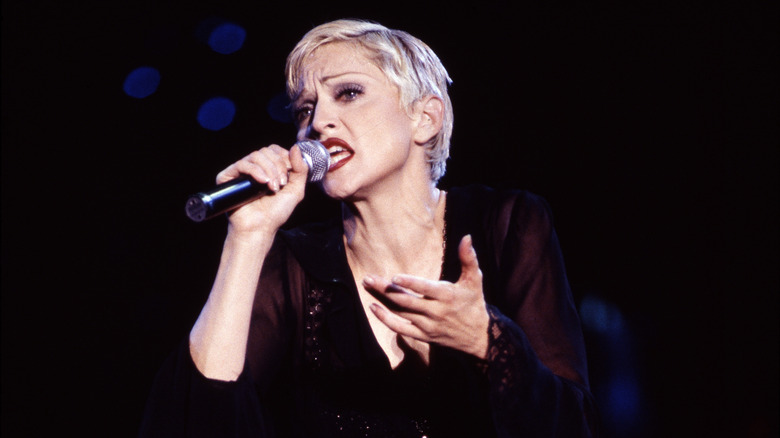 Michael Putland/Getty Images
Being one of the biggest stars at that time, David Letterman had been poking fun at Madonna's promiscuity during opening segments before she came on the show. Daniel Kellison, who worked behind the scenes for the show at that time, divulged what really happened on that night (via Grantland). Madonna was invited for an interview, and she agreed. A storyline was then proposed, wherein Madonna would admonish the host for making fun of her, and clips of Letterman making jokes about Madonna would be played. The singer agreed, and producers thought it would be a funny interview if all went according to plan.
On the day of the interview, Kellison checked in with Madonna in her dressing room, and that was when he realized that something would go terribly wrong. The singer was with her makeup artist, and upon entering the room, Madonna greeted Kellison by saying, "Suckmad*ck." The two laughed, and Kellison brushed it off and proceeded to brief Madonna regarding the interview. Madonna, however, said that everything was "too much to remember" and revealed that she and her makeup artist "smoked a little endo" — a type of oxycontin — before arriving at the studio. What was supposed to be a short interview segment was extended as Madonna refused to leave the stage, and the next guest who was scheduled to appear was cut off the show.
Madonna and David Letterman patched things up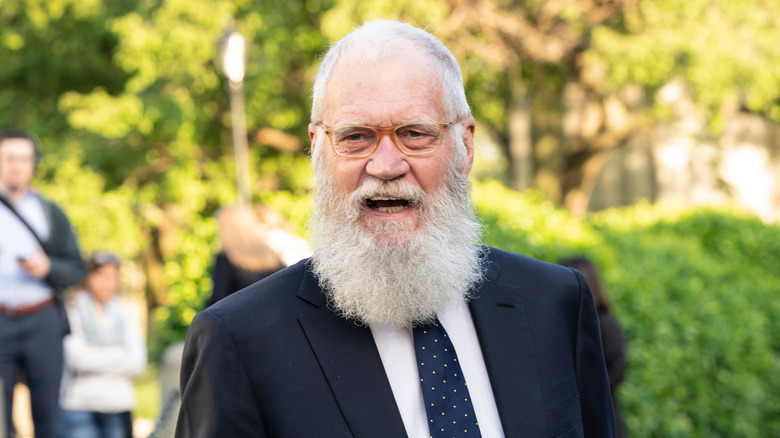 lev radin/Shutterstock
David Letterman knew that the interview was going to be a disaster as soon as he was alerted of Madonna's drug-induced state. Later on, Madonna explained her unusual behavior on the show by saying that she smoked endo before coming on the show. Furthermore, she wanted to make a stand against censorship rules on television, but sadly, she wasn't successful, per EN Academic. That wasn't Madonna's last appearance on Letterman's show, however, as she made a brief appearance and gave the host flowers and candy for Valentine's Day and said, "I'm a changed woman since I met you."
Just a month after Madonna's awkward interview, she wrote a letter addressed to her "fellow revolutionaries" regarding the late show guesting, as reported by the New York Daily News. In it, she wrote, "Can everyone please get over the fact that I went on t.v., smoked a cigar, said the f-word a few times, and made David Lettermen (sic) look stupid," continuing on to say that her interview proved how sexist the world was. In September of that same year, Madonna and Letterman seemed to have put the interview behind them as the host escorted Madonna onstage at the MTV Video Music Awards. The singer has since appeared in a few episodes of "Late Night with David Letterman" through the years to promote her music and movies.