The Real Reasons Jack Irons Left The Red Hot Chili Peppers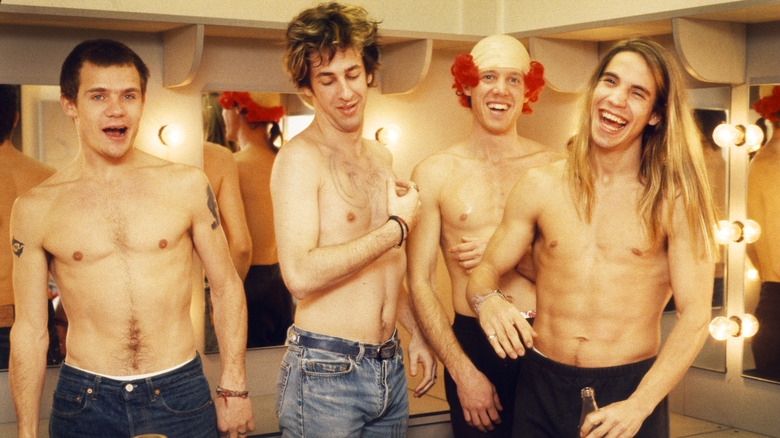 Gie Knaeps/Getty Images
While definitely not in the same league as Pete Best as a musician who exits their band just before they reach superstardom, Jack Irons (pictured above with the clown wig) is probably best known as a transitionary member of two of modern rock's biggest acts — the Red Hot Chili Peppers and Pearl Jam – who left right before the bands hired their longest-running drummer. With the Peppers, Irons was a founding member alongside singer Anthony Kiedis, guitarist Hillel Slovak, and bassist Flea, but was eventually replaced with that guy who looks a lot like Will Ferrell. With Pearl Jam, he kept time in between the two Daves (Krusen and Abbruzzese) and Matt Cameron, the then-former Soundgarden drummer who did double duty for both grunge heavyweights until Chris Cornell's death in 2017.
Given the fact he's played on some notable albums from both of his most recognizable bands and was also a member of underrated, overlooked '90s power trio Eleven, Jack Irons is certainly more than just the guy who was replaced by Chad Smith, and later by Matt Cameron. But why did he leave such established bands at a point where one of them was on the rise and the other was still massively popular, if slightly less relevant than they were at their peak? Per Rolling Stone, Irons' decision to leave Pearl Jam was allegedly driven by his dislike of touring. As for the Red Hot Chili Peppers, the drummer actually left the band twice, with the final departure brought about by something far darker than mere burnout from the hectic rock 'n' roll lifestyle.
The first departure: Jack Irons left because the Peppers weren't his main band
As recalled by Drum Magazine, Jack Irons was one of the Red Hot Chili Peppers' co-founders, but years before that, he and Hillel Slovak teamed up with singer-guitarist Alain Johannes to form a band called Chain Reaction. The group would later change its name to Anthym and add another school friend, bassist Michael "Flea" Balzary, to the lineup. Now that's three-fourths of RHCP's founding lineup playing together in one band, but as the outlet pointed out, the Peppers were a "fluke" side project that formed in 1983 when Slovak, Flea, and Irons joined forces with yet another old friend from Fairfax High School, frontman Anthony Kiedis. The nascent Peppers' electrifying performances helped them build up a huge following in their native Los Angeles, and they were soon signed by EMI. 
There was, however, one little problem — What is This? (the band formerly known as Chain Reaction and Anthym) had also signed a record deal of their own with MCA (via First Avenue), and Slovak and Irons were both more committed to their main band than their quirky, funky side project. As such, they quit the Red Hot Chili Peppers ahead of the recording of their 1984 self-titled debut album and were respectively replaced by Jack Sherman and Cliff Martinez. 
The second departure: Irons was devastated by Hillel Slovak's death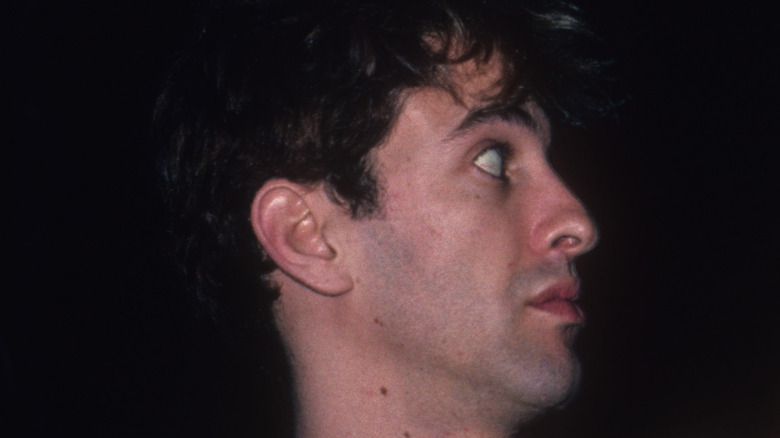 Jim Steinfeldt/Getty Images
Despite appearing to be a more promising option at first, What is This? fizzled out, and Jack Irons and Hillel Slovak returned to the Red Hot Chili Peppers in time for their third album, 1987's "The Uplift Mofo Party Plan," per Drum Magazine. Sadly, it was the first and only Peppers album with everyone from the original lineup, as Slovak and Anthony Kiedis' drug problems reached critical mass while the band toured in support of the record. Kiedis got clean several years later, but Slovak tragically died of a heroin overdose on June 25, 1988, at the age of 26. The death of his longtime friend and bandmate devastated Irons, who abruptly left the Red Hot Chili Peppers and explained that he didn't want to be part of a band where his "friends were dying."
According to Drum Magazine, Slovak's untimely death also drove Irons to a state of depression; he was later diagnosed with bipolar disorder after he checked himself into a psychiatric hospital. Fortunately, he was back on the drum stool in the early '90s, reuniting with former What is This? bandmate Alain Johannes as they formed the band Eleven with the late Natasha Shneider. And while he turned down an offer to bang the skins for a then-unknown Seattle band named after NBA star Mookie Blaylock, he did join them in 1994, when they were already known as Pearl Jam and more than well-established in the rock scene.
If you or someone you know is struggling with mental health, please contact the Crisis Text Line by texting HOME to 741741, call the National Alliance on Mental Illness helpline at 1-800-950-NAMI (6264), or visit the National Institute of Mental Health website.