The Reason John Frusciante Left The Red Hot Chili Peppers Twice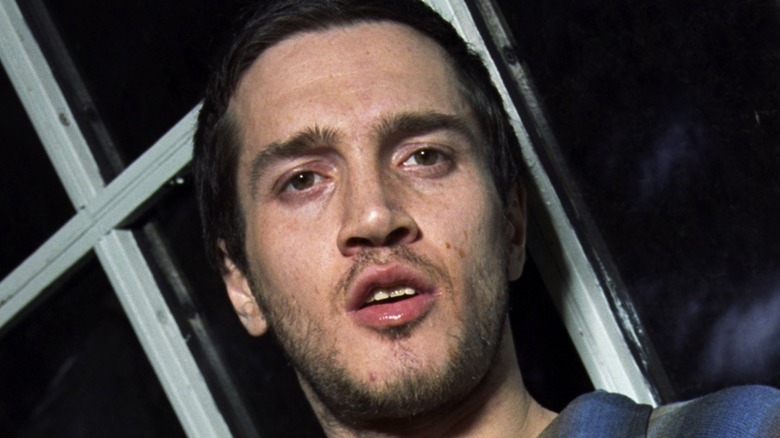 Bob Berg/Getty Images
Despite the upbeat, carefree, and undeniably funky vibes exuded by their music in general, the Red Hot Chili Peppers' story hasn't always been the happiest of tales. Like many other bands, they went through multiple lineup changes, especially in their earlier years, but just as they had all four original members back together at the same time, tragedy struck when guitarist Hillel Slovak fatally overdosed on heroin in 1988. Fortunately, the Peppers were able to find a more than competent replacement soon after, as John Frusciante, then only 18 years old, joined the band as their new axeman.
With Frusciante and new drummer Chad Smith onboard, the Red Hot Chili Peppers resumed their upward trajectory after it had been momentarily interrupted by Slovak's death. And after releasing "Mother's Milk" in 1989, the Peppers followed that record up with 1991's "Blood Sugar Sex Magik," the album that finally saw them break out into the mainstream. However, it wasn't much longer before Frusciante left RHCP, leading to a long break between albums and one of the group's most divisive periods. However, we're going to get to that later, because just like drummer Jack Irons (whom Smith replaced), Frusciante didn't just leave the band once. Yes, he's back with them once again, but there were two long stretches where he wasn't a member of RHCP. So why did the talented guitarist quit on two separate occasions?
Fame and drugs drove John Frusciante to quit in 1992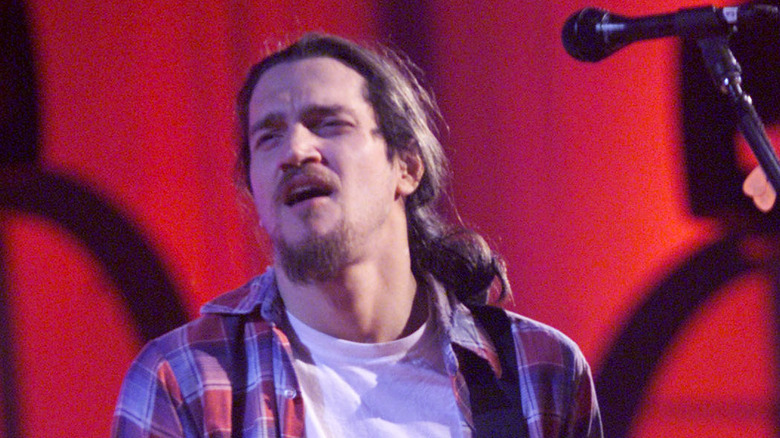 Frank Micelotta Archive/Getty Images
If you're an 18-year-old guitar prodigy, one would assume that there wouldn't be anything better than joining a promising act you also happen to idolize. At first, John Frusciante was stoked to be a part of the Red Hot Chili Peppers family, but as the band kept getting more popular, he felt less and less comfortable with his burgeoning stardom, as noted by Louder. Unlike his bandmates who relished the higher profile they enjoyed thanks to "Mother's Milk" and "Blood Sugar Sex Magik," the young guitarist felt more comfortable playing in smaller venues, just like he did early on in his first RHCP stint. He also hated the seemingly never-ending photoshoots, interviews, media appearances, and meetings with record executives that came with his newfound rock star status. It wasn't helping either that his drug use was spiraling out of control.
All those issues came to a head on May 7, 1992, when Frusciante announced that he was leaving the Peppers, just one day after they kicked off their tour of Japan. Despite his bandmates' best efforts to convince him to stay, Frusciante had made up his mind, and when he did, he embarked on a solo career that didn't yield much commercial success. His use of drugs, particularly cocaine and heroin, likewise escalated during his time away from the Peppers. Even though he overdosed in February 1996, the axeman kept on with his $500-a-day drug habit and was even homeless at one point after failing to pay his rent.
He wanted to focus on his solo career when he quietly left in 2008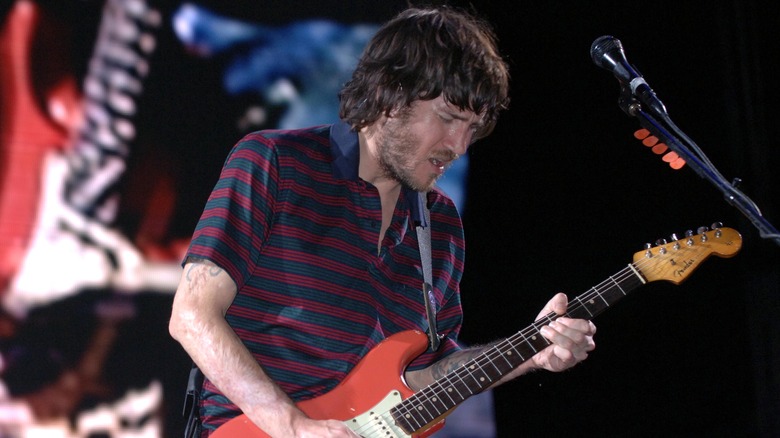 Brian Rasic/Getty Images
Before Jane's Addiction axeman Dave Navarro played on the Red Hot Chili Peppers' polarizing 1995 album "One Hot Minute," there were two guys who had short-lived stints with the band — Arik Marshall and Jesse Tobias (via Goldmine Magazine). In any event, none of those three had the same impact as John Frusciante did, and when Navarro exited in 1998, a newly-sobered-up Frusciante was invited to rejoin the Peppers. About a decade later, he was out once again, that time replaced by Josh Klinghoffer, who had toured with the band as a second guitarist in 2007. As Frusciante admitted in a 2009 MySpace post announcing his departure, he had actually left a year prior because he wanted to focus on his solo endeavors.
"To put it simply, my musical interests have led me in a different direction," the guitarist wrote, as quoted by Rolling Stone. "Upon rejoining, and throughout my time in the band, I was very excited about exploring the musical possibilities inherent in a rock band, and doing so with those people in particular. A couple of years ago, I began to feel that same excitement again, but this time it was about making a different kind of music, alone, and being my own engineer." Frusciante also stressed that there was none of the "drama" that characterized his first exit from RHCP.
Just when fans had thought they heard the last of John Frusciante as a member of the Red Hot Chili Peppers, the band announced in 2019 (via Instagram) that he was back in the fold after they decided to part ways with Klinghoffer. Not long after, Chad Smith teased that the group was working on a new album with their twice-over prodigal six-string-slinger, and as he also hinted earlier this month, the record is "almost done."