This Is Where Nipsey Hussle Is Buried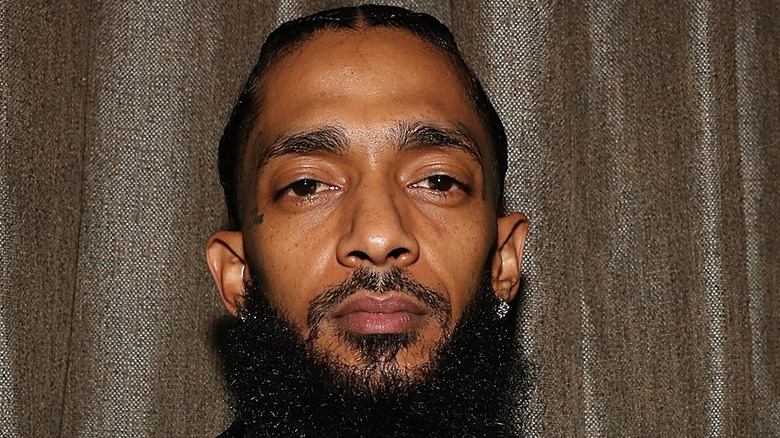 Shareif Ziyadat/Getty Images
Known for such songs as "Victory Lap" and "Go Long," rapper Nipsey Hussle, born Ermias Asghedom, grew up in Los Angeles, and he died outside of his own store in his neighborhood there on March 31, 2019 (via the Associated Press). He was shot to death by someone he allegedly had encountered several times that day. There was a tremendous outpouring of grief as news of Hussle's passing spread.
Not only was Hussle a performer but he was also an entrepreneur with his own record label, All Money In, and his own clothing brand, Marathon Clothing (via Rolling Stone). He was also a social activist. He had bought the shopping center where his clothing store was located and planned on renovating it as part of a plan to revitalize his Crenshaw neighborhood (via Vibe). He wanted young people to escape from the gang life that he had been drawn into (NBC News).
The loss of Nipsey Hussle was felt by so many people that a special public memorial was held at Los Angeles' Staples Center on April 11, 2019. More than 20,000 people attended this service, which included speeches by Louis Farrakhan, Snoop Dogg, and Hussle's girlfriend Lauren London (via People magazine). Former President Barack Obama sent a letter of condolence to Hussle's family, remembering him for his activism. Hussle chose "to invest in that community ... to build a skills training center ... to lift up the Eritrean-American community; to set an example for young people to follow — is a legacy worthy of celebration."
Thousands turned out to mourn rapper Nipsey Hussle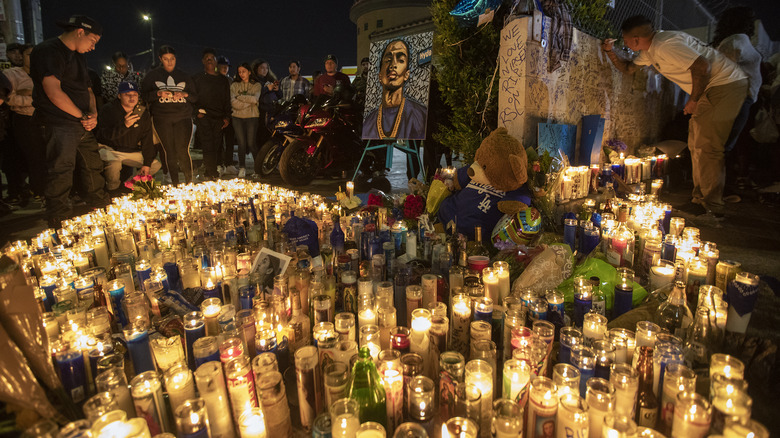 David Mcnew/Getty Images
The day after the memorial service, a 25-mile funeral procession wound its way through the streets of Los Angeles before Nipsey Hussle's remains were taken to his final resting place (via Associated Press). Crowds gathered along the route to say goodbye to Hussle and fans chanted Hussle's name as the vehicle carrying his casket drove by. The procession ended at the Forest Lawn Memorial Park-Hollywood Hills cemetery. Forest Lawn is one of Los Angeles' most famous cemeteries, and it serves as the final resting place for an array of stars, including Michael Jackson, Carrie Fisher, Rick James, and Paul Walker (via Vibe).
Hussle's close friends and family held a private burial for the late artist at the cemetery. Lauren London was there with Kross, her son she shared with Hussle, and her son Cameron from a previous relationship. Hussle's daughter, his parents, and his siblings were also on hand for this solemn send-off. As his brother, Samiel Asghedom, explained to ABC News, Hussle will be remembered as "somebody that believed in the process of hard work, determination and just the positivity of somebody staying in the area he grew up in and making something out of nothing" (via People magazine).