Disturbing Details Discovered In Chris Farley's Autopsy Report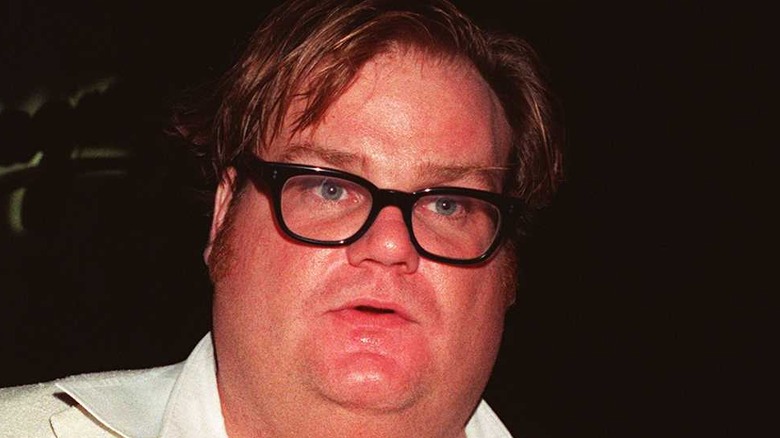 Denny Keeler/Getty Images
Comedian Chris Farley first rose to fame as a cast member of "Saturday Night Live." Later he starred in such popular films as "Tommy Boy" (1995). While he projected an image of being a warm and funny guy on camera, he struggled with significant, long-term substance abuse off-screen. He spent a lot of his downtime living in the fast lane. "Saturday Night Live" producer Lorne Michaels had even suspended Farley from the show several times because of the comedian's drug and alcohol problems and encouraged him to get help (via CNN). But all of this excessive behavior caught up with the talented star. Farley was found dead in his Chicago apartment on December 18, 1997. It was his brother John who made the terrible discovery.
Farley was only 33 years old when he died, but many weren't surprised by his untimely passing because of his hard-partying ways and his physical stature — at the time of his death he weighed 296 pounds, spread over a 5'8" frame. Comedian Tom Arnold, a friend of Farley's, told USA Today that "I always told Chris, 'You can't be fat and do drugs. . ..You pick one. You just can't do everything." Arnold had even tried to act as a sober sponsor for Farley for a time. Farley's troubles dated back to his early days at the ImprovOlympic theater. Charna Halpern, another friend and colleague from that time, remembered that "before he was famous, all he could do was drink" (via the Chicago Tribune). "I always used to worry about that, that he'd kill himself drinking." 
A mix of drugs proved fatal for Chris Farley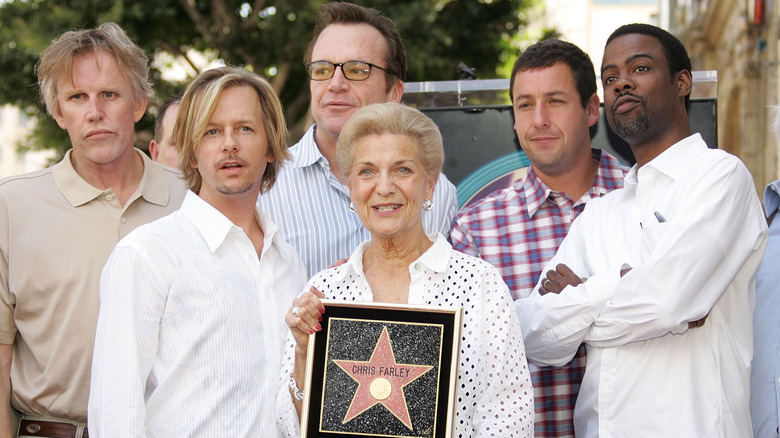 Frazer Harrison/Getty Images
Over the years, Farley sought treatment several times to win his battle against substance abuse. But the lure of drugs proved to be too much for him in the end. The autopsy report showed that Farley had both an opiate and cocaine in his system, and these substances led to his death, according to the Chicago Tribune. An unusual finding in Farley's autopsy was the lack of alcohol in his body. While his liver showed signs of damage from alcohol, there was no actual alcohol present.
While his death was officially called an overdose, an issue with his heart also played a role in his demise. The medical examiner discovered that Farley's heart was large and had "severe narrowing" of the arteries. The condition of his coronary arteries were so poor that he should have received surgery to correct the problem. Dr. Timothy Erickson, director of University of Illinois at Chicago medical school and hospital's medical toxicology division, explained that the drugs "weren't [at] huge, lethal levels. ... When you have a heart like he did, it doesn't take a lot to push you over." 
In 2005, the late star received a star on the Hollywood Walk of Fame (above). His family and friends, including Adam Sandler, Chris Rock, Tom Arnold, and David Spade, were on hand to celebrate this posthumous honor.