Did The Crown Try To Blackmail Princess Diana To Avoid Her Divorce From Charles?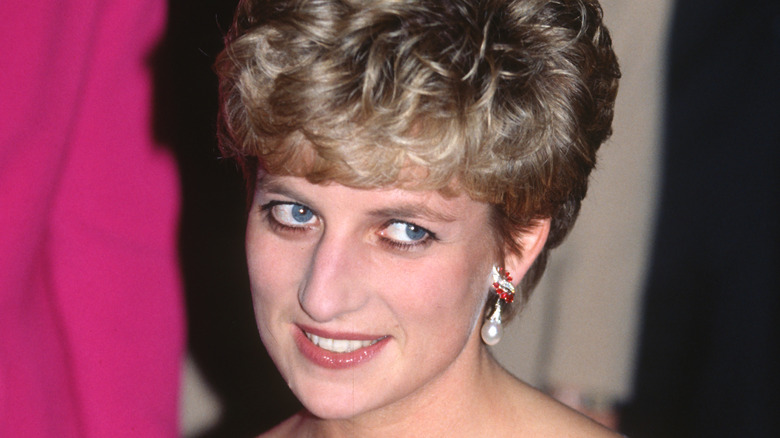 Anwar Hussein/Getty Images
The relationship between Princess Diana and her father-in-law, Prince Philip, was one of great extremes. Out of all of the royals, Philip perhaps had the warmest relationship with Diana, as evidenced by the letters exchanged between the two during her marriage to Prince Charles, heir apparent to the British throne. As reported by People magazine shortly after Philip's death on April 9, 2021 at the age of 99, Philip was "initially charmed" by Diana. He could also relate to her difficulties as an outsider marrying into the British royal family, as Philip himself had done when he married Princess Elizabeth in 1947, then herself Great Britain's heir apparent. People quoted writer Ingrid Stewart, author of the book "Prince Philip Revealed," who explained, "When (Diana) found the restrictions of royal life difficult, it was Philip who helped her," noting that Diana often sat beside Philip rather than Charles at the "endless black-tie dinners" the royals were expected to attend. Philip "took care of her." 
The relationship took a turn in 1992 with the publication of the Andrew Morton tell-all "Diana: Her True Story." The book was written with Diana's explicit help and revealed frank details about the struggles she experienced in the course of her unhappy marriage to Prince Charles, including Charles' ongoing affair with Camilla Parker Bowles, whom Charles would eventually marry in 2005. Queen Elizabeth II and Prince Philip arranged a meeting with Charles and Diana at Windsor Castle at which, per Stewart, they were told to "try to think of their children, the monarchy and the country instead of their personal woes."
Did Philip offer to help Diana, or did he threaten her? (Or both?)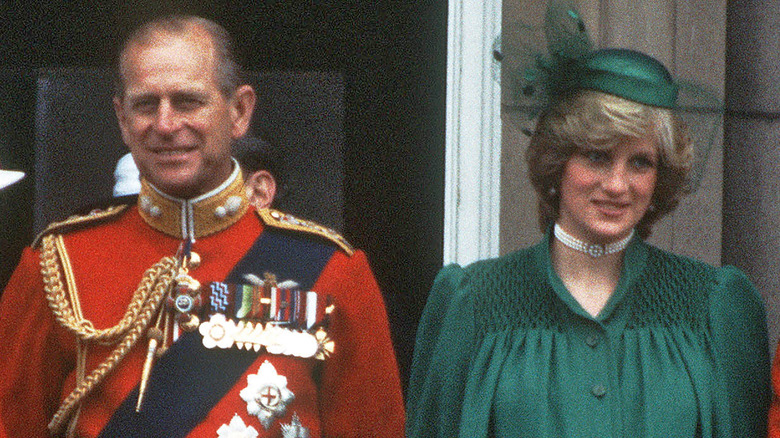 Anwar Hussein/Getty Images
Per People, in addition to the family meeting, Prince Philip attempted to broker some sort of peace between Diana and Charles by writing letters to his daughter-in-law. He signed the letters with the nickname "Pa" and indicated sympathy for Diana's situation, writing that his son "was silly to risk everything with Camilla" and indicating his willingness to help: "if invited, I will always do my utmost to help you and Charles to the best of my ability." However, as it became apparent that Diana was determined to leave the marriage, Philip's tone took a turn. 
According to Michael Hobbes and Sarah Marshall, hosts of the podcast "You're Wrong About," which explored the life of Princess Diana over five episodes, at one point Philip threatened Diana with the release of sensitive personal information. In Episode 4, "The Divorce," available in transcript form via Happy Scribe, Hobbes reported, "He threatens her and says, if you keep trying to leave this marriage, we are going to release tapes that we have of you having an affair." Philip reportedly quickly backed down and took back this threat. The royal family never released such tapes. However, as reported by Reuters, during a 2008 inquest into Diana's 1997 death due to injuries sustained from a high-speed car crash, her former police protection officer, Ken Wharf, told lawyers he believed Diana's phone calls had been monitored by British intelligence service MI6. Wharf also believed there was a recording of an intimate conversation between Diana and her friend James Gilbey, later the subject of the 1992 "Squidgygate" scandal.