The Truth About Princess Diana's Surprising Connection To Bridgerton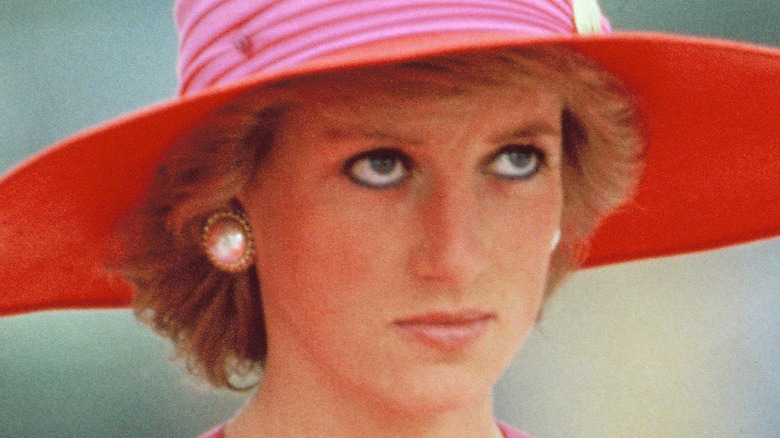 Georges De Keerle/Getty Images
Before marrying Prince Charles and moving to Kensington Palace at the age of 20, Diana, Princess of Wales, was born The Honorable Diana Frances Spencer in 1961, youngest daughter of Viscount and Viscountess Althorp. She was born at the family home, Park House, near Sandringham, Norfolk, England, per the British royal family's official website. In 1975, Diana's father inherited his Earldom, at which point Diana received the style Lady Diana Spencer and the family moved to the Spencer family seat at Althorp in Northamptonshire. A 2021 article in Tatler magazine reported that the Althorp Estate dates back to 1508 when the Spencers bought the 13,000-acre property after the proceeds from their successful ventures as sheep farmers made them a wealthy and powerful family. Althorp House was host to many extravagant and fashionable parties for the 18th-century British elite thanks to the first Earl and his daughter Lady Georgiana Spencer who went on to become the Duchess of Devonshire and was later portrayed by Keira Knightly in the 2008 historical drama "The Duchess." 
The 18th century also saw the house renovated by architect Henry Holland, who added tiles to the exterior as well as four grand Corinthian pillars to the front of the house. Internally, Holland's renovations to the great hall inspired Sir Nicholas Pevsner to declare it "the noblest Georgian room in the county." Hundreds of years later, Althorp House was once again an inspiration, this time to Chris Van Dusen, creator of the hit Netflix period drama "Bridgerton," a series set during England's Regency era that ran from 1811 until 1820.
Princess Diana's childhood home inspired the design of Bridgerton House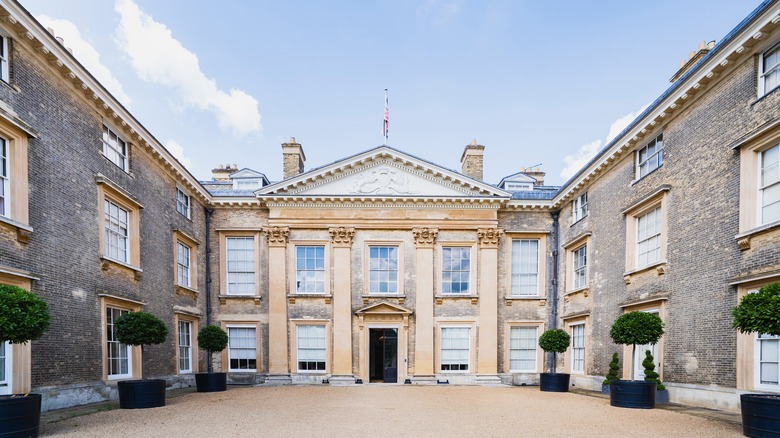 Octus_Photography/Shutterstock
In September of 2021, People magazine reported that back in December of 2020, Chris Van Dusen had live-tweeted as he watched the premiere of "Bridgerton" and shared the fun fact that "The interior of Bridgerton House was inspired by my visit to Althorp when I was developing the show. Elegance. Opulence. And that #staircase." Over nine months later, Charles Spencer, the ninth Earl Spencer and brother of the late Diana, Princess of Wales, noticed Van Dusen's tweet and responded via his own Twitter account "Just seen this, below — such a compliment to those of my family who went before me, making @AlthorpHouse what it still is today." Yes, Althorp House (shown above) has its own social media, including both Twitter and Instagram. 
Per Tatler, Charles Spencer lives at the estate with his third wife and their young daughter. Earl Spencer founded and has hosted the annual Althorp Literary Festival there and per the Althorp House website, the house and grounds are open to the public each summer. Althorp House is also the final resting place of Princess Diana. She is buried on an island at the center of a lake in Althorp Park's Pleasure Garden. Per Hello, Earl Spencer decided Diana should be buried at Althorp for public safety reasons and so her sons Prince William and Prince Harry could visit her gravesite privately. In a 2021 interview with "Good Morning Britain" (via Apost), he said of the site "It's an oasis of calm, actually. It's a lovely place to go."