The Famous Movie Series You Didn't Know Keith Richards Appeared In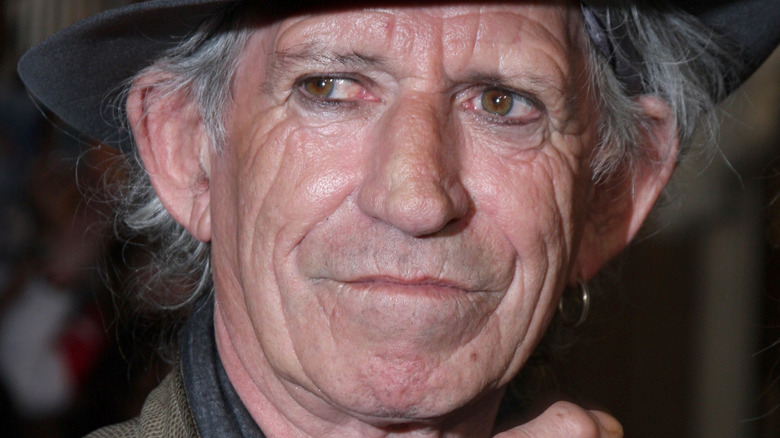 Kathy Hutchins/Shutterstock
Rolling Stones guitarist Keith Richards is famous and infamous for countless instances of wild behavior, including nearly setting the Playboy Mansion on fire, falling asleep at the wheel with his young son in the car, and of course snorting his dead father's remains (although he apparently did not actually grind them up with cocaine). In addition to his decades with the Rolling Stones and his status as one of the most hardcore rock stars of all time, Richards has another, slightly more obscure claim to fame: his small yet crucial appearance in the "Pirates of the Caribbean" movie series. 
Johnny Depp, who first starred as Captain Jack Sparrow in 2003's "Pirates of the Caribbean: The Curse of The Black Pearl," has been open about the fact that one of his inspirations for his characterization and portrayal of the hard-living yet droll pirate is Keith Richards. In May of 2011, as reported by NME, Depp acknowledged that he'd used the mannerisms and style of Richards as well as those of the lusty, self-centered Warner Bros. cartoon skunk Pepe Le Pew to bring Jack Sparrow to life, noting, "I was a little worried at what Keith Richards was gonna think. I didn't fear Pepe Le Pew but I was a little worried about Keith. Because for a good portion of the time I was spending with him, I was sponging as much of him as I possibly could for the character."
Keith Richards didn't mind Johnny Depp using him as inspiration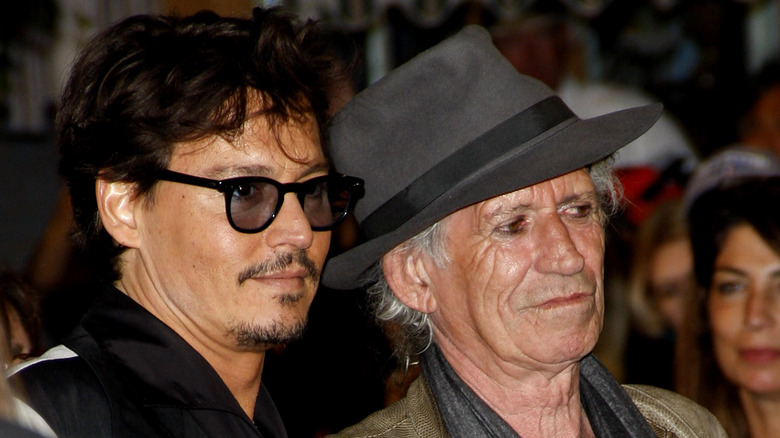 Tinseltown/Shutterstock
Per NME, Keith Richards didn't mind Johnny Depp using him as a model for the Jack Sparrow character. According to Depp, "[W]hen he found out what I'd been doing, it could've gone either way, but he was very nice about it, like 'I had no idea mate!'" In fact, everyone was so satisfied with the Richards-esque vibe of Captain Jack Sparrow that Richards was brought in to make a cameo appearance in the third installment of the franchise, 2007's "Pirates of the Caribbean: At World's End." Fittingly, he played the part of Jack Sparrow's father, Captain Edward Teague, a role he reprised in 2011's "Pirates of the Caribbean: On Stranger Tides." Depp told NME, "To be able to then bring him into the fold and bring him into the film and do scenes with him was amazing. It's one of those things you know has been seared into your brain and will never leave." 
As reported by Rock Celebrities, Richards spoke out about the experience of playing Depp's father in an interview around the time "At World's End" released. Richards noted that he found the experience of calling Depp "son" strange because they didn't have a father-son relationship in real life. However, Richards was able still able to get into the spirit of playing Captain Edward Teague: "You look at yourself in the mirror with all of this stuff on and a couple of pistols ... they gave me a couple of pistols and a sword and I'm away."