The Moment In Keith Richards' Career When He Went Too Far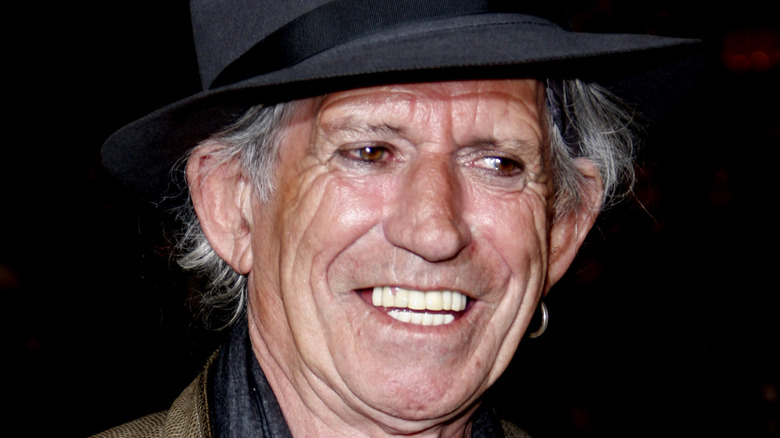 Shutterstock
Keith Richards is famous for being the guitarist for The Rolling Stones and for his amazing ability to pull off death-defying behavior year after year. It's been said that the only two creatures to survive a nuclear blast would be cockroaches and Keith Richards. In 2020, the Children's Museum of West Hartford, Connecticut honored Richards' 77th birthday by naming a cockroach after the Connecticut resident. They even gave the cockroach its own miniature guitar, per CT Post.
Grunge polled 669 people around the United States and asked them, "What moment in Keith Richards' career do you think he went too far?" The answers provide a doozy of a stroll down a crooked, chaotic memory lane.
In fourth place, with 7.47% of the vote, is "Nearly dying after a head injury caused by jumping off a tree." This infamous event occurred in 2006 when Richards was 62 years old and really should have known better. As reported by Rolling Stone, the Stones flew to a private island off Fiji during a break in a tour. After an afternoon of swimming, Richards climbed onto a tree branch about seven feet off the ground. When he went to jump down, he slipped and hit his head on a trunk. Things seemed fine for days until Richards suddenly got a "blinding headache" followed by two seizures in his sleep. Luckily, his wife, Patti Hansen, called for help and Richards was flown to New Zealand, where he received life-saving brain surgery. He was back on tour within six weeks. 
Is Keith Richards responsible for the Playboy Mansion's move to Los Angeles?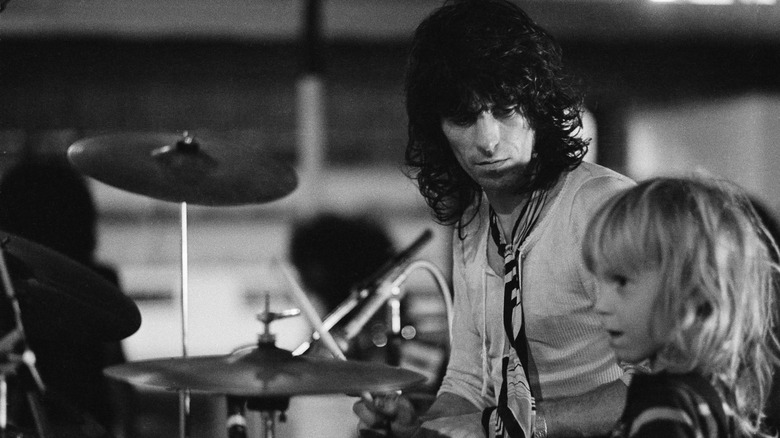 Michael Putland/Getty Images
In third place, with 15.7% of votes, is "Nearly setting the Playboy Mansion on fire." Per Rolling Stone, Richards and Rolling Stones saxophonist Bobby Keys were guests at the mansion, then located in Chicago, during a tour stop in that city in 1972. Richards and Keys sneaked off to do drugs in a bathroom and reportedly "nearly set it ablaze" in the process. In his autobiography, "Life," Richards remembered Keys noting it was "smoky in here" just before "thumping at the door, waiters and guys in black suits bringing buckets of water. They get the door open, and we're sitting on the floor, our eyeballs very pinned." The Mansion was saved, but Hugh Hefner relocated Playboy's headquarters to Los Angeles, California soon after.
A good 38.12% of respondents selected "Falling asleep at the wheel with his son in the backseat," making it the poll's second most/least popular Keith Richards "too far" moment. Rolling Stone quoted Richard's son Marlon (shown above with his father in 1972), who wrote in "Life" that the car, Richards' "Batmobile," was still in Richards' possession and "Until five or six years ago, there was still my bloody handprint on the back seat. And on the dashboard there was still the dent where my nose hit it." The incident occurred in 1976 as Richards was driving home from a gig in Knebworth, England, and to add insult to literal injury, Richards was arrested at the scene of the crash when authorities found acid in his jacket pocket. 
'I couldn't resist grinding him up'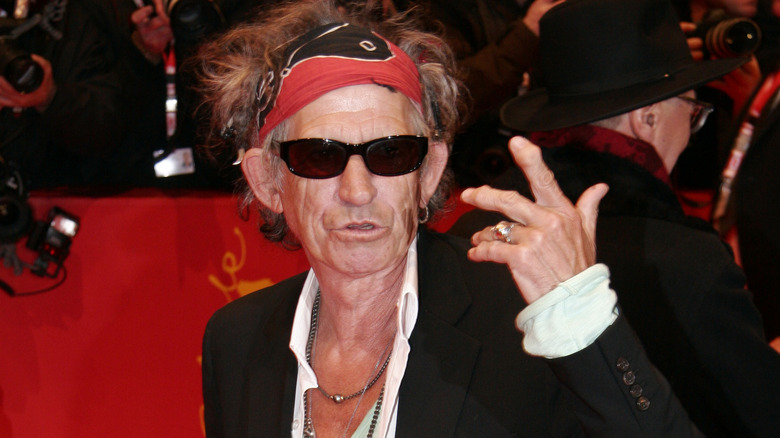 Shutterstock
The "winner" in the poll, with 38.71% of the vote, is "Claiming he snorted his father's ashes," which is not only one of the more shocking Keith Richards stories, it's one of the more shocking rock and roll excess stories EVER. The story dates back to an interview Richards did with New Music Express in 2007. When asked about the strangest thing he'd ever tried to snort, Richards infamously answered "The strangest thing I've tried to snort? My father. He was cremated, and I couldn't resist grinding him up with a little bit of blow." 
Richards' father, Bert, died in 2002 at the age of 84. Did Keith really snort his father's ashes? His manager tried to say that Richards had told the story in jest, but in the biography "Life," Richards set the record straight: "As I took the lid off of the box, a fine spray of his ashes blew out on to the table. I couldn't just brush him off, so I wiped my finger over it and snorted the residue." It looks like, yes, Richards did indeed pay this extremely questionable and disturbing tribute to his father, but it's not quite as hardcore and bizarre as the original story implied.