Surprising Details Found In Verne Troyer's Autopsy Report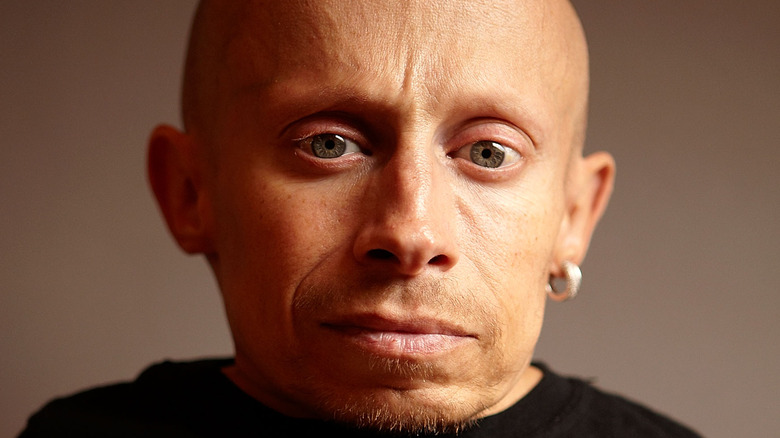 Getty Images/Getty Images
Standing at only 2'8", Verne Troyer was a beloved actor known for playing Mini-Me in two "Austin Powers" films (via IMDb). Troyer, however, had modest beginnings. Born with achondroplasia dwarfism, the condition made him one of the shortest people in the world (per Yahoo). The Michigan native was born in 1969 and The Guardian writes that his parents were Amish. Troyer later recounted a story about his early life where he almost died as an infant. 
Per the HuffPost, he was found unresponsive by his father. As the family was Amish, they did not own a car. However, Troyer's aunt did, and the family immediately took him to the hospital. The first doctor told his family he was not going to survive. Troyer's father was undeterred and took his son to another hospital. There, the child was treated with oxygen. Verne survived and went on to have a relatively successful career in Hollywood. Due to his small size, he was often cast as animals or children.
Troyer had a role in "Harry Potter and the Sorcerer's Stone" and later starred on the hit British reality TV show "Celebrity Big Brother." According to The Famous People, Troyer's career began in 1994 when he worked as a stunt double for a baby in the John Hughes film "Baby's Day Out." TMDB writes that he received this job while he was living in Arlington, Texas. Troyer had moved there after graduating high school. He continued to work as a stunt double until he was cast as Mini-Me in 1999.
Verne Troyer's mental health issues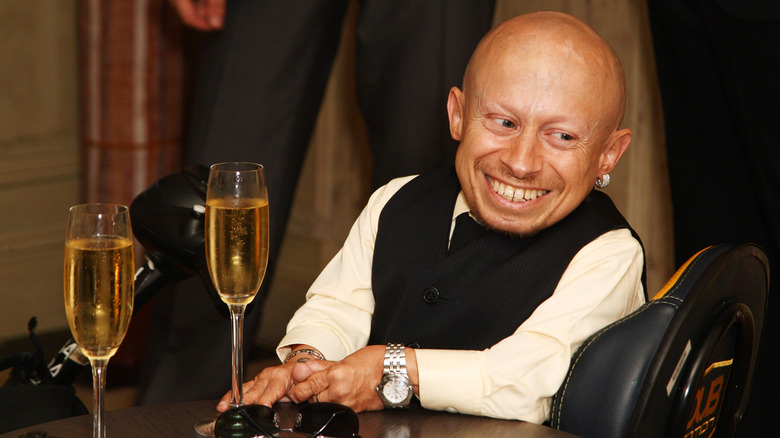 Dave Hogan/Getty Images
The Mirror writes that along with fame, Troyer was dealing with alcoholism and depression. He had gone to numerous rehab facilities through the years and almost died in 2002 from his drinking. While appearing on "Celebrity Big Brother" in 2009, he was known for his drunken antics, including an incident where he rode a scooter while he was intoxicated (via The Daily Record).
In a 2009 interview with the Mirror, his ex-girlfriend, Ranae Shrider, told the publication that Troyer was "angry at the world and drinks himself close to death to forget how depressed he is." Before his last rehab stint in 2017, he openly wrote to fans that he was continuing to battle his addiction "day by day." Troyer also thanked fans for their support. Beyond Achondroplasia reports that 56% of people with this type of dwarfism suffer from mental health issues.
According to The Guardian, the actor was perhaps reeling from working in an industry that undoubtedly ostracized him for his size and looks. Per The Book of Man, Troyer stated that he passed on taking jobs that he thought were only handed to him because of his stature. As he put it, "All the roles I try to do are something that an average actor would do." Nevertheless, he often admitted his frustrations with his height and once said, "I'm not a lap dog. I'm a person" (per Pop Culture).
If you or anyone you know is struggling with addiction issues, help is available. Visit the Substance Abuse and Mental Health Services Administration website or contact SAMHSA's National Helpline at 1-800-662-HELP (4357).
Verne Troyer lost his battle with alcoholism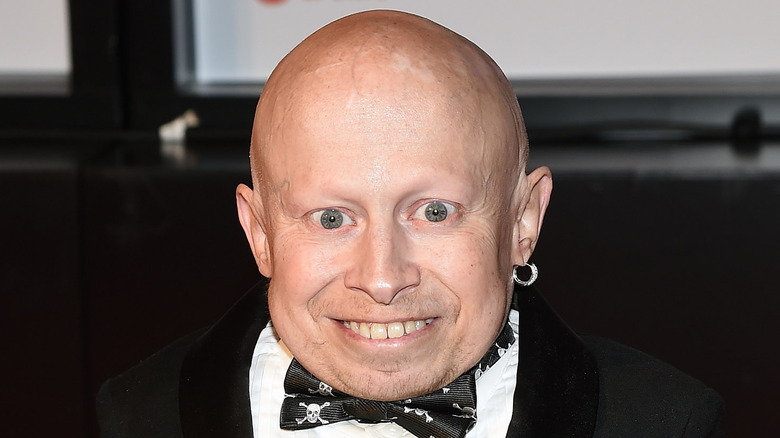 Ethan Miller/Getty Images
On April 21, 2018, Verne Troyer, aged 49, died (per The New York Times). An autopsy report declared Troyer's death was a suicide by alcohol. According to NBC, his blood-alcohol level was more than three times the legal limit. In addition, he had spent the last three weeks of his life in an LA hospital (via The Guardian). Only a month before, TMZ reported, law enforcement had been called to his home as friends believed him to be suicidal. He was promptly taken to the hospital and placed on a 72-hour hold for evaluation.
Weeks later, Troyer would be hospitalized again. The Blast states that the actor's alcohol level was extremely high and he repeatedly told staff that he "wanted to die." He suffered what was described as "respiratory distress" and was placed on a ventilator. As his body began to shut down, he was placed on life support. Troyer died shortly after.
According to the autopsy report, Troyer had scars on his abdomen; earlier in his life his appendix had been removed. No other prominent abnormalities were found. His spokesperson later released a statement that said, "Depression and suicide are very serious issues. You never know what kind of battle someone is going through inside. Be kind to one another. And always know, it's never too late to reach out to someone for help" (per Yahoo). To honor his memory, his family asked for donations to his favorite charities, The Starkey Hearing Foundation and Best Buddies.
If you or anyone you know is having suicidal thoughts, please call the National Suicide Prevention Lifeline​ at​ 1-800-273-TALK (8255)​.