Disturbing Details Found In Christina Grimmie's Autopsy Report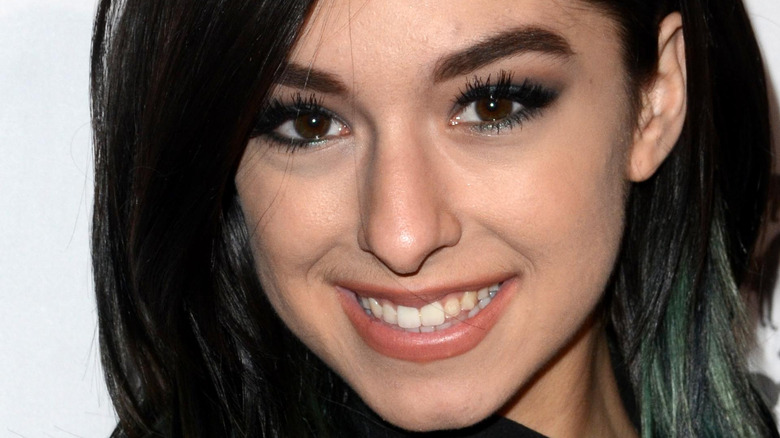 Kathy Hutchins/Shutterstock
In July 2009, New Jersey native Christina Grimmie posted the first video of herself singing a Hannah Montana cover on YouTube (via Insider). She soon amassed a large social media following as she continued to post covers that displayed her raw talent. According to Orlando Weekly, Grimmie subsequently became Selena Gomez's opening act and appeared on "Ellen." She also released music independently and made appearances at Radio Disney and more.
NBC News reports that in 2014, Grimmie joined Season 6 of "The Voice," a televised singing competition. At just 19, she auditioned by singing Miley Cyrus' "Wrecking Ball" and went on to choose Adam Levine — the frontman of Maroon 5 — as her mentor. Though she didn't win, she did come in third place. After her time on "The Voice," Grimmie continued to work on music and perform (per AllMusic). The Orlando Weekly reports that she was even offered a contract with Island Records.
On June 10, 2016, she opened for the band Before You Exit at the Plaza Live Theater in Orlando, Florida. Per E! Online, Grimmie had recently released her EP "Side A" and was on tour to promote her new music. After the concert ended, the BBC states that Grimmie stayed to meet fans and sign autographs. That's when 27-year-old Kevin Loibl approached and shot her (via CNN). Loibl was quickly tackled by Grimmie's brother, though he managed to escape and turn the gun on himself. Grimmie later succumbed to her injuries at a local hospital at just 22 years old.
She was murdered by a crazed fan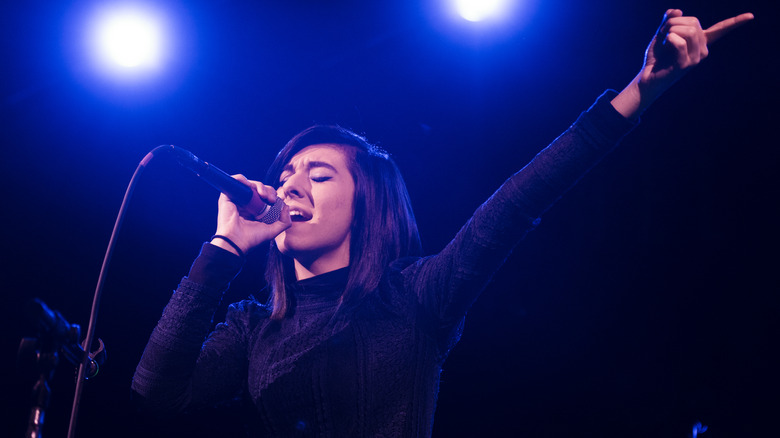 Noam Galai/Getty Images
According to CNN, Kevin Loibl had become obsessed with Christina Grimmie a year before committing the murder-suicide. He believed he could have a relationship with her, going as far as losing weight and getting Lasik surgery and hair transplants for her (via Billboard). Though coworkers and friends knew of his infatuation, no one knew the extent of his delusions. Notably, Loibl was said to have spent hours watching Grimmie's videos and referred to her as his soulmate. He even maintained that he had previously met her at a concert. Despite this, those close to him say he never talked about guns or threatened to hurt himself or Grimmie.
Global News reports that Loibl's friend, Cory Dennington, stated that Grimmie had led Loibl to find God. Per TMZ, Loibl did have a previous history of violence, which included two incidents involving his father and fiance. However, charges were never filed against him. CNN notes that Loibl's family said he did not have a known mental illness. He was able to legally purchase two 9mm handguns shortly before he murdered Grimmie.
Although Dennington told Loibl that a relationship with Grimmie was impossible and irrational, Dennington said that "Loibl would become angry and defensive" (via CNN) when he brought it up. E! Online writes that traveled from St. Petersburg, Florida, to Orlando with the intention to kill Grimmie. Upon the murder-suicide, TMZ stated that Loibl's family taped a statement to their door that read, "Deepest sorrow for lost (sic) to the family, friends & fans of the very talented, loving Christina Grimmie — No other commets (sic)."
Christina Grimmie's fatal injuries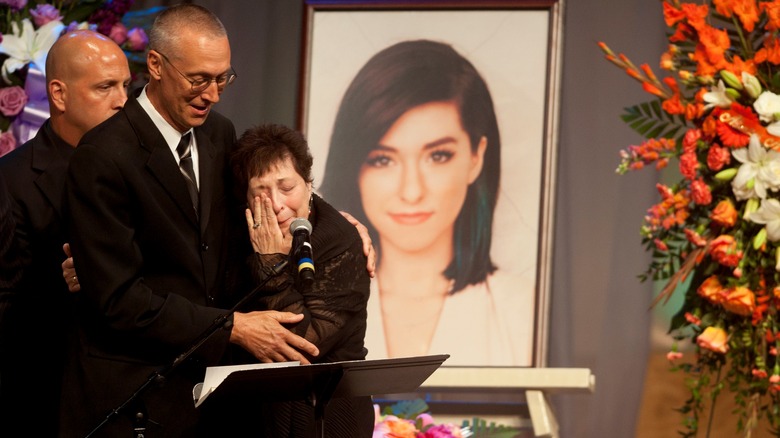 Pool/Getty Images
Grimmie's autopsy report states that she was shot twice and died of gunshot wounds to the head and chest. No drugs were found in her system, and her death was ruled a homicide (via Business Standard). Per the Los Angeles Times, Grimmie was shot at 10:30 p.m. and was pronounced dead after midnight. Her brother, Marcus, stated that when the gunman approached her, Grimmie had her arms open for him. He later told Insider, "She just genuinely loved the people around her and gave everyone the time of day, no matter what." Global News writes that Grimmie's "The Voice" coach, Adam Levine, paid for her funeral.
Only days before her death, Grimmie had expressed her excitement for the future in an interview with PopCrush and stated that she was planning to release another album. Her family later started the Christina Grimmie Foundation to support families of gun-violence victims (per Insider). In March 2022, Grimmie's family released a new song she was working on prior to her death (via the Orlando Sentinel). The song, titled "Rule the World," is being used to gather donations for Grimmie's foundation. Since its inception in 2017, the foundation has donated over $200,000.
Many believe that Grimmie's tragic death was ultimately dwarfed by the Pulse Nightclub shooting (via Orlando Weekly), which NPR states occurred in Orlando two days after her murder. Even so, Grimmie is not the only celebrity to be murdered by a devotee. According to 9Honey, actress Rebecca Schaeffer, Dimebag Darrell, and John Lennon were all murdered by fans.