Disturbing Details Found In Aaron Hernandez's Prison Death Investigation
Jim Rogash/Getty Images
American NFL football player turned murderer, Aaron Hernandez, committed suicide in his jail cell in 2017, two years after he was convicted for killing his friend, Odin Lloyd. He was 27 years old. 
By the time he died, Hernandez had experienced fame, fatherhood, love, and several entanglements with the law. His fame started because he was an athlete, first as the "star" tight end for the University of Florida, according to Biography, and then as the youngest player ever in the NFL when he was drafted by the New England Patriots in 2010 at the age of 21, according to Pro Football Reference. 
Yet, his fame turned to infamy when his numerous encounters with the law — including another arrest for a double murder, for which he was acquitted, per Biography — regularly made headlines. Hernandez was sentenced to life in prison without the possibility of parole for killing Lloyd. He was serving his sentence at Souza-Baranowski Correctional Center in Shirley, Massachusetts. 
According to the death investigation report issued by the Massachusetts Department of State Police and published by Autopsy Files, nothing seemed amiss on the night of April 19, 2017. Hernandez got off the phone around 10 p.m. and went into cell number 57 in the general housing unit. Yet, he would not come back out alive. 
If you or anyone you know is having suicidal thoughts, please call the National Suicide Prevention Lifeline​ at​ 1-800-273-TALK (8255)​.
Hernandez wrote John 3:16 on his forehead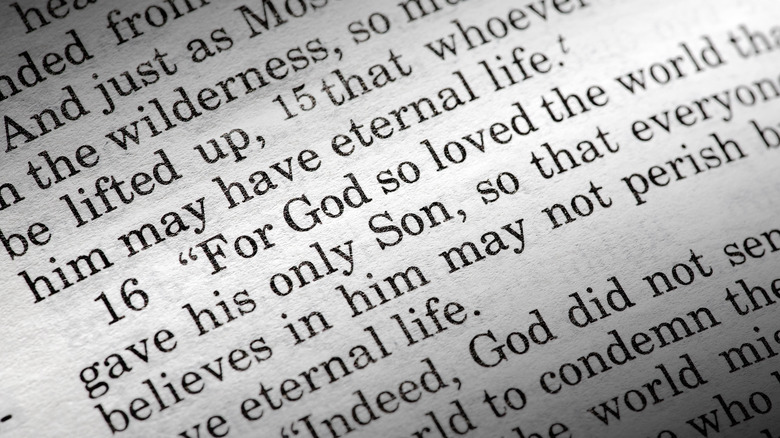 Tyler Olson/Shutterstock
According to the death investigation report published by Autopsy Files, a corrections officer, who started his shift at 11 p.m. that night, last saw Hernandez at 1 a.m. when he did his standard rounds of checks. Later, at 3:03 a.m., he noticed a sheet hanging in front of Hernandez's cell door. When Hernandez didn't respond to his command to take the sheet down or "sound off," the officer poked at the sheet, and it fell. That's when he saw Hernandez, naked, hanging from a sheet tied to the window bars in the cell. He had "John 3:16" — a reference to the Bible verse — scrawled on his forehead.
An alert was sounded, and other officers came to help, eventually cutting Hernandez down from the sheet. He would never regain consciousness and was pronounced dead at the hospital. 
Per the death investigation report, Hernandez had crammed cardboard onto the tracks of the cell door so that it could only be opened manually, and when the C.O.'s went into the cell to get him down, there was a large amount of shampoo on the floor, causing it to be slippery.
Hernandez had a fresh cut on his middle finger and two circles of dried blood on each foot. In Hernandez's cell, there were drawings on the cell walls and "John 3:16" was written on the wall in "a substance consistent with blood," according to the death investigation report. A Bible was open to John 3:16. The 16th verse was "marked in blood," the report noted.
Hernandez left three handwritten letters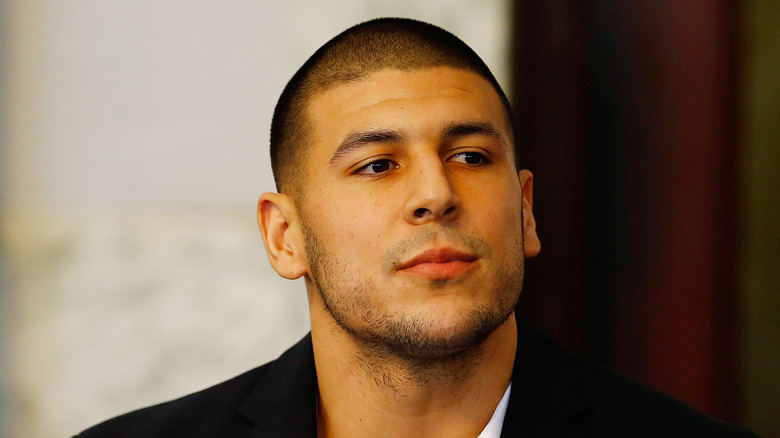 Jared Wickerham/Getty Images
As for the significance of John 3:16, it may have had double meaning for Hernandez. The verse says, "For God so loved the world that he gave his one and only Son, that whoever believes in him shall not perish but have eternal life," a fundamental tenet of Christian beliefs. But the verse is also popular at sporting events, where people hold signs up inscribed with "John 3:16." According to The Boston Globe, it started in the 1970s when born-again Christians worked to "spread the Gospel" by holding up signs that said "John:3:16." It caught on. 
The final meaningful things found in Hernandez's cell were three handwritten notes next to the open Bible. However, who those letters were for was redacted from the death investigation report. According to Rolling Stone, though, Hernandez's attorney, Jose Baez, wrote in his book "Unnecessary Roughness: Inside the Trial and Final Days of Aaron Hernandez" that the letters were for Baez, Hernandez's fiancée, and their young daughter.
Per NBC News, an autopsy on Hernandez would reveal he had stage 3 chronic traumatic encephalopathy, or CTE. The condition is a progressive, degenerative brain disease caused by "repetitive brain trauma," Boston University reported. It is often found in athletes who play high-impact sports, but per BU, it was the worst case of CTE ever seen in such a young person. The disease, which has four stages, can cause dementia, aggression, and mood changes, per BU. 
If you or anyone you know is having suicidal thoughts, please call the National Suicide Prevention Lifeline​ at​ 1-800-273-TALK (8255)​.