Sylvester Stallone Admits His Biggest Regret From The Rocky Series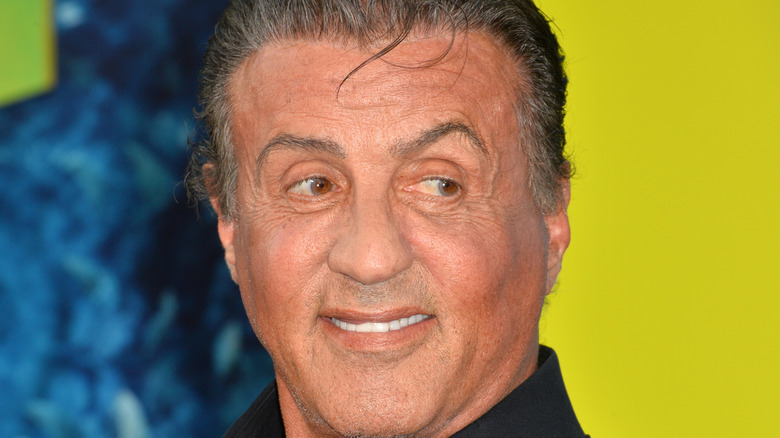 Featureflash Photo Agency/Shutterstock
The "Rocky" franchise has been one of the most enduring film franchises in the history of cinema. Beginning with the original 1976 film, which won the Academy Award for Best Picture, the franchise has spawned five sequels plus a reboot franchise with two films within, according to MGM. While the first film was a serious study of a down-on-his-luck athlete navigating personal issues as he finds fame and fortune in the unlikeliest of ways, over the following five decades and seven subsequent pictures, sometimes the series has had brushes with absurdity along with its brushes with greatness.
Sylvester Stallone, the actor and principal mover behind the franchise, has admitted that he's not particularly happy with one plot point from the series. Specifically, he's not pleased with the way things shook out in "Rocky IV," when his old rival Apollo Creed, by this time Rocky's friend and mentor, was killed off by a Russian.
Stallone regrets killing off Apollo Creed
Joe Seer/Shutterstock
For those not familiar with the "Rocky" franchise, the general outline goes like this: In the first film, Rocky Balboa, a low-rent Philadelphia nobody boxer, gets tapped to fight Apollo Creed (Carl Weathers). By the fourth film, Creed and Balboa, now friends, arrange an exhibition match between Creed and trash-talking Russian caricature Ivan Drago, per IMDb. Creed fails to take the match seriously, and Drago beats his adversary to death in the ring.
Stallone admitted, via Screen Rant, that his biggest regret from the franchise is killing off Apollo Creed. "It was foolish. 'Rocky V' would've never happened, and 'Rocky VI' maybe never would've happened...that way," he said of the decision. He further noted that if he had to do it all over again, Creed wouldn't have been killed by Drago, just disabled, and he would have become Rocky's trainer from a wheelchair.
In October 2021, Stallone re-released a new cut of "Rocky IV," which, though it doesn't change Creed's outcome in any significant way, does restore about 40 minutes of cut footage to the film.