The Truth About Joe Exotic And Travis Maldonado's Relationship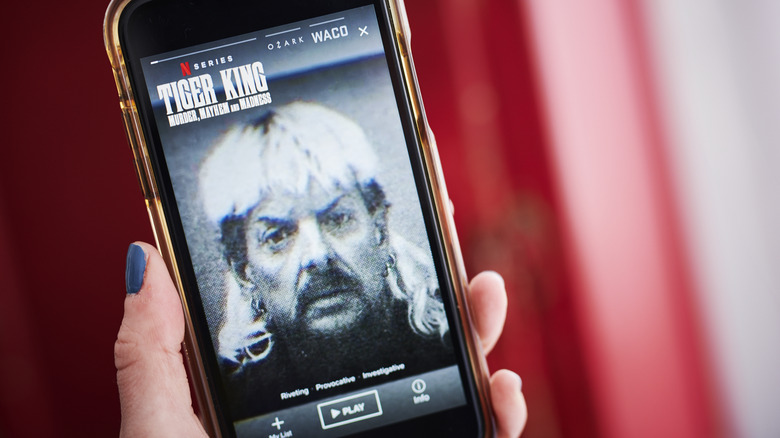 Bloomberg/Getty Images
Many aspects of the life of Joe Exotic (born Joe Schreibvogel), former owner of the Greater Wynnewood Exotic Animal Park of Wynnewood, Oklahoma, captured the attention of viewers when the Netflix series "Tiger King: Murder, Mayhem, and Madness" premiered in March 2020. One was his double marriage to two men much younger than himself. As reported by Texas Monthly, 19-year-old Travis Maldonado arrived in Wynnewood in December of 2013 from his home in California. He was in recovery from an addiction to methamphetamine. One of Exotic's employees recommended hiring Maldonado, under the rationale that working with the tigers and other animals would be beneficial to Maldonado's health. 
At the time, Exotic was already in a long-term relationship with John Finlay, who himself had arrived at the park as a 19-year-old in 2003. Within a month of Maldonado's arrival, the three men were married in a three-way, non-legally-binding ceremony at a hall across from the park that featured monkey flower girls, a Celebes crested macaque ring bearer, and the three grooms dressed in matching pink shirts and black pants. Exotic was 32 years older than Maldonado. Things soon soured between Finlay and Exotic; Finlay found Exotic controlling and obsessed with his web series. On August 14, 2018, Finlay attacked Exotic in a parking lot and was arrested and charged with assault and battery. Per Digital Spy, Finlay later left with fellow park employee Stormey Sanders, with whom he had a child. Eventually Finlay and Sanders married. 
Travis Maldonado reportedly had relationships with other park employees
As reported by the Evening Standard, on the fifth episode of "Tiger King: Murder, Mayhem, and Madness," viewers learned that both Travis Maldonado (shown above) and John Finlay identified as straight outside of their relationships with Joe Exotic. Maldonado reportedly openly had affairs with women during the time he was with Exotic, and at one point on the series Exotic says on camera, "I fell in love with straight guys." Nevertheless, per Texas Monthly, by June of 2015 Maldonado and Exotic had legally wed, with Joe taking Maldonado's last name as his own. 
Just over two years later, Maldonado died from a self-inflicted gunshot. According to Joe, the shooting was an accident. Maldonado was showing off a Ruger pistol to the park's gift shop employees. He reportedly attempted to prove something he read online. He removed the gun's magazine and, knowing there was a bullet in the chamber, held it to his head, believing that it wouldn't fire. The gun did fire and Maldonado died before medics arrived. His husband held a press conference at the park and called Maldonado's death a "tragic accident." He also held a memorial service at the park and filmed it for his YouTube channel, Joe Exotic TV, where it is still available.
According to the Evening Standard, Exotic met a man named Dillon Passage and married him just a few months later. Travis Maldonado's mother, Cheryl, was a guest at the wedding, reportedly expecting to be one of many attendees and shocked to find herself just one of three witnesses.