The Real Reason The Queen Never Had To Pass A Driving Test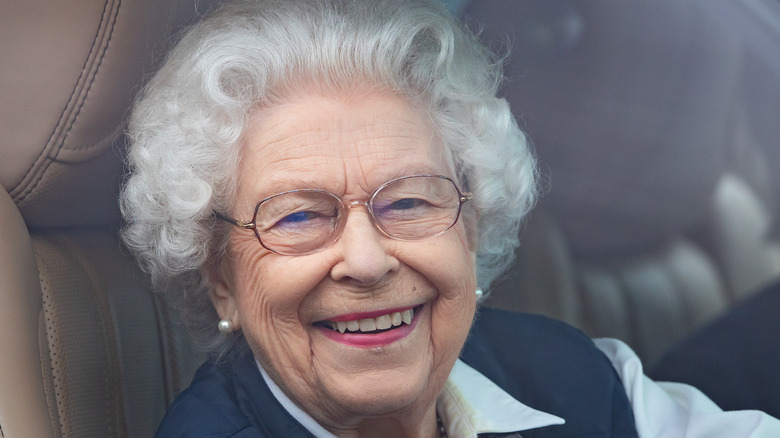 Max Mumby/indigo/Getty Images
Now, it can't be easy being Queen Elizabeth II of the United Kingdom and the Commonwealth. As Britannica reports, her coronation took place on June 2, 1953. In 2015, she passed the iconic Queen Victoria and claimed the record of the country's longest reign ever. In 2021, she marked an incredible 68 years on the throne, tragically losing her beloved husband Prince Philip that year.
Despite her workload — despite the sheer impossibility of doing anything at all without huge attention and safety concerns — there are perks to being Queen Elizabeth II. For one thing, per CNN Money, her personal fortune was estimated at £340 million (almost $500 million) in 2016, which is quite the eye-watering sum for most of us. She also doesn't need to carry a passport to travel internationally, according to the official website of the royal family, because every British passport is issued in her name (Prince Philip himself was not exempt, nor any of the other royals). Another official document she can forego is a driving license. Here's why she didn't need to pass a driving test.
The queen has been a keen driver for a long time. In fact, the official website of the royal family goes on to state, she joined the Armed Forces' Auxiliary Territorial Service in 1945. The first female member of the family to do so, Princess Elizabeth found her feet not only with driving, but with repairing and taking care of a range of autos.
The Queen isn't bound by the rules of the road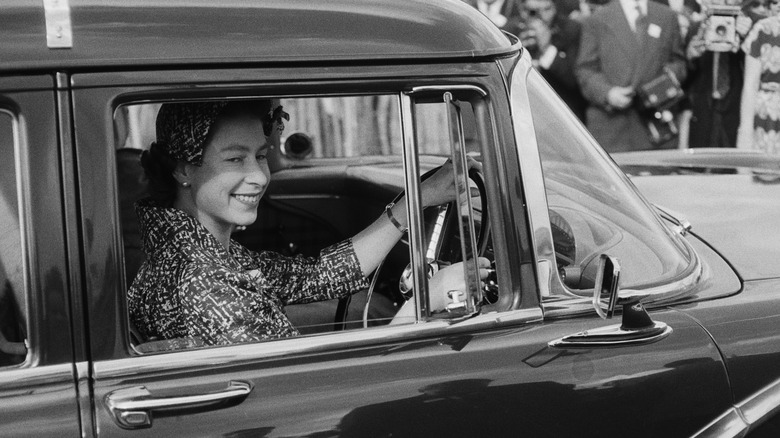 Bob Haswell/Getty Images
It's still a passion of hers today, it seems. In 2017, Wheels reported that she owns an array of luxurious cars, including two Bentleys, three Rolls-Royces, and a Daimler Phaeton from 1900 (reportedly the first royal auto). Though she has drivers at her beck and call, as would be expected of royalty, she has been more than happy to drive herself. According to Express, her famous property at Balmoral has given her many happy hours and a lot of open space to drive freely.
Despite all of this, the queen has never been required to pass a driving test and has no need for a driving license. The reason for this, as with her ability to freely travel without a passport, is a simple one.
According to the "Royal Encyclopedia" (via People), it is part of her royal prerogative (more rights and perks exclusive to the queen that not the rest of the royal family share) that she is technically exempt from the laws and rules of the road. It's probably safe to assume that she would obey them should she venture onto public roads, though. Hopefully.