The Truth About Christian Slater's Time In Jail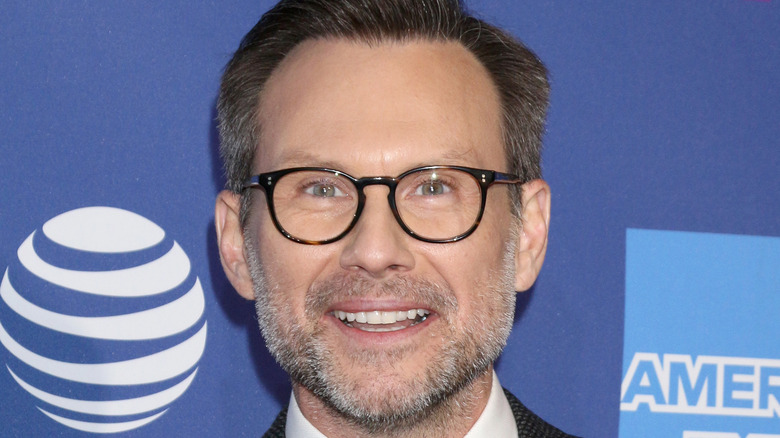 Kathy Hutchins/Shutterstock
Christian Slater started his acting career at a young age. In the '80s and '90s, he had a tough, bad boy image in Hollywood, thanks to his roles in films, such as "Heathers" and "Pump Up the Volume." The rough persona wasn't just for the screen, though, as Slater also had his fair share of trouble in the past, which consisted of a police chase, drunk driving, and assault, as reported by the Daily Mail. In fact, one of those incidents landed him in jail.
In August 1997, authorities were called to a Los Angeles location where a party was taking place. There, they found Slater shouting incoherently after fighting off a man who was trying to stop him from hitting his then-girlfriend Michelle Jonas. Slater also kicked police officer Julio Flores — who was there as a responder to the call — down the stairs. Later, the actor admitted that he was high on a mixture of cocaine and heroin, and he had been binge-drinking for a few days, according to the Independent. Slater was sentenced to three months in jail and was ordered to enroll in a drug treatment program.
Christian Slater's jail routine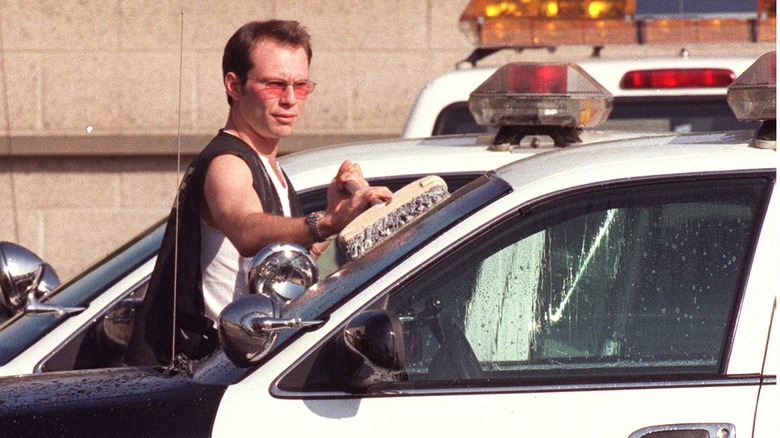 John Fagerness/Getty Images
In January 1998, Christian Slater began his three-month jail sentence. He was allowed to delay the start of his sentence so that he could attend the premiere night of his film titled "Hard Rain." At the Hollywood event, Slater acknowledged his upcoming jail time and said, "We all do go through bad times and it's a matter of ... how you take responsibility and open your eyes to all the good stuff that you've been shutting out." According to United Press International, he was part of the trustee program, wherein he was required to do menial tasks around the facility. Inmates were required to do up to eight hours of work daily, and they had various tasks, such as gardening, washing cars, cooking, and cleaning.
Slater spent 59 days in jail out of his 90-day sentence. In a 1998 interview with Rolling Stone, he recalled his daily routine. He woke up early to prepare food for prisoners and did some cleaning, including getting rid of puke. "It was disgusting. Unpleasant. Not fun. It was not cool," he said. The people at the facility did not give him special treatment for his Hollywood star status. In there, he was just another person doing time for his crime. "I'm a criminal. I was in jail. I was doing my time. Nobody treated me any differently. Nobody cared," he stated.
Slater turned his life around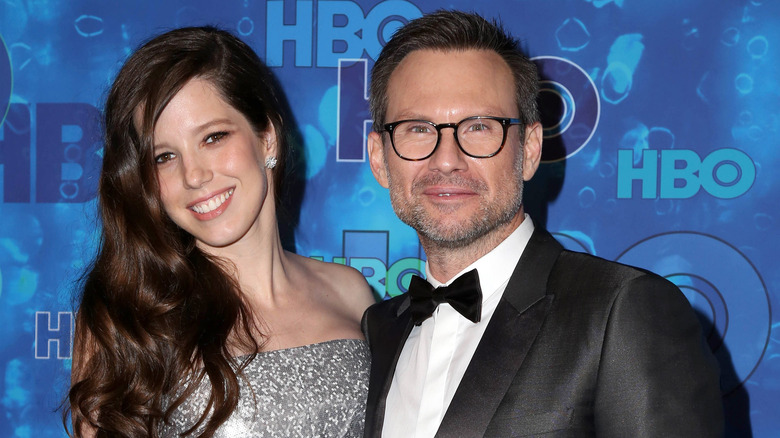 Kathy Hutchins/Shutterstock
Spending two months in jail was an eye-opener for Christian Slater. "It was necessary for me. When you're going down that path, you either kill yourself or you're forced to take time out," he said (via Digital Spy). Slater has continued to have a successful career in showbiz. He has had a few run-ins with the law since being released from jail, but he has ultimately tried his best to keep on the straight and narrow. He made a comeback in 2015 when he got a role in the series "Mr. Robot" with Rami Malek. He is also the voice of Rand Ridley in Netflix's animated series "Inside Job," which premiered in October 2021.
Slater's personal life is looking good as well. He married Brittany Lopez in 2013, and they share a daughter, Lena, who was born in 2019. He also has two adult children — Jaden and Eliana — with his first wife Ryan Haddon.