How Many Victims Were Killed In The Moors Murders?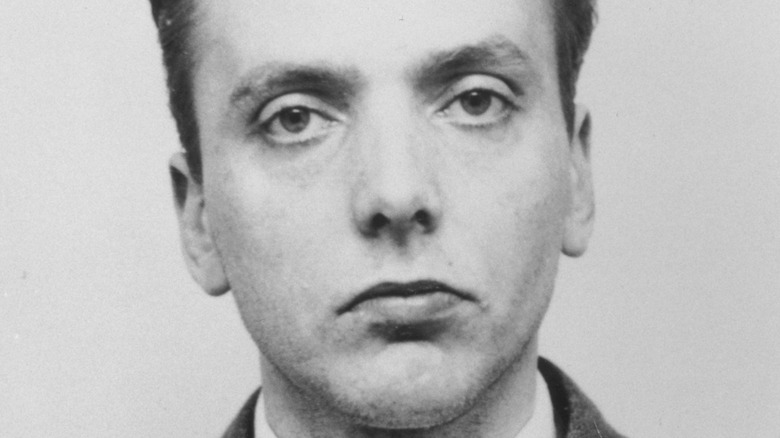 Evening Standard/Getty Images
In 1961, Ian Brady (seen above), a troubled and smug young man, met bottled blond Myra Hindley at a chemical distribution company they both worked at in Manchester, England (via All That's Interesting). What began as infatuation quickly turned sinister. Though Brady had only a mild interest in Hindley, they soon realized they had plenty in common and their relationship unfortunately blossomed. Per Film Daily, the couple had a sadistic appetite and came up with a plan to commit the perfect murders. It was decided that Hindley would lure victims into her car and she would drive them to the rural Saddleworth Moor, a bog-like area (per The Wildlife Trusts).
Hindley stated that Brady was the one who would carry out the act, while she only buried the victims. However, the consensus is that Hindley was an active participant in the crimes, through and through. According to The New York Times, the couple murdered five children between 1963 and 1965. Almost all of them were abducted and brutally assaulted before being dumped at the moors. They were only caught when Hindley's brother-in-law, David Smith, dropped by for a visit at the couple's home. He then witnessed and, out of fear, participated in the murder of their final victim, 17-year-old Edward Evans (via Biography). He then went home, called the police, and turned Brady and Hindley in.
The victims were all children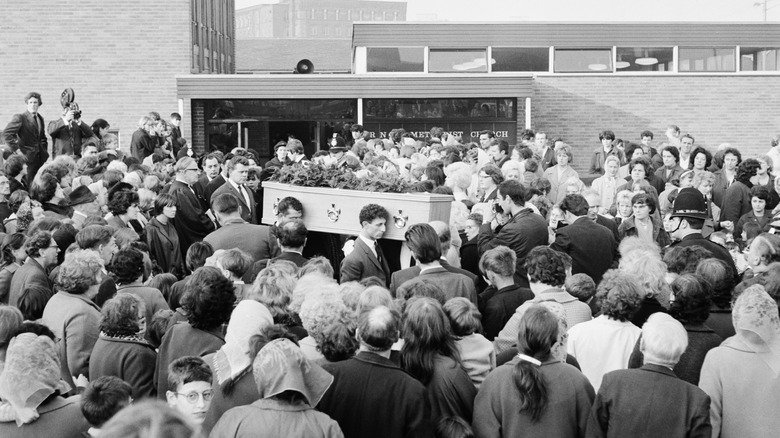 Evening Standard/Getty Images
According to the BBC, the couple's victims were between the ages of 10 and 17. They include Pauline Reed, John Kilbride, Keith Bennett, Lesley Ann Downey, and Edward Evans. Only Bennett's body, age 12, has never been found (via The Guardian). Perhaps the most notorious of their killings is that of 10-year-old Downey, who was the youngest victim. Per The New York Times, Downey was lured away by the couple from a fairground the day after Christmas. She was then assaulted and tortured. Most hauntingly, explicit photos of the young girl and a recorded tape of her begging for her life were later found and used as evidence.
Film Daily reported that Downey's mother wanted the recording to be used in a documentary, but it was deemed too horrendous for the public. As for the other victims, they were all baited by Hindley, who fabricated stories about needing help to find her lost glove or loading boxes into her car. After the serial killers were caught, Brady and Hindley went to trial in 1966 (per All That's Interesting). They were convicted of only three murders and sentenced to life. However, in the 1980s, they confessed to two more murders, that of Reed's and Bennett's. Both Brady and Hindley died in prison in 2017 and 2002, respectively.