Here's Who Inherited John F. Kennedy Jr.'s Money After He Died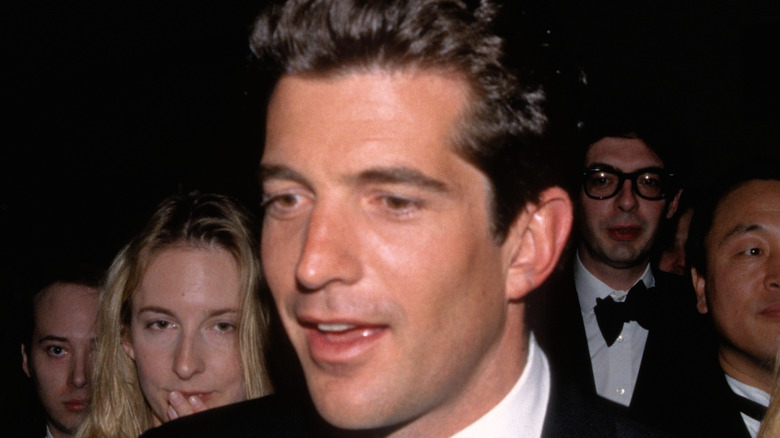 mark reinstein/Shutterstock
The life of John F. Kennedy Jr. — the only living son of John F. Kennedy and Jacqueline Bouvier Kennedy — tragically came to an end on July 16, 1999, when a plane he was piloting crashed off the coast of Massachusetts. He was flying alongside his wife, Carolyn Bessette-Kennedy, and her sister, Lauren Bessette, so the three of them could attend a wedding on Martha's Vineyard, according to The New York Times. All three were killed, and many questions still remain as to what happened that stormy night when the Piper Saratoga light aircraft left an airfield in New Jersey and never made it to its destination.
Possibly due to the heavy storms or JFK Jr. being a pilot who'd earned his pilot's license just the year before, Kennedy is believed to have become disoriented during the flight. The Washington Post reported at the time that investigators determined Kennedy lost control of the plane, plunging into the ocean at 53 mph — something even the most experienced pilots couldn't handle. "He should not have gone up that night," Steven Gillon, historian and college friend of Kennedy, told People. "At the first sign of danger, he should have done what a lot of pilots did that night and flew inland, away from the ocean, spend the night somewhere and then pick up the next morning." Instead, Navy and Coast Guard divers scoured the ocean for five days to find the plane and recover the bodies of the three — all of them strapped to their seats, per the Chicago Tribune.
John F. Kennedy's Jr. strained marriage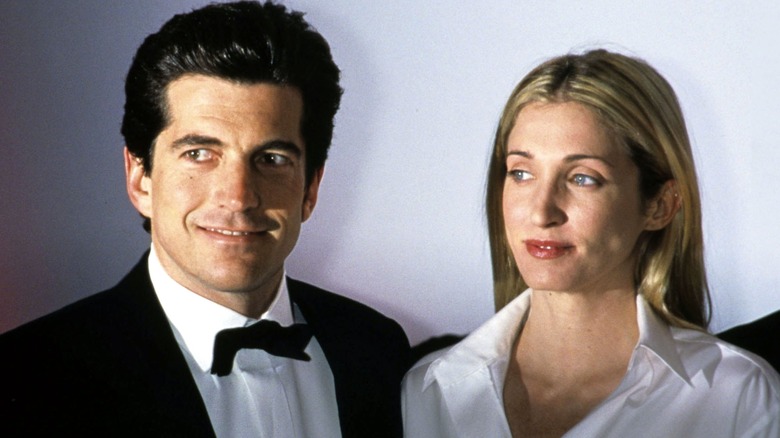 Arnaldo Magnani/Getty Images
In 1992, Kennedy met Bessette, a publicist for Calvin Klein (via Harper's Bazaar). What ensued was a fairytale-esque romance that soon became tabloid fodder. Perhaps because of the incessant attention the golden couple was receiving, the pair later married in a very private ceremony in 1996 (per Today). Once the media learned of their nuptials, the frenzy only grew. Though Kennedy pleaded for the press to give them privacy, it was no use. People reports that this severely impacted Bessette. Kennedy had been in the spotlight since birth, however, she had been unwillingly thrust into it. Bessette reportedly became reclusive and spent most of her time at home. Additionally, it's said she felt uncomfortable with Kennedy's family. Per 9Honey, the couple's passionate relationship became troubled. Kennedy and Bessette were pictured having a public argument and her fear of the paparazzi was said to have intensified (via Town & Country).
Vanity Fair states that in an effort to salvage their relationship, the couple decided to attend the wedding of Kennedy's cousin in Hyannis Port. Kennedy, who had 300 hours of flight experience, agreed to fly them there (per History). Bessette's sister Lauren decided to join as long as they dropped her off at Martha's Vineyard, where she would be spending the weekend with friends. Whether due to little visibility or an inexperienced pilot, the plane crashed into the Atlantic Ocean. All three were in their thirties at the time of their deaths. Despite their strained marriage, friends and family believed the couple would have worked through their issues and would now be living a peaceful life with children.
What happened to John F. Kennedy Jr.'s fortune?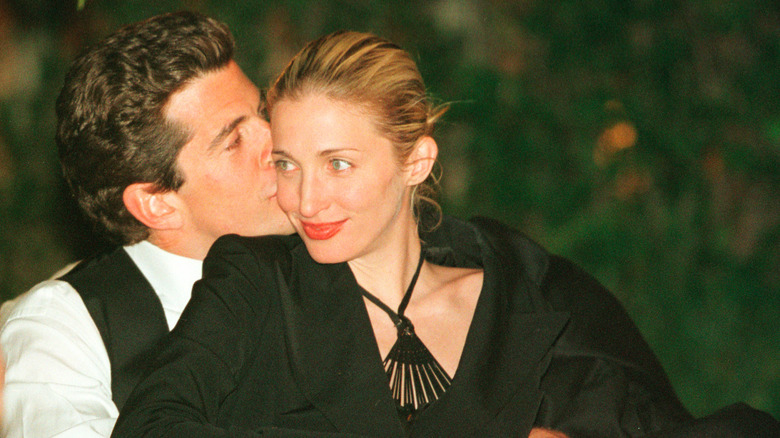 Tyler Mallory/Getty Images
John F. Kennedy Jr. and his wife, Carolyn, died without any children. The New York Post writes that if she had survived him, Bessette would have inherited all of Kennedy's fortune. His will, which was filed in court later that year, gave some of his estate to charity. However, according to the Associated Press, nearly all of his possessions went to his sister, Caroline Kennedy Schlossberg, and her three children: Rose Kennedy Schlossberg, Tatiana Kennedy Schlossberg, and John B. Kennedy Schlossberg, who were aged 11, 9, and 6, respectively, at the time. The will did not specify the monetary worth of the bequeathment, which included his Manhattan apartment and his share of the Kennedy family's sprawling Martha's Vineyard estate, but most estimates believe the worth ranges from $30 million to $100 million.
Although the will did not list Kennedy's belongings or their worth, it's expected that items from his father, John F. Kennedy, such as a Cartier watch and money clip, would be included. The court filings show JFK Jr. left money from the trust to 14 friends, former employees, and family members. This included his lawyer, his personal assistant, his godchildren, and even a former governess. Per The New York Times, he also provided funds for his father's presidential library and Reaching Up, a charity he founded in 1985 to assist those who are developmentally disabled. In 2006, another undisclosed sum of money went to settle a wrongful death lawsuit the Bessette family filed against the Kennedy estate for the deaths of Carolyn Bessette-Kennedy and Lauren Bessette, according to a report from ABC News.