The Real Reason Tony Bennett Wasn't In The Rat Pack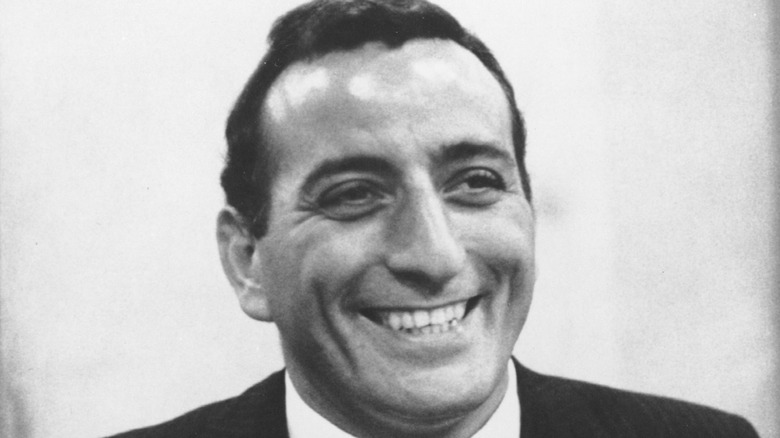 Michael Ochs Archives/Getty Images
American jazz singer Tony Bennett was born in Queens, New York in 1926. He came from a somewhat difficult life, having lived through the Great Depression and the death of his father when he was 10 years old. In order to financially help his family, he got a job as a singing waiter. He served in World War II, and it was after that when he was able to train in singing at the American Theatre Wing under the tutelage of Mimi Spear (via Biography). He was discovered in 1949, and he has been involved in the music scene since.
From the 1950s to the 1960s, the Rat Pack dominated the entertainment industry in Las Vegas. Unbeknownst to many, however, the Rat Pack wasn't originated by Frank Sinatra. According to ATI, actor Humphrey Bogart would invite friends — including Sinatra — to his home for drinking parties and gatherings. It was during one of those parties when Bogart's wife, Lauren Bacall, called the group a "rat pack," and the name stuck. After Bogart's death in 1957, Sinatra unofficially took over the Rat Pack, and he, together with big names, were some of its well-known members. Although Bennett was a good friend of Sinatra's, he said he was never part of the Rat Pack.
Tony Bennett and Frank Sinatra's friendship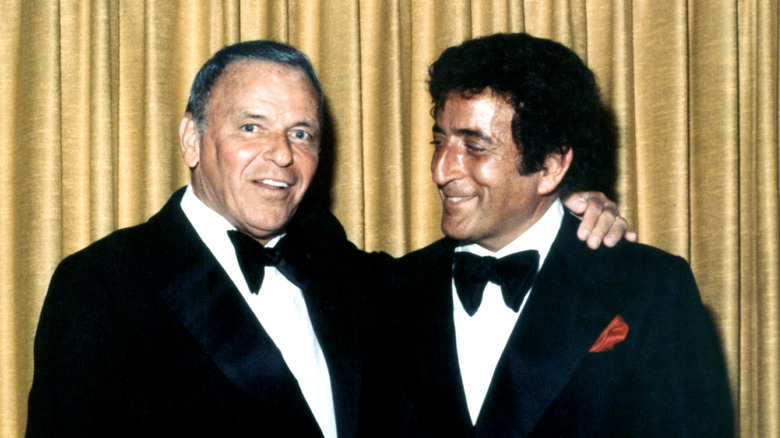 Michael Ochs Archives/Getty Images
The Rat Pack consisted of five members — Frank Sinatra, Sammy Davis Jr., Dean Martin, Joey Bishop, and Peter Lawford. These five men gained a reputation for partying, drinking, performing, and even filming movies — one of them being 1960's "Ocean's 11" — together. In a Vanity Fair by James Wolcott, the Rat Pack was described as the "Mount Rushmore of men having fun." The group was always busy, and that's one of the reasons why Bennett wasn't part of the pack. "I wasn't in the Rat Pack. I had my singing and my painting, and with the hours they kept — whoa! — it's just as well I wasn't in that scene," he said (via Express).
Despite not being a part of the Rat Pack, Bennett was good friends with Sinatra and had a lot of good things to say about him in a remembrance piece he wrote for Time magazine. "Loyalty: That one word overrides anything else you need to know about Sinatra. And of course it worked both ways with him. If he loved someone, he loved them for life. It didn't matter if you were the queen of England or a waiter," Bennett wrote.